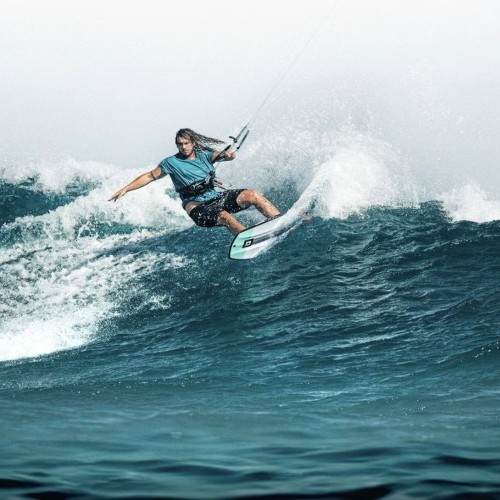 CORE – THE NEW SURFBOARD LINE-UP
Wed 27th Sep, 2023 @ 9:00 pm
CORE just released four brand new boards: seamlessly blending timeless classics with cutting-edge modern designs, specifically developed according to their disciplines and requirements, hand-shaped with the utmost care using meticulously tuned materials!
Four? You read that right. Why? We've grown. With the compact Badger in fish outline, even small wind waves can be wonderfully smashed, and beautiful aerials or rotations can be fired out. – CORE
The Badge
The compact Badger bridges the gap between the 720 and the Ripper. With a lot of volume in the nose and a fishtail, the Badger was specially developed for surfing in small (wind) swell and has extremely high freestyle suitability.
The brand new construction of an XPS core and Glass-Soric sandwich is impregnated by infusion – this is unique and guarantees excellent strength of the board.
The Ripper 5
Win a Custom Designed Ozone Twin Tip this issue in our FREE subscriber prize draw.
Does the legendary Ripper 5 need an introduction? Probably not. Still made in classic surfboard construction combined with modern manufacturing technology, it is your loyal and durable companion who will reliably support you in various conditions.
With its shortboard outline complemented by elements of a fish shape and the progressive rocker, the Ripper 5 is ideal for every wave kiter and any wave from small waves to steep overhead breakers.
720 III
With the 720 III, we are sending our bestseller into the next round – freshly equipped with significant improvements in terms of weight and shape details.
Through many iterative adjustments, we could make the board even thinner and thus lighter and decisively approach a flat deck—one of the market's most advanced and leading freestyle surfboards.
Green Room 3
The Green Room 3 is the performance surfboard of the CORE range, suitable for medium to large waves and experienced wave kiters who want to refine their precious down-the-line rides with high speed and maximum control.
Due to the enormous gliding properties, the board immediately takes the elevator back to the peak. The EPS composite sandwich has been given a new top deck made of the lighter T10 PET, which has excellent stiffness and strength and is highly robust against impacts.
Head to the CORE website to learn more about The compact Badge, the legendary Ripper 5, the 720 III, and the Green Room 3!
Featured in this Post
Comments