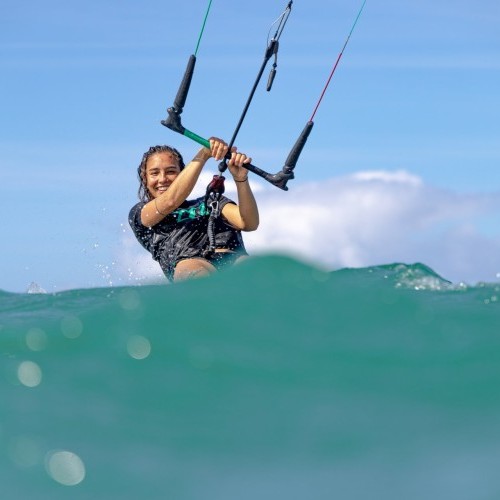 North Kiteboarding | Astra, Flex-LX & Trace
Sat 1st Oct, 2022 @ 12:00 pm
North Kiteboarding has just released the Astra, Flex-LX, & Trace. We have all the details right here for you!
The Astra
Freeride / Big Air
Playful yet powerful, the Astra is a bold all-terrain addition to our freeride quiver, delivering out-of-this-world performance to lighter riders. Often lighter-weight riders find it harder to control large, stiff boards designed for heavyweights. With this in mind, we set out to create a board with more responsive flex for riders with a smaller build – one that would deliver increased control in a range of conditions, greater comfort and softer landings without sacrificing performance. Astra's smaller board length, narrower stance and basalt technology construction provide riders of all levels just the right amount of flex for controlled edging, boosts and loops.
Its consistent, dependable rail grip gives you extra confidence to push boundaries as you load up for massive jumps. With its super-efficient bottom shape and rocker, the board feels fast through the water and flies upwind. The medium flex is dense enough to deliver clean and powerful pop yet soft enough to forgive your knees and legs on harder landings. Sending it was never this easy.
Features
Optimised for lighter-weight riders
Enhanced edge control
Narrower stance
Medium-high outline curve with NEW tip shape
Progressive rocker with pulled-in tips
Single concave centre to quad channel tips
Dynamic flex
New centreline inserts for extended rail longevity
Stainless M6 standardised hardware
Integrated Grab Rail
Ergonomic Handle
40mm fins included
Recommended with Flex / Flex LX bindings
40mm fins included
Recommended with flex bindings
For more information on North Kiteboarding's Astra, please click here.
The Trace
Freeride Lightwind
Light wind? No problem. The Trace has a progressive straight, square outline and large surface area for early planning and upwind performance in the lightest winds. A Centre-V Spine and longitudinal quad channels provide balanced torsional stiffness, superb traction and more control. The progressive medium-low rocker is ideal for flatwater. It also enables phenomenal pop for lightwind tricks and transitions and surprising manoeuvrability for its size.
Pair the Trace with our Reach 13/15/17m to maximise your ride time in the lightest of winds.
Features
New FlipTech centreline strap inserts for longer rail life
Early planning and superior upwind performance
Centre V-Spine and longitudinal quad channels
Phenomenal pop for lightwind tricks and transitions
Ideal for use with the 13/15/17m Reach
Balanced rocker outline and flex
Lightweight impact resistant eco core
Durable ABS rail
Stainless M6 standardised hardware
Ergonomic handle
40mm Fins included
FlipTech Mounting System
For more information on North Kiteboarding's Trace, please click here.
FLEX LX
TwinTip Bindings
Cushioning. Support. Shock absorption.
The all-new 2023 Flex LX have a sense of luxury that speaks to the perfect balance between performance and design. Engineered to help absorb and disperse impact after gravity-defying boosts, with triple-density dynamic support technology to protect your heels and guarantee softer landings. We've added structure and stability with a more contoured footbed and ramped chassis for improved fit and increased lateral support. Outer-angled heel inserts ensure your foot rolls properly, providing a stable landing and protecting your knees and ankles when loading up to release into the air. The GripFlex lightweight, rubberized EVA inner maintains grip underfoot when wet, while the fine grip pattern helps keep you locked in on various angles, preventing your foot from sliding out of the binding. We've refined the adjustable injection-Velcro top flap to provide a strong yet flexible hold. The strap has a soft foam and KnitFlex seamless lining with split-Velcro fastenings. These provide custom comfort and allow your foot to shuffle more easily into a locked-in position.
For your ultimate fit, ensure enough room for your toes to stretch and flex, and ensure the strap doesn't slip or rub. The upper should feel secure but not too tight, and the footbed should match the shape of your foot.
The Flex LX are compatible with our new 2023 FlipTech centreline and 2020-2022 offline TwinTip mounting systems. Industry-standard screw spacings ensure they can also be fitted to other boards.
Features
Four sizes to ensure a personalised fit
New contoured footbed with triple density EVA foam
Increased support and comfort
Adjustable top-loading footstrap with Flex Adjustors
Stance options to support small to a wide stance
Standard setting debossed on chassis
Adjustable top-loading footstrap
Stance options to support small to a wide stance
Standard setting debossed on chassis
Use setting I for 2020-2022 TwinTips
Use setting II for 2023 TwinTips
Ramped toe bar
Footpad canted inwards
Optimised strap adjustment options
Split inner velcro straps
Top loading
Standardised M6 screw hardware
6-inch screw spacing
For more information on North Kiteboarding's FLEX LX, please click here.
Designer Notes: Flex LX 2023
Win a Set of Quobba Fins this issue in our FREE subscriber prize draw.
To view all North products, please click here.
Featured in this Post
Comments