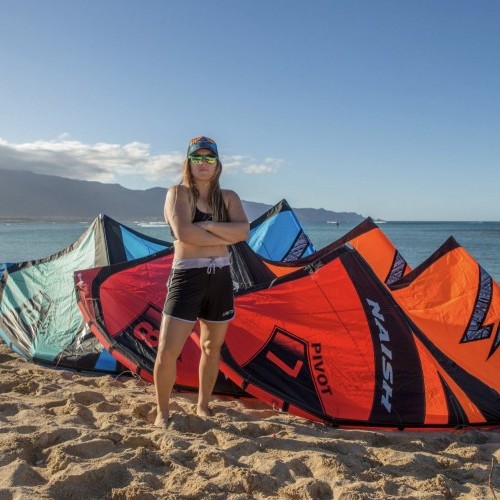 Michaela Pilkenton Joins Naish Kiteboarding
Mon 14th Feb, 2022 @ 3:00 pm
To round out Naish's talented team of international riders, Naish is excited to announce the addition of up and coming competitive big air rider Michaela Pilkenton.
A native Oregonian, Michaela spent most of her early years on frozen water as a competitive ice skater and big mountain skier. But, it all changed when a college mentor sent her to learn a new sport at Floras Lake in the summer of 2016. From that moment on, Michaela has pushed herself hard in all disciplines, including freestyle, park, and ultimately big air.
At 27, Michaela has come to the scene as a strong competitor in the fast-growing field of women's big air. Her first comp was the Big Air Kite League Lord's of Tram in Gruissan, France, where she made it to the semifinals. Unfortunately, travel plans for the winter were halted by travel bans, but it allowed Michaela to make the switch to Naish and join our stellar team.
"Naish's team roster is full of elite riders and I feel honored to be alongside them. I am excited for this opportunity to be mentored by some of the best in big air and to be riding gear that seems to always podium. I have no doubt that the Pivot will be the kite that will take me higher and allow me to push the boundaries of women's big air."
Michaela is currently based on Maui, training hard for the 2022 BAKL competition season, where she plans to hit the windiest stops on tour. Other plans for the year include new kiteboarding edits and mentoring more women in the world of kite loops.
"We are so stoked to have another powerhouse woman join the team and can't wait to see what 2022 brings for you, Michaela!" – Naish
Interview by Naish Kiteboarding.
Featured in this Post
United States
98,602
United States
13,092
Comments