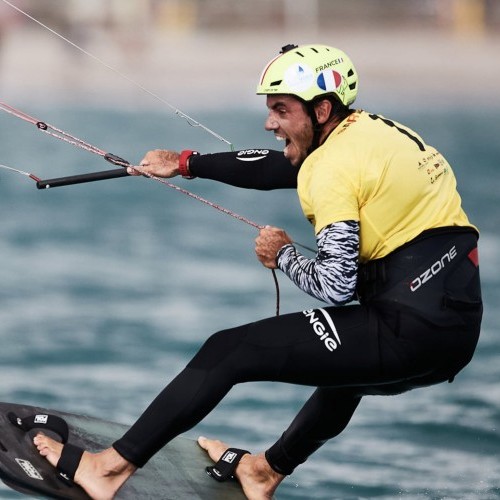 "King" Mazella Triumphs at Sardinia Grand Slam
Mon 11th Oct, 2021 @ 9:00 am
Win a Commander Twin Tip by Eleveight, CORE's all-new Link harness, or an ultra-light board bag from Prolimit this issue in our FREE subscriber prize draw.
IKA KiteFoil World Series' leader withstood his rivals' attack in a day marked by light and shifty wind. Lauriane Nolot was the "queen" among Women, U19 Riccardo Pianosi the best-ranked Italian. Cagliari's Major Paolo Truzzu took in awarding ceremony
.Stronger than the tricky wind: there's no adversary to hold for Axel Mazella, able to keep Sardinia Grand Slam's lead and to secure the win of IKA KiteFoil World Series round 3 on Sunday, October 10th.
Despite some imperfect choices and a racing day with shifty and gusty wind, the 23-year-old Frenchman completed the race with 30 points, preceding countryman Theo De Ramecourt (42 p.) and Brit Connor Bainbridge (47). Hundreds of spectators crowded the Poetto beach to support the event's protagonists, organized by GLESport in collaboration with the Chia Wind Club and with the technical support of the Yacht Club Cagliari, under the aegis of World Sailing and IKA, the International Kiteboarding Association.
Winner of six out of 14 races in the first three days, Axel Mazella opened the Sunday placing sixth in Race 15 (score discarded), then settled for fifth and 20th (discarded) to secure the overall success. "Today, I haven't taken the right decisions with my strategy. I knew I had some points ahead of the other competitors, and I took it easier. I'm really unhappy about the last race because the wind was tricky and coming from everywhere. Anyway, now it's time to celebrate", Mazella commented.
The final racing day, October 10th, started with a brand new podium, topped by Russian Denis Taradin ahead of French Benoit Gomez and Theo De Ramecourt. The latter was absolutely on fire in Race 16: after a tough battle with Taradin, Theo claimed the win going up to second position overall, ahead of Connor Bainbridge.
After a runner-up spot in Saturday's last race, Italian U19 Riccardo Pianosi went on collecting good displays, including two third positions in Race 16 and 17 that pushed him up to sixth overall. German Jannis Maus won the final run, ahead of Antigua's Tiger Tyson. "I'm pretty satisfied with my display, considering that the racing week didn't start as I wished. I was leading the last race, but I couldn't stand up to Jannis", Pianosi said.
Lauriane Nolot (232 points) topped the fully French-speaking podium ahead of Poema Newland (249) and Jessie Kampman (300). "I feel exhausted, I gave my best on every race, it was also good training for the Worlds. I'm super happy to take the first position. With Poema we are pushing each other to the best level: she's super strong and super fast, but in Cagliari, I made better choices", Nolot stated.
"Sardinia Grand Slam has shone this year – the IKA President Mirco Babini commented – recording great success in terms of international participation. Hosting athletes from 19 countries and all continents is more than an arrival point: it's a valuable transition point that leads us to renew the agreement concerning the international class: I'm personally involved in supporting Cagliari's event in the future years. Everyone can see the success of the Sardinia Grand Slam: local authorities are satisfied, and the feedback from the competitors was absolutely rewarding. The athletes loved competing here for the weather conditions, hospitality and spaces the Poetto reserved for them".
"After last year's stop, Cagliari could welcome the KiteFoil show back, hosting World's best specialists. We're very proud of this, and we're satisfied with the high technical level, the media coverage and the institutional support. A special thank you to the Tourism Department of the Autonomous Region of Sardinia and the Municipality of Cagliari", OC President Gian Domenico Nieddu stated. Cagliari's major, Paolo Truzzu, took part in the awarding ceremony.
Win a Commander Twin Tip by Eleveight, CORE's all-new Link harness, or an ultra-light board bag from Prolimit this issue in our FREE subscriber prize draw.
The IKA KiteFoil World Series' updated ranking will be available on the IKA official website.
Featured in this Post
Comments