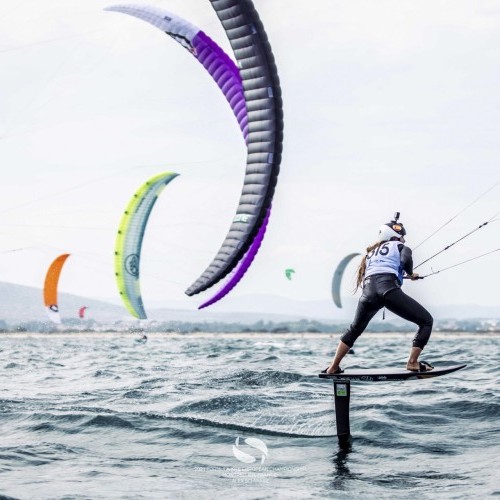 French Title-holder Opens Defence of European Crown with Clean Sweep on Home Waters
Fri 10th Sep, 2021 @ 12:00 am
French Title-holder Opens Defence of European Crown with Clean Sweep on Home Waters
Reigning Formula Kite European champion, France's Axel Mazella, began the defence of his title with a peerless, perfect record on the opening day of racing of the 2021 competition in fresh breezes off Montpellier's Villeneuve Les-Maguelone beach, southern France.
The 24-year-old, battling in one of the three men's qualifying fleets, fought off stiff challenges from spectacularly quick and ferociously competitive rivals, including countryman and reigning world champion Nico Parlier, to scoop five bullets.
None of the other kiteboard racers vying for supremacy in the two other qualifying fleets could match his stellar feat in the choppy Mediterranean bay of Aigues-Mortes, in breezes that built from 9kts to more than 15kts as it veered to the south.
The shifting wind caused a slight delay to the opening of the International Kiteboarding Association (IKA) Formula Kite Europeans. The breeze moved just as the first race of the five-day regatta got underway, forcing its cancellation and a lengthy wait while the trapezoid course was reset.
The stiffening breeze enabled many of the men—in the fleet of 91 representing 29 countries from 5 continents—to come to the beach and swap their 21m and 19m kites for 15m sizes that more suited the conditions in the first major event as kiteboarding begins the countdown to its Olympic debut at the Paris 2024 Games on the Marseille track.
While Mazella topped one fleet to get his nose in front on the leaderboard, countryman and world champion Maxime Nocher also opened his account with a stellar outing that saw him take four bullets, leaving him equal on points with his rival but behind in a tie-breaker.
Russia's Denis Taradin, the winner of the first stop of the open KiteFoil World Series in Italy in July, put in a good shift, racing in the third fleet. He took three bullets that left him third overall going into the second day of qualification when the three fleets will be reseeded.
But among the biggest surprises after several seasons hobbled by the pandemic were standout performances by France's Benoit Gomez, the fleet's biggest racer at 115kgs who held down his 21m2 Flysurfer VMG2, and Singapore's Max Maeder, one of the youngest at just 14.
Gomez, who has the luxury of training with Nico Parlier on France's west coast, took five-second places behind Mazella. The huge 20-year-old could barely conceal his delight with the performance that put him ahead of his training partner.
"I'm really very happy," said Gomez. "In the last races of the day, I was really very close to Mazella and Parlier, even though I don't really like these wavy conditions. It's hard to get a good angle, so I'm pleased about what I could do with my 21m kite.
Maeder was similarly ecstatic with his two bullets and a third-place that occasionally saw off stiff challenges from the likes of Taradin and France's Théo de Ramecourt.
"It was great," said Maeder. "At times, I couldn't quite believe it myself. In one race, when I was leading, I started to get goosebumps. It felt phenomenal, and I was elated. Especially because I thought the conditions were tricky, with the wind coming in a different direction from the waves."
With the 40-strong women also divided into two qualifying groups, defending European champion Julia Damasiewicz had her work cut out for her among a field of riders who have clearly used the break from competitions to training hard.
The 16-year-old Pole sits in fifth overall, just behind a trio of rivals above her, who netted equal points. France's Lauriane Nolot tops the three on a tie-break, just ahead of Britain's Ellie Aldridge and Poema Newland.
Nolot, 22, who began kiteboard racing only in the past two years, was particularly delighted with her opening day. "I managed to finish first twice," said a beaming Nolot. "My goal was not to make mistakes and ride cleanly."
Yet, while Newland managed to get one bullet against the overall leader, US's reigning world champion Daniela Moroz, the American was in a class of her own, scoring four bullets on the road to what she hopes will be another Open European title.
The elite kite racers were also joined on the track by 18 young athletes battling for the IKA A's Youth Foil European Championship. The Olympic pathway class for 11 to 16 year-olds competing on identical hydrofoils, boards and tube kites saw Russia's Mikhail Novikov top the order after landing bullets in all five races.
OVERALL STANDINGS
Formula Kite Male
1 Axel Mazella 4pts
2 Maxime Nocher 4pts
3 Denis Taradin 5pts
Formula Kite Female
1 Daniela Moroz 4pts
2 Lauriane Nolot 7pts
3 Ellie Aldridge 7pts
Check out the full results right here!
A's Youth Foil U17
1 Mikhail Novikov 4pts
2 Jan Koszowski 12pts
3 Daan Baut 16pts
A's Youth Foil U15
1 Enzo Louber 15 pts
2 Gian Andrea Stragiotti 19 pts
3 Jakub Balewicz 21 pts
Check out the full results right here.
Featured in this Post
France
2,224
France
41,428
31,617
Comments