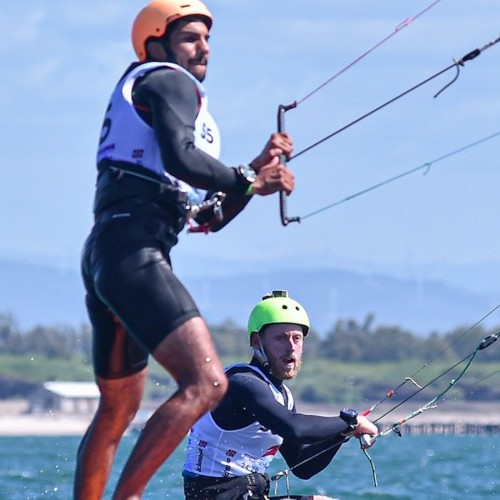 2019 Formula Kite Europeans – Day 2
Fri 27th Sep, 2019 @ 9:30 am
Tight racing in perfect conditions at Europeans leaves little to choose between top of order! In breathtakingly close racing at the Formula Kite European Championships on the sumptuous Italian resort island of Sardinia, the gap between the leading pack could hardly be closer, with just four points separating the top four men.
But France's Théo de Ramecourt edged to the top of the order with a storming display that netted him a perfect five bullets in breezes that built from around 14kts, finally gusting to more than 22kts, blowing over the Gulf of Oristano's flat waters.
It was a remarkable record that was almost derailed. In his day's final race French team-mate Benoit Gomez attempted a port tack start that went awry and ended in a tangle, forcing De Ramecourt to jump and double backroll over the carnage almost ending with him in pin-end boat, before he went on to seize another win.
Slovenia's Toni Vodisek, competing in the alternate "qualifying series" flight, was not so fortunate. He, too, was on a charge holding down his 15m Ozone R1V3 kite and had scooped four bullets from four before a crash while leading on the downwind leg of his last race saw him finish sixth.
It was still enough to give Vodisek the leaderboard's third spot, just behind overnight leader France's Axel Mazella, who had a strong outing in the shifty breezes, grabbing a bullet and three-second spots.
After two days of the 10-race "qualifying series", the men in the 60-strong fleet will now be seeded into the top "gold" and "silver" flights for the closing two days' "finals series" in the battle for the prized International Kiteboarding Association (IKA) Formula Kite Europeans crown.
In the 30-strong women's fleet, racing separately in competition for the title, the battles were equally enthralling. But on the rhomboid windward-leeward track off Torregrande's pristine beach, reigning Formula Kite world champion Daniela Moroz (USA) was untouchable, racking up five bullets from five.
The fight for the crumbs from Moroz's table was intense and engrossing. In the end, Britain's Ellie Aldridge kept her nose in front with a clutch of high-placed finishes, though she was frustrated by too many crashes and mistakes.
Australia's Briana Whitehead moved up the order to third, courtesy of a second, third and two fourth-place finishes despite the tricky conditions that kept her—like the other racers—continually guessing.
"It was really fun," said Whitehead. "Very full-on, and I'm quite tired. There was some close racing, and we were all close together. It's great to have girls of so many different nationalities here. But the wind was gusty and shifty. It was difficult to make a plan, so I'm happy with my spot."
Predictably, De Ramecourt was similarly buoyed by his stellar performance that put rivals on notice for the closing contests of the five-day regatta, sponsored by the Region of Sardinia and the Sardinia Foundation.
"I love these conditions," said De Ramecourt. "They suit my riding style. But I must say I made some poor strategic choices at some points. I was able to compensate with my speed, though, so I was relaxed and had a great time. It was a perfect day."
Top five men after ten races (two discards)
1Théo de Ramecourt (FRA) 10pts
2 Axel Mazella (FRA) 11pts
3 Toni Vodisek (SLO) 14pts
4 Benoit Gomez (FRA) 14pts
5 Florian Gruber (GER) 19pts
Top five women after ten races (two discards)
1 Daniela Moroz (USA) 4pts
2 Ellie Aldridge (GBR) 26pts
3 Briana Whitehead (AUS) 28pts
4 Justina Kitchen (NZL) 32pts
5 Leonie Meyer (GER) 37pts
To view this full results, please click here.
Featured in this Post
Comments