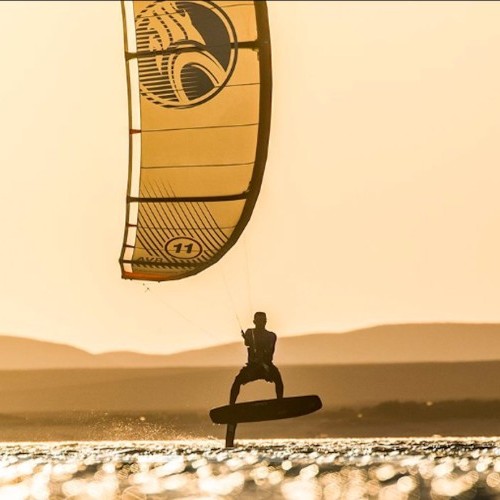 Introducing the Cabrinha AV8 Collection
Tue 16th Apr, 2019 @ 12:00 pm
Cabrinha's AV8 collection is out NOW! The AV8 collection is a precision crafted kite and hydrofoil board made from the highest quality materials. Each component is designed to maximise AV8's efficiency in the hydrofoiling realm.
"The AV8 design concept places the rider directly in the middle of two incredibly tuned kiteboarding machines. Both the AV8 kite and board are designed to cut through the elements with minimum drag and maximum efficiency. Separately, the kite and board are phenomenal in their own right, but together they create the apex performance freeride experience. AV8 is the equivalent of a wind-driven supercar in every respect." – Pete Cabrinha
AV8 Kite
The AV8 is designed for riders looking for an exceedingly efficient kite to foil with while also offering the attributes of a boost & hang time machine. The AV8 kite is a highly efficient five strut power source that can facilitate an incredibly high VMG (Velocity Made Good). Its lean profiles and optimised AR deliver the highest level of performance in a lightweight inflatable structure.
The AV8 flies upwind with speed and an incredibly rigid frame. When riding off the wind, the AV8's power delivery is full and stable. The AV8's flat arc shape makes it ideal for huge lofty jumps combined with silky smooth landings.
Features
High tenacity Dacron for enhanced arc stability
Ultimate performance in the broadest range of conditions and variety of riding styles
Smooth power delivery
Predictable handling with superior stability and range
Large sweet spot
Great upwind performance
Ridiculously high hang times
Distinctly agile and light precision steering
Easy relaunch
Stability in high wind conditions
Powerful and efficient
AV8 1X With Trimlite
Designed for every rider from beginner to pro who uses an inflatable kite with a single line (1X) compatible method of security, the AV8 Quickloop Fixed 1X (Trimlite) is a highly refined control system with universal compatibility. From its soft and ergonomic bar ends to its lightweight cleat trim with 4:1 race pulley system and 1X security system, the Quickloop Fixed 1X (Trimlite) is a high performance and feature rich method of kite control. The 4:1 race pulley allows the rider to micro-adjust and effortlessly trim under maximum load while the extended trim tail also enables the rider to operate the trim without compromising speed, trajectory or body position.
Line lengths can be easily switched between 22m, 19m and 16m long. Adjusting these configurations enable the rider to conveniently customise the power delivery and sweep arc of the kite during flight, allowing optimal performance in a wide wind range.
Features
NEW 4:1 ratio race pulley system for a precision trim
NEW split flying lines for optimal performance in all conditions (16m + 3m + 3m)
Asymmetric grip design with increased traction for better grip
1X Centralized flagging line connection point
Low frontline "V" for direct steering
Comprehensive safety with single line 1X security flagging
Soft and ergonomic EVA bar ends with flex grooves
Asymmetric grip design with increased traction for better grip
A simple and clean trim system with durable stainless steel cleat
Universal Quickloop connection
Quick and easy QR operation
Spinning handle
Removable centralised security pin
Protective PU tubing for mainline and security line
AV8 Foil Board
The AV8 foil board is specially designed for riders looking for performance and efficiency with high-end materials. The AV8 is made from 100% prepreg carbon with EPS foam core. With its race-oriented design, bevelled rails for max lean angle and it's extended planing surface, the AV8 will keep you ahead of the pack. A warrior on the race course and an explorer on the open water.
Features
EPS Core, lightweight, buoyant
100% carbon sandwich
Bevelled Rails provide you with maximum lean angle
Pro box foil connection
Full EVA pad
3 Strap insert configuration
For more information on Cabrinha's latest AV8 collection, please click here.
Featured in this Post
Comments