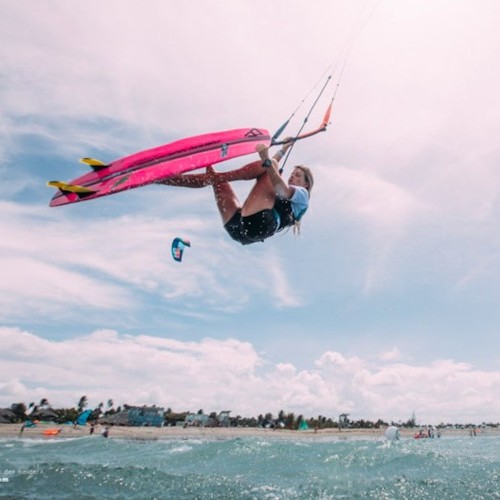 GKA Kite-Surf World Tour Brazil – Final Wrap-Up!
Mon 26th Nov, 2018 @ 1:00 pm
Four action-packed days in Prea, Brazil for round six of the GKA Kite-Surf World Tour came to a close on Saturday with a big air competition. This unofficial result doesn't count towards the overall World Championship ranking, but with pride on the line as well as performance momentum propelling the winner positively onwards towards the final round in Australia next month, the beach crowd was treated to one more afternoon of aerial acrobatics.
Two tricks counted for each rider in the heats, with judges awarding 70% of the score for height and 30% for technicality.
17-year-old Spaniard Kiko Roig has impressed all week and reached the final against Airton Cozzolino but couldn't topple the reigning World Champion who was riding high after his main event win yesterday.
In the women's unofficial big air event Carla Herrera-Oria got sweet revenge over Jalou Langeree who had claimed the all-important official event win against her on Friday. In doing so the Dutch star crucially moved ahead in the overall rankings, making the final in Australia a winner-takes-all event for the championship.
In the men's main event season, the battle for 2nd place overall and below is running hot, but after not winning the final event last year and not getting the chance to claim his championship from the top step, Airton isn't going to want to miss his chance for double glory to close the season out this time. Everyone wants to win!
Game on: the Australia event runs from 12 – 16th December at Torquay. Find out more here.
2018 Rankings
Men:
1 Airton Cozzolino (ITA / CV)
2 Matchu Lopes (SPN)
3 Keahi de Aboitiz (AUS)
4 Mitu Monteiro (CV)
5 Camille Delannoy (FRA)
6 Jan Marcos Riveras (DR)
7 Paulino Pereira (POR)
8 James Carew (AUS)
9 Gustavo Arrojo (SPN)
10 Ralph Boelen (FRA)
Women:
1 Jalou Langeree (NED)
2 Carla Herrera (SPN)
3 Charlotte Carpentier (FRA)
4 JC Edin (SWE)
5 Moona Whyte (USA)
6 Ines Correia (POR)
7 Marie Gautron (FRA)
8 Odile Cavin
9 Didi Lopes (CV)
10 Justyna Sverpwska (POL)
Report: Jim Gaunt
Photos: Ydwer van der Heide
Videos: Mintautas Grigas
A live stream ran all week. Catch all the streams on the GKA YouTube channel where you'll also find the pick of the best heats as well as the usual highlight reels.
Featured in this Post
Comments