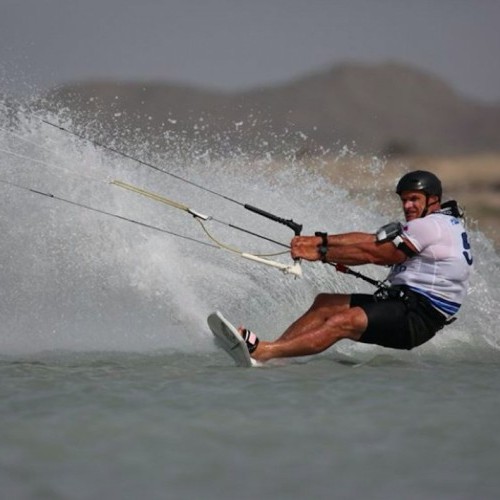 US Kiteboarding Star Wins Third World Title in Oman
Sun 26th Aug, 2018 @ 12:00 am
American kiteboarder Rob Douglas took his third Kite Speed World Championship crown after racing in perfect conditions at the Masirah Island event in Oman earlier this week.
The only racer to reach a top speed of over 50 knots in ideal kiteboarding conditions on the island's flat and shallow lagoon, Douglas pipped French defending world champion Alex Caizergues to the title, with British rider Dave Williams repeating his third-place finish of last year.
Robert Harding (USA) and Enrico Giordano (ITA) completed the top-five positions in a competitive international field. Douglas' US compatriot Mandi Browning won the women's class ahead of Britain's Anna Weld.
A delighted Douglas – who also posted the fastest port tack ever recorded in competition – said: "It started with a plan: get a great coach, get a fast kite, train, travel to Oman and win the 2018 IKA Kite Speed World Championship. Mission complete!"
A total of 15 of the kitesurf circuit's highest profile riders had gathered in Oman for the high-adrenaline event, which again built on the Sultanate's growing reputation for ideal kiteboarding conditions.
Hosting the championship for the second successive year, Masirah Island also saw riders from Sweden and New Zealand among the entries.
"Once again Oman has demonstrated that it can produce perfect conditions for this high-speed and exciting sport," said Salma Al Hashmi, Chief Marketing Officer at event organizer Oman Sail.
"Great racing and new speed records have made this Kite Speed World Championship an event to remember, and all who took part will take away enduring memories."
Please click here to view the provisional results
Featured in this Post
Comments