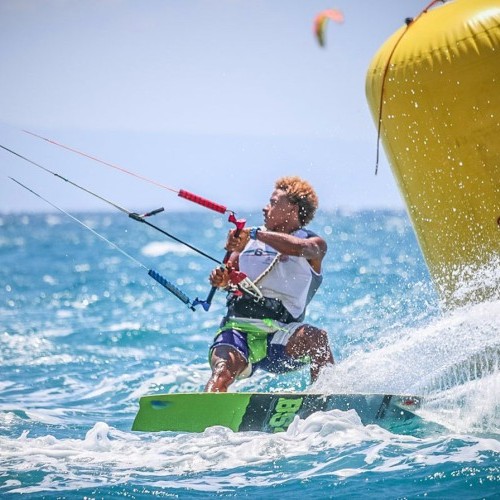 Surprise Leaders Take Honour's at Start of Kite Racing Worlds in Italy
Thu 26th Jul, 2018 @ 3:20 pm
About TwinTip: Racing
Originally set up as grass-roots and youth racing programme, the class philosophy is to allow all riders to compete on "every day" kiteboarding equipment with minimum limitations. TwinTip kiteboards are used by the vast majority of kiteboarders and can be found the world over.  The slalom/boardercross format combines "first past the post" racing with spectacular jumps, kiteboarding's stand-out feature as a sailing discipline.  IKA TwinTip: Racing features as a boys' and girls' event for the Youth Olympic Games in Buenos Aires in 2018.
The opening exchanges at kiteboarding's high-octane TwinTip: Racing (TT: R) World Championships in southern Italy threw up some unexpected leaders after a day of mixed conditions.
Twin-tip racing novice, France's Titouan Galea, was a little surprised to find himself top of the leaderboard at the end of day one, overhauling the reigning world and European title holders in the process on the slalom track just off Gizzeria's Hang Loose Beach.
The women's TT: R Worlds fight, played out in breezes that ranged from 11kts to 14kts after earlier unseasonal thunderstorms, also saw Galea's countrywoman Poema Newland top the standings after the first elimination round decider was completed.
But in the Pump Kite Trophy—being run in tandem with the open TT: R Worlds to give young athletes more training ahead of kiteboarding's debut at October's Buenos Aires Youth Olympic Games (YOG)—it was business-as-usual.
The Dominican Republic's reigning TT: R Youth Worlds title holder, Adeuri Corniel, comfortably won every one of his day's outings in the Pump Kite division on warm Mediterranean waters to command the men's division's top spot.
Yet all 59 athletes from 19 countries and five continents are well aware that with four days of the regatta still ahead, taking the podiums' top spots will require incredible consistency, pace and perhaps a little luck.
The emerging TT: R slalom-boardercross discipline features spectacular high-speed mark roundings on the short downwind courses that hold the potential for the mayhem of kite tangles as anxious racers push to the limit seeking any advantage. But the first day's contests remained largely free of race-ending dramas, a sign perhaps the young athletes are gaining in experience in the thrilling short, sharp format specially-designed for YOG.
YOG-qualifier Corniel, who has been training hard at the Dominican Republic's renowned Cabarete kite spot since he scooped his world title in China in May, certainly seems quicker and more assured even against a fleet stacked with the brightest young talent.
"That's a great start for me, so I'm really happy," said Corniel. "I've won all my races, so it's great. The wind's not the best, but we're making the most it. I've been working really hard since China—training six hours every day."
The Dominican Republic would have taken the top two places in the Pump Kite division standings, but Lorenzo Calcano incurred a minor penalty in the elimination round decider and lost his second place on the leaderboard to France's Benoit Gomez, who leapfrogged him from third.
Perhaps the day's biggest surprise was Galea's ascendency to top of the TT: R Worlds, keeping current European title holder, Croatia's Martin Dolenc, and reigning world champion, Germany's Florian Gruber, pinned behind in second and third spots.
"This is my first time at twin-tip racing, so naturally I'm pretty happy," said hydrofoil race veteran Galea. "I had a couple of good starts which really helped. I was lucky in the [elimination round] final as the wind dropped a little, so it was harder for the other guys who're heavier."
France's Newland was helped to the top of the women's TT: R standings partly by a 17m kite on 35m lines, larger than rivals, that ensured she was able to see off opponents.
"Certainly in the decider, I felt better than in the day's earlier races when I felt like I didn't have quite enough power and I couldn't go as fast as I wanted," said Newland. "It's a good start."
In the women's Pump Kite division Russia's Anna Federova was riding high after several victories, outstripping Poland's Oliwia Hlobuczek in the process.
Top three men TT: R Worlds after one elimination round
Titouan Galea    1pt
Martin Dolenc    2pts
Florian Gruber    3pts
Top three women TT: R Worlds after one elimination round
Poema Newland    1pt
Irene Tari                2pts
Maggie Pescetto    3pts
Top three men Pump Kite Trophy after one elimination round
Adeuri Corniel    1pt
Benoit Gomez      2pts
Lorenzo Calcano  3pts
Top three women Pump Kite Trophy after two races
Anna Fedorova      2pts
Oliwia Hlobuczek   4pts
Elena Sabatini        6pts
Upcoming Events
24 Jul – 29 Jul 2018
TT: R Open Slalom World Championships
Gizzeria Lido, Italy
Click here for more information
04 Aug – 12 Aug 2018
Formula Kite World Championships
Aarhus, Denmark
Click here for more information
17 Aug – 23 Aug 2018
KiteSpeed World Championships
Masirah Island, Oman
Click here for more information 
To find out more about the 2018 TT: R Youth World Championship, please click here.
Featured in this Post
Comments