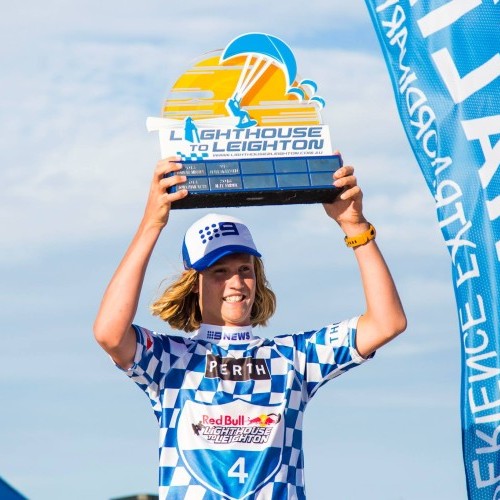 Olly And Steph Bridge Take Out The 2017 Red Bull Lighthouse To Leighton Race
Mon 11th Dec, 2017 @ 12:00 am
The Bride family cleaned up at the 2017 Red Bull Lighthouse to Leighton Race in Western Australia this weekend. The race is a fun, 19 kilometre race from Rottenest Island to the mainland of Australia. Learn more about the race by reading the news report below, provided by the Red Bull Lighthouse to Leighton.
Mother and son kiteboarders Olly and Steph Bridge won the eighth edition of the Red Bull Lighthouse to Leighton race in Fremantle, Western Australia – a repeat performance of the 2014 race. In 17kn winds and clear skies, Olly was ahead of the pack for most of the race, sailing seamlessly on the open ocean from Rottnest Island to Leighton Beach Fremantle in 19 minutes 34 seconds, 42 seconds, ahead of second place winner Theo De Ramecourt from France.
This was Olly's second Lighthouse to Leighton win (he won in 2014) and his fifth attempt at the race. The 20-year-old competed in 2015 and 2016 but had mishaps in each of those years so it was a case of third time lucky.
"I didn't have any crashes this year, I was in front from the start line and managed to get away from the other guys early," Olly said. The race was delayed for about an hour while the wind picked up. "At the start there wasn't enough wind, only the guys with the hydrofoils could have raced. But thanks to the delay there was enough wind for everybody to ride. It was a good decision."
Olly's mum Steph Bridge won her fourth successive Lighthouse to Leighton convincingly, in 25 minutes 12 seconds, more than three minutes ahead of the next fastest female, and 12th overall. This year her whole family was racing – husband Eric and sons Olly (20), Guy (18) and Tom (16). She said with the whole family racing she was definitely in a different mindset to when she races on her own.
"I was thinking Guy or Olly could have won, both were in a position to do well. Poor Tom had a kite tangle at the start so he was out for the race so I was disappointed for him, Eric just wanted to get from A to B, and myself – I was borrowing a foil and a board. We're sharing kites and I got left the little kite! I wanted to make sure everyone had left the beach before I took off. It's a race which is about taking part. Of course, we're all in it to do our best and it's great to have everyone racing. I'll be back next year to get a better time again," she said.
Winner of the Men's Twin Tip category was New South Wales kiteboarder Jordan Girdis in a time of 28 minutes 8 seconds, and Women's Twin Tip winner was Colleen Carroll from the United States who finished the race in 33 minutes 7 seconds, her first time in the Lighthouse to Leighton.
This year's Marc Sprod Memorial Trophy, awarded to the fastest West Australian, was presented to 17-year-old Mani Bisschops from Nedlands. Mani finished fifth overall in a time of 21:40. It was a special award for him as he knew Marc through his dad when they all regularly kited in the same area.
Australian Rules Football sensation and Fremantle Dockers captain Nat Fyfe raced his second Lighthouse to Leighton and said he was glad to make it to the finish. "At the start everything that could go wrong did go wrong but I got over the line in the end so it was good fun," Fyfe said.
"You're at the mercy of the wind in events like this but well done to Event Director Tim Turner and Red Bull for making it happen. In light winds it's easier on your body, it's different muscles to what I'm using playing footy. It's a good escape from the bubble that's footy, I encourage anyone who wants to take it on to give it a go."
Last year's Twin Tip division winner and five-time world champion Aaron Hadlow placed second in the Twin Tip this year, finishing 29:39. He said the light winds created a challenge. "I had a good start but it was tough in the middle and I was having a battle for wind with another competitor. It gets a bit frustrating when you are going as fast as you can but you can't make the kite go any faster. It was good fun though," he said.
140 local, interstate and international kiteboarders took on the 19km open ocean race – the largest number of competitors in the event's history. Winners shared more than $9000 in prize money. The race record of 19 minutes and three seconds, set by Frenchman Nico Parlier last year, still stands.
MENS OVERALL & MENS FOIL
Olly Bridge
Theo De Ramecourt
Jean De Falbaire

MENS TWIN TIP
Jordan Girdis
Aaron Hadlow
Antoine Sabourin

WOMEN'S FOIL
Steph Bridge
Natalie Flintrop-Clarke
Fabienne Bosiger

WOMEN'S TWIN TIP
Colleen Carroll
Rachael Hughes
Kathryn Davies
For full results visit Webscorer
For more event information visit lighthouse2leighton.com
or find the event on Facebook.
Featured in this Post
Comments