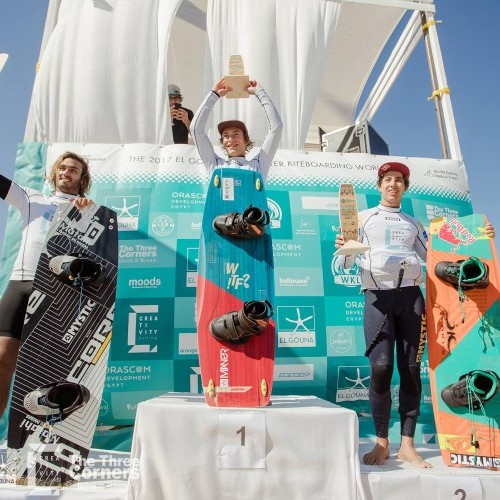 WKL Qualifier League Finals at the El Gouna RRD Kiteboarding World Cup
Wed 8th Nov, 2017 @ 3:00 am
Tuesday welcomed the final of the World Kiteboarding League Qualifier League freestyle contest at the El Gouna RRD Kiteboarding World Cup. It was an exciting day, with young riders and newcomers putting the pressure on more experienced competitors. Finishing on top were  16-year-old Maxime Chabloz from Switzerland and 13-year-old Mikaili Sol from Brazil. Continue reading to find out more! News provided by the WKL, and photos provided by Svetlana Romantsova.
The competitors awoke to a much windier day today in El Gouna, with the wind already blowing between 18 and 22 knots from their arrival at the competition site at the RRD Center, an ideal setting for the finals of the Qualifier League.
Small Finals
First in sequence was the Men's Small Final, which saw 6 participants battle it out on the water. The wind conditions were ideal for 9 metre kites. The riders each had 7 trick attempts during their heat, and each of them strived to make the most of each attempt, with every point counting.
It was Luis Alberto Cruz from the Dominican Republic, our former Cabarete event winner, who remained firmly in control throughout the 40-minute heat. He landed 6 tricks with solid scores and gained the advantage by landing an outstanding Backside 315, placing him just a fraction above French rider Arthur Guillebert, who also fought hard for a top position. Arthur was unlucky and had three crashes during his heat, but fortunately, his trick scores were high enough for him to maintain his 2nd position. Gianmaria Coccoluto came in 3rd, after riding well but struggling to maintain the consistent scores that he needed. Paul Serin, Louka Pitot and Linus Erdmann came in 4th, 5th and 6th position for the Small Final, with the scores all coming in very close to each other.
For the Women's Small Final, we saw newcomer Claudia Leon from Spain, just 16 years old, produce another impressive performance, landing an incredible Slim Chance scoring her 7.37 points, the highest scoring trick of the heat. Vera Klabbers, however, was not going to settle for anything less than the win, and with her powerful riding she gained four high scoring tricks, placing her in 1st position, a great result for the new Elite League rider. Pauline Valesa from France and local rider Nathalie Lambrecht had to settle for 3rd and 4th positions, after failing to land several of the tricks that they were aiming for.
Finals
The wind conditions were looking ideal for the ladies final, which saw Mikaili Sol rise to victory, by dominating her heat from start to finish. Sol landed every one of her 7 trick attempts, which included an outstanding Back Mobe which scored her 9.4 points, the highest score of the day. This was an amazing victory for the 13-year-old, who is no doubt anxious to be able to start competing in the Elite League and prove her worth amongst the more experienced athletes. Francesca Bagnoli from Italy tried her hardest to chase her down with a great performance, but she had to settle for 2nd place. Therese Taabbel, Danish Champion, came in 3rd after landing several high scoring tricks including a nice Backside 313. In 4th position was Maureen Castelle from New Caledonia who unfortunately felt the pressure and crashed 6 of her 7 trick attempts.
"It feels great to win finally after not doing so well in Holland. I've been training for two weeks with Fabio Ingrosso in Brazil to prepare for this, and I think that helped a lot. I improved my consistency a lot. It feels good to be the youngest girl, because you're beating girls who are a lot older, so it's really satisfying. I'm really happy with my performance, and I hope to do the same next time!" Mikaili Sol
The Men's Final saw the wind speed decrease slightly, making it harder for the finalists to really put as much power into their tricks as they would like. Val Garat, one of the larger riders, struggled starting his heat with two crashes, but eventually managed to get his mind focused, and climb his way back up to finish in 3rd position. Anthar Racca from Mexico was hungry for a good result and rode with confidence throughout the final, but unfortunately two crashes cost him dearly and he had to settle for 2nd position, still an incredible result for the young Mexican rider. It was Maxime Chabloz , just 16 years old from Switzerland, who despite a slow start, managed to gain momentum and put on an outstanding performance, taking 1st place for the final and making this his best result for the year, after previously having won his age category at the Youth Cup.
Manoel Soares from Brasil, Nicolas Delmas from France and Christian Tio from the Philippnes finished in 4th, 5th and 6th position. All athletes put on an amazing performance, but consistency was key to succeeding in such a difficult final.
"It's amazing. It's cool because now I definitely know that I can compete in the Elite League next year. At the moment I won, I was speechless, and once I realised what had happened I was so happy. Again it was light conditions, but we all did our best." Maxime Chabloz
The prize giving for the Qualifier League was held on the beach, followed by registration for the Elite League riders. The Elite league event will be starting tomorrow, with the live stream also available to watch on our Facebook page and website.
Thank you to all the Qualifier League participants for making it such an amazing event, and for pushing the level so high right from the start. The full results from the Qualifier League can be viewed here.
Featured in this Post
Comments