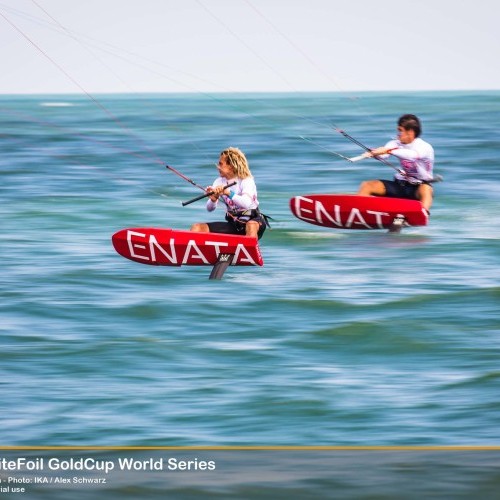 Unbeatable Mazella Scoops Back-to-Back GoldCup Victories In China
Wed 27th Sep, 2017 @ 12:00 am
Alex Mazella was nothing short of dominant at the Kite Foil GoldCup races in Pingtan, China. On the women's side, Elena Kalinina took home the victory. Continue reading to learn more details about the event and to hear comments from Mazella. Thanks to the International Kiteboarding Association for sharing the news and photos.
The only blemish on Axel Mazella's astonishing scoresheet at the International Kiteboarding Association (IKA) KiteFoil GoldCup in eastern China was an uncharacteristic second place that deprived him of a perfect tally.
Otherwise, the Frenchman's record shows a sea of "gold", courtesy of 14 bullets from the 15 races, earning him an undisputed victory at the tour's third and penultimate stop in Pingtan, China.
The win built on his equally emphatic—if not quite so dominant—performance a week earlier, when he clinched victory at the second stop of the IKA KiteFoil GoldCup series in Weifang, China.
His stellar record must put him in the driving seat for the trophy of the IKA KiteFoil GoldCup's best overall rider as the tour moves on to its finale in Italy next month at the Sardinia Kiteboarding Grand Slam, on Cagliari's Poetto Beach.
Yet, even the modest Mazella seemed slightly taken aback, though nonetheless delighted, by his incredible record. He was quick to acknowledge that some of the world's best riders, like compatriot Nico Parlier and Britain's Olly Bridge, were missing, an absence he hopes will be filled in Sardinia.
"I am surprised about the results but really, really happy," he said. "We always had light conditions. But I've become good in those conditions, with good starts and good angles. Of course, some riders had bad races, catching plastic bags on their foils. But I did too, it's just I was far enough ahead that it didn't cost me."
The Pingtan stop of the tour, part of the China International Kiteboarding Festival that also hosted the IKA TT:R World Championships that were run in tandem, was marked by lighter airs than usual, the normal wind patterns disturbed by a typhoon nearby.
Yet the breezes proved sufficient to get foil races off every day in the bay off Pingtan's beach on the flat waters of the East China Sea framed by islands and the city's skyline.
If Mazella, invariably on his Team Enata 21m kite and foil, proved almost unbeatable, the honour of upsetting the established order went to Theo de Ramecourt (FRA) who managed to take a coveted race win.
De Ramecourt, riding his 21m Flysurfer Sonic Race kite and Mike's Lab foil, several times on day two of the regatta thought he had Mazella well in his sights. De Ramecourt was leading or challenging at the first top mark, only to see his quest evaporate when he suffered one misfortune or another.
Ultimately, de Ramecourt took the third podium spot, just behind countryman Theo Lhostis, giving France a clean sweep of the top four when Julien Kerneur is added to the mix. Almost as remarkable is that aside from de Ramecourt, the others in the quartet were riding identical Team Enata kites and foils.
"I'm very happy with my second place," said Lhostis. "Axel Mazella is just very, very fast. But Theo de Ramecourt and I are really close, and were together all the time, which was great."
The women's division, racing among the men, was won by Russia's Elena Kalinina who bested her nearest rival Alexia Fancelli (FRA), another Team Enata rider. Kalinina revelled riding against the quicker men, all the while improving her pace.
OVERALL STANDINGS AFTER 15 RACES (3 DISCARDS)
1. Axel Mazella (FRA) – 12 pts
2. Theo Lhostis (FRA) – 37 pts
3. Theo De Ramecourt (FRA) – 44 pts
4. Julien Kerneur (FRA) -37 pts
5 .Florian Gruber (GER) – 60 pts

TOP RANKED WOMEN AFTER 15 RACES (3 DISCARDS)
1. Elena Kalinina – 128 pts
2. Alexia Fancelli (FRA) – 154 pts
3. Kirstyn O'Brien – 176 pts
The fleet is now heading to Italy for the KiteFoil World Series Final to crown the KiteFoil Class World Champion at Poetto Beach, Cagliari.
Featured in this Post
2,767
Germany
19,664
Comments