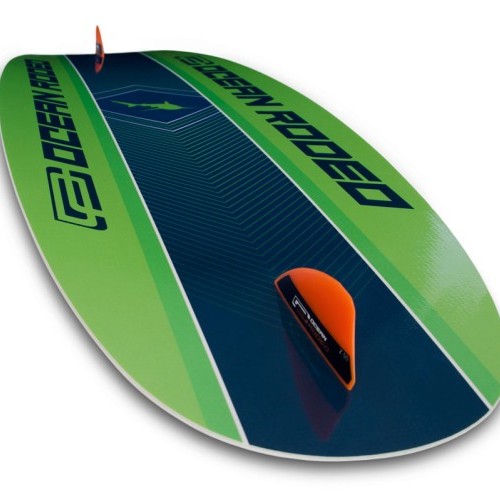 Ocean Rodeo Mako Now Rides On Air
Fri 11th Aug, 2017 @ 12:00 pm
The one-of-a-kind Ocean Rodeo Mako is only getting better. Improvements for 2018 include the new Bliss Air & Ratchet pad and strap system, because every kiter wants a cushy ride! Ocean Rodeo gives a complete rundown of the new Mako, following.
For 15 years the Mako has enjoyed the reputation as kiteboarding's smoothest, most refined ride with deliciously hard biting rails and chop-taming concave. Now, new for 2018, the Mako rides on a pocket of air.
Built for 'real world' conditions, the Mako excels where all other conventional twin tips fail. Short-fetch chop, rolling ocean waves, inside shore breaks, the Mako smoothly traverses it all and delights in setting the rail hard for a high G force carve to reverse direction for another tack.
Shipped complete with the all new Bliss Air & Ratchet pad and strap system, the all new Mako redefines freeride. Air pockets in the pads disburse ocean chop and absorb hard landings while the innovative ratchet system ensures your straps are perfectly shaped to your feet.
Pads & Straps
Strategically placed and pressurized air pockets cushion your feet with the all new Bliss Air & Ratchet pad and strap system. Hard landings give way to buttery smooth transitions and chop is tamed by a cushion of air.
Easily adjusted on the water, the Bliss Air & Ratchet pads and straps are designed to work with all Ocean Rodeo and most other brand's twin tip kiteboards and feature an innovative new ratchet tightening system to perfectly fit your barefoot or booty-wearing feet for every session.
Featuring ultra durable and comfortable dual density EVA foam pads with air pockets and near infinite ratchet strap configuration options, the Bliss Air & Ratchet pad and strap system present your feet with the perfect balance of comfort and control when riding.
Rail to Rail Concave
What's the secret? The deepest rail-to-rail concave of any twin tip ever produced combined with rounded tips, down-turned rails and a perfectly tuned rocker line. The Mako delivers a powerful, fluid carving experience and a dependable rail for stratospheric boosting.
Available in four different sizes, the Mako lineup offers freeride enthusiasts of all backgrounds a board suited to their riding style and size. The wood core ensures your board will survive the rough and tumble coastal conditions this board is built to perform in.
The Mako 135, 140 & 150 are ready to ride in conventional Twin Tip mode while the 165 can be set up for Twin Tip or Mutant style riding with the optional fin expansion pack.
Sizes: 135cm x 37cm, 140cm x 40cm, 150cm x 40cm, 165cm x 44cm
oceanrodeo.com
Featured in this Post
Comments