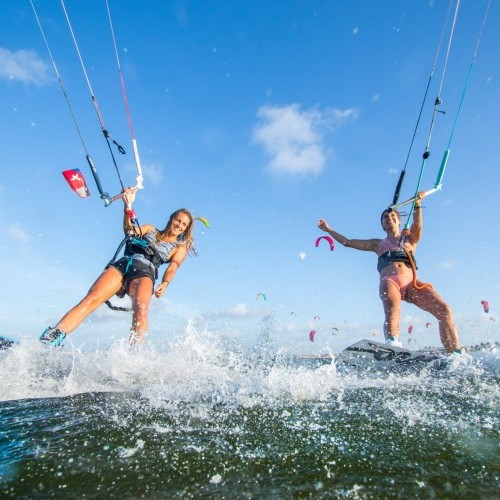 Kite And Yoga Retreat In Mancora, Peru
Sun 16th Jul, 2017 @ 12:00 am
Sensi Graves and Johanna Siskar invite you to join them for a once in a lifetime week of kiteboarding, yoga and camaraderie in at Samana Chakra in Mancora, Peru. The retreat runs from September 9th- 16th, 2017. To find out more from Sensi Graves herself, continue reading.
Looking for the trip of a lifetime? Join lifetime yogi and retreat leader Johanna Siskar and professional kiteboarder Sensi Graves on a truly amazing, all- female adventure. Kiteboard the beautiful beaches of Northern Peru and experience the many benefits of a daily, inspired yoga practice. Come solo or bring your friends to explore the exotic kite locations of Mancora and expand your yoga practice. Join us for an exhilarating week at Samana Chakra, a fabulous beach front resort and restaurant. We look forward to taking your kiting and yoga to the next level in a supportive and empowering female-driven environment.
Retreat Details
Who: Sensi Graves, professional kiteboarder and entrepreneur and Johanna Siskar, lifetime yogi and accomplished teacher.
What: 6 days, 7 nights on a world-class kiteboarding and yoga retreat in Peru.
Where: Samana Chakra in Mancora, Peru. Beach- front property featuring a tranquil Yoga Shala, ocean-front dining, infinity pool and ocean view rooms.
When: September 9th-16th
Why: To provide world-class kiteboarding instruction in a stimulating and exotic environment. To provide an expert and inspiring daily yoga practice, creating balance in your life.
What's included?
• All meals upon arrival
• Accommodations
• Transfer to and from the airport
• Kiteboarding day trips
• Daily yoga
• Professional kiteboarding instruction
• A warm and welcoming environment guided by Sensi and Johanna
What's not included?
• Air travel
• Kiteboarding gear
• Alcoholic beverages
All levels welcome.
Cost: Starting at $1850.00 For shared accommodations and intermediate riders (can stay upwind, can self- rescue, independent)
Garden private villas: $2075.00
Oceanfront private villas: $2275.00 Beginner/intermediate spots available (can stay up wind can launch, re launch and land kite, need a little supervision)
Beginner packages available for one-on-one, private instruction: $250 additional
Featured in this Post
7,779
Peru
Peru
Comments