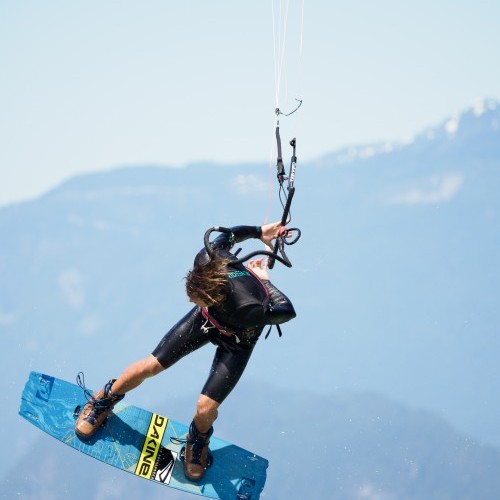 Day One Of KiteClash Was All About The Comeback Kid
Sun 2nd Jul, 2017 @ 12:00 am
It was an all-Canadian affair at KiteClash in Squamish B.C. on the first day of competition. The Canadian National Freestyle Championships were contested at the breathtaking Squamish spit. In the end, Sam Medysky, Lauren Holman and Jack Rieder won their respective categories. Continue reading the news, provided by KiteClash, below. And, stay tuned for more action from Squamish throughout this weekend!
After suffering a concussion last year while competing for the 2016 Canadian National Freestyle Kiteboarding Championship in Squamish, B.C., the six-time national title holder Sam Medysky proved he still has what it takes to stand on top of the podium.
Medysky rode a solid competition, landing his tricks and making freestyle look easy.
"It is incredible," he said, following the announcement of his big win.  "Coming back from a huge accident last year and losing my title, switching brands and coming back…it's just incredible."
Medysky rode in his final heat with Lucas Arsenault, Daniel Koenig and Jack Rieder, who won the Canadian Junior Championships. Arensault placed second and Koenig snagged bronze. The heat was stacked with tough competition. It was a close race, KiteClash organizer Steve Tulk said.
"Man this one was so close. It was tight, tight, tight," he told the crowd while making the title announcement.
The Canadian Freestyle Women's Championship was full of talent. Lauren Holman landed on top after putting in a solid performance, landing the majority of her unhooked tricks, including a sweet s-bend to blind. This was Holman's first competition. The Brights Grove, Ontario native entered the competition without any expectations. With the Canadian national title under her belt, she's looking to hone her skills.
 "I am looking forward to learning more tricks so that I can have a more solid heat next time," she said.
Once again, Vancouver's Jack Rieder took home the Junior Canadian National crown. Rieder nailed a melon grab slim 5.  Rieder has one more year in Juniors before being bumped up to Men's. He has won the title twice before.
"I crashed a few more times than I wanted too, but I landed all five tricks," he said.
Next year Rieder said he's hunting for gold in the Men's category.
It was a great day overall. "The men's final was one of the closest heats I have ever seen," KiteClash judge Geoffrey Waterson said. "It was definitely the highest level of competition that we've had in a Canadian nationals." Waterson said he couldn't wait for tomorrow when the international riders hit the water.
Featured in this Post
Comments