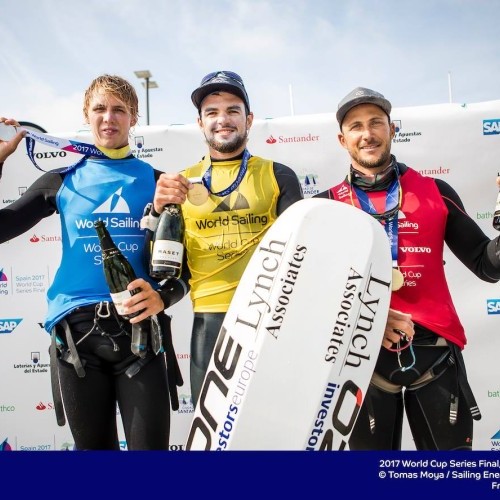 Parlier Crowned Sailing World Cup Series Champion In The Foiling Formula Kite Class
Mon 12th Jun, 2017 @ 12:00 am
Parlier Crowned Sailing World Cup Series Champion In The Foiling Formula Kite Class
Beautiful Santander, Spain played host to an exciting week of Foiling Formula Kite Class races. Nico Parlier of France easily claimed top honors on the men's side. For a complete run-down of the week's action, continue reading the news, provided by the International Kiteboarding Association, below.
Six new World Cup Series champions have been crowned after a day of Medal Races were played out in Santander, Spain.
Racing concluded in the Men's and Women's Windsurfers, Men's and Women's Skiff, the Mixed Multihull and the Foiling Formula Kiteboarding with five new World Cup champions and one successful defense.
After a morning postponement, Medal Races kicked off on the Dune racing area in a light, fickle and challenging 5-8 knot north easterly breeze that tested sailors and the race committee alike.
Watch back all of the medal races here.
Nico Parlier (FRA) was head and shoulders above the Foiling Formula Kiteboarding fleet all week long and confirmed gold with ease.  His victory ends Oliver Bridge's three-year run of World Cup Series victories but Bridge did enough to clinch silver.
On the week, Parlier commented, "It was very good, great weather and atmosphere. We have been doing six races every day, so it has been fun. I have been training a lot for this and I was quite good at reading the wind, that's very important in kiteboarding."
Riccardo Leccese managed to climb into third after Guy Bridge (GBR) dropping down from second place as he was unable to finish two of the day's final series races in the extremely light winds.
TOP 5 after 12 qualifying series, 12 final series races (4 discards), and 3 single counting non-discardable medal races:
1. Nicolas Parlier (FRA) – 27 pts
2. Oliver Bridge (GBR) – 54 pts
3. Riccardo Leccese (ITA) – 70 pts
4. Guy Bridge (GBR) – 72 pts
5. Denis Taradin (RUS) – 87 pts
Featured in this Post
2,594
France
2,224
4,701
Comments