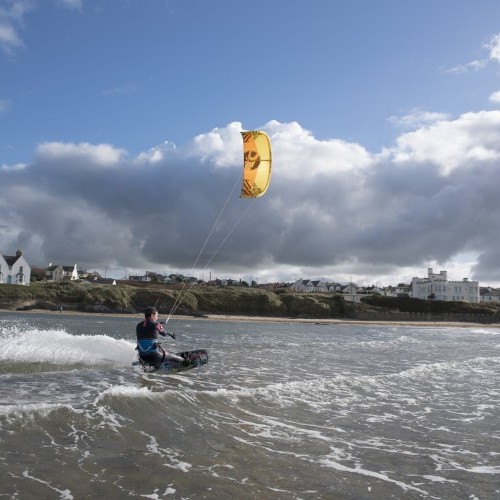 CBK Hunstanton Club Trip To Rhosneigr
Fri 27th Jan, 2017 @ 9:00 pm
The CBK Hunstanton Kitesurf Club is a club whose mission is to foster a welcoming community that promotes safety and continuous learning. Especially when conditions are cold or menacing, it's nice to have camaraderie and support on the water, which is why the club trip to Rhosneigr at the beginning of November was such a success. Here's a recap of the weekend, provided by club manager Rob Fuller.
In its 5th year, the CBK Hunstanton club trip to Rhosneigr was on for the 4th to 7th of November. Yes, it may be cold and yes the weather sometimes doesn't inspire you to hit the water. However, the wind has blown for the last 4 years and that's all that counts, right?
Kiters from across the UK converge on the town for what now is an annual pilgrimage with high expectations. Previous years have seen Lewis Crathern run boosting clinics with WOO Sports. In 2015, Patrick Thornycroft achieved the then UK record of 20m.
2016 was all about the WOO Sports competition. The plan was to take the riders to the best spots for them to push themselves and push the limits of their kiting. A quick warm up session was possible on the day of arrival outside the Funsport shop, but then it was on to a not so early night. With some bleary eyes, the crew hit the Lligwy beach on the northern side of Anglesey for the first day of action.
Following a day of 9m weather, Sunday (the second and final day of competition) brought some 7m weather. Everyone pushed themselves and everyone put in some serious water time, even though the elements were extremely testing.
With Cabrinha and WOO Sports supporting the weekend, CBK Hunstanton had some prizes on offer which certainly encouraged the riders to push their limits. In the end, overall height winner went to Leigh Titman with a new PB of 11.7 meters. Total time on the water went to Lee McCarthy with nearly 5 hours. Total cumulative height went to Richard Humphrey who jumped 1200m (that's 4 Eiffel Towers).
Everyone involved are already looking forward to the 2017 CBK Hunstanton club trip to a windy and inspiring Rhosneigr. If you are interested in joining them, contact rob@cbk-hunstanton.com
Featured in this Post
United States
56,118
21,590
Comments