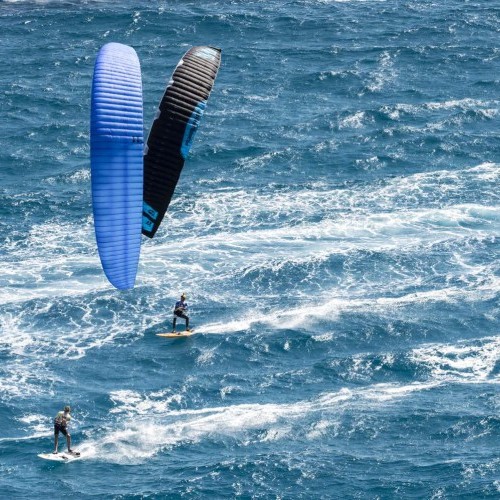 Red Bull Lighthouse To Leighton Race Lures The World's Best
Tue 29th Nov, 2016 @ 3:00 am
The always-exciting, Red Bull Lighthouse to Leighton Race is set for Saturday, December 3, 2016, with Sunday as a backup day. Top riders from around the world will race for their share of the A$9000 in total prize money. This year, female competitors will have their own category. Read all about the upcoming event in the report that follows.
For the first time in its seven-year history, the Red Bull Lighthouse to Leighton kiteboard race will include a battle of the world's best women alongside internationally-ranked men.
Female world number 1 Elena Kalinina has confirmed her place and she'll be taking on a battle of youth versus experience against last year's Women's title holder Steph Bridge from Devon, UK.
Not yet 21, the Russian has taken out all the top women's titles of late including this month's 2016 IKA Kitefoil Gold Cup Finals in Qatar, the 2016 IKA KiteRacing European Championships, the 2016 Hydrofoil Pro Tour and the World Cup of Kiteboarding in 2015 in Italy.
Steph has also had a great year, breaking two world sailing records and she was fastest female to ever race around the Isle of Wight at the World Speed Racing Festival. She is a five-time Kite Race World Champion. Steph and oldest son Olly (19) are Red Bull Lighthouse to Leighton veterans and winners – competing in their fourth edition this year and for the first time with Olly's younger brother Guy (16). The brothers are fierce competitors and training partners.
Olly continues to podium in races around the world and was European Race Champion and Vice Race World Champion in 2015. He holds the Red Bull Lighthouse to Leighton race record set in 2014. Guy is currently 2nd overall in the world championships and has won two British Hydrofoil Championships. Mum Steph said it will be tough to pick which one will finish ahead in the 19km race.
"I won't have a guess at which one will be in the medal positions in the Lighthouse to Leighton.
"Guy is big and strong, and a real endurance athlete. Olly is the tactician, so it will depend on the conditions on the day!" she said.
Other competitors to watch will be German Florian Gruber, the 2013 World Champion in Formula Kite Racing, and other past Red Bull Lighthouse to Leighton winners Olly Bridge (2014), Marvin Baumeister (2013), Peter McKewen (2015), and Dale Stanton (2011).
Another woman to look out for is Victorian Gina Hewson, one of the world's top female competitors on the international kite foil circuit and a former professional sailor. Gina won this year's New Zealand Open Kite Foil Nationals in the Women's division and finished fifth fastest woman in the Kite Foil World Cup in China.
But it's not just about winning. Phillip Rowlands from Scarborough, WA has competed in every Red Bull Lighthouse to Leighton and says it's "the best day of my year". A significant number of local and interstate entries also add to the race's excitement.
Increasingly the race is becoming a contest between foil and course boards. Foiling is a new wave of kiting and each year there is an increasing number of kitefoil entries competing with entrants on slalom and twin tip style boards.
The 2016 edition of the Red Bull Lighthouse to Leighton will be held on Saturday 3 December with Sunday 4 December the backup day should wind conditions not be favourable. 135 kiteboarders are entered and getting in as much practice time as they can pre-race. This is the highest number of competitors to date and the race is capped at this number.
This year's race also includes entrants from the Hydrofoil Pro Tour Final this year, which is being held in Perth this week.
Olly Bridge's race record of 22 minutes 7 seconds set in 2014 is expected to be highly contested. This speed is faster than the Rottnest Express ferry!
The Red Bull Lighthouse to Leighton has equal prize money for the top three males and females (the first race to do so) and there's nearly A$9000 in total prize money and A$4050 worth of trophies on offer, plus the respected Marc Sprod Trophy for the fastest West Australian competitor.
Spectators are encouraged to head down to Leighton Beach in Fremantle to cheer in the racers as they cross the finish line. Entertainment commences from 1pm, Racers depart Rottnest at approx 2.30pm and the fastest competitors are set to arrive at the finish line from approximately 2.50pm, depending on weather conditions. Check the website and Facebook event on the day for updates.
The Red Bull Lighthouse to Leighton is made possible thanks to the State Government, through Tourism Western Australia, and Red Bull, and is also supported by the Fremantle Sailing Club, WAKSA, Rottnest Express and Channel 9 Perth.
Featured in this Post
Comments