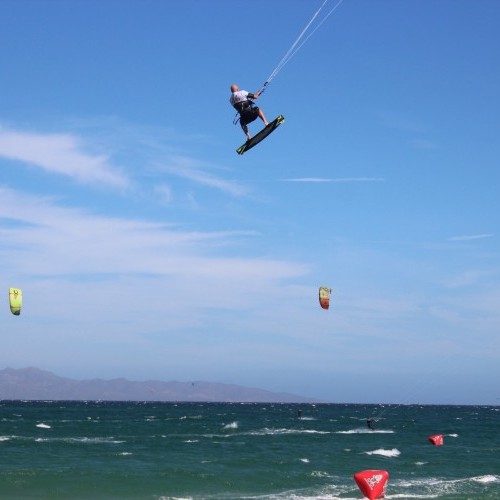 La Ventana WINDFEST Set For January 20- 23
Sat 3rd Oct, 2015 @ 3:00 am
The La Ventana WINDFEST is back. The 2016 event is being expanded to include freestyle and will be run over the course of four days. Last year, the La Ventana kiteboarding community recognized a lack of kiteboarding events, and organized WINDFEST to help fill the gap. For 2016, disciplines will include:
Massive 5-mile Downwinder – Windsurf, kiteboard: twintip, surfboard, 70 cm formula board, hydrofoil
Course racing – Kiteboard: 70 cm and hydrofoil
Slalom – Windsurf, kiteboard: twintip, surfboard
Big Air – Kiteboard twintip
Freestyle – Kiteboarde twintip
Stand Up Paddle relay races
Races will be run by professional race director Robby Dean. Continue reading below to find out more about the event.
The La Ventana WINDFEST, a tournament for kiteboarders and windsurfers, returns for the 2nd year in a row and expands to four days and adds freestyle to the lineup.
The event will be held from January 20-23 in the town of La Ventana, Mexico, a popular destination for kite and windsurfers located 40 minutes drive south of La Paz. The tournament is open to all kiteboard and windsurf skill levels from ages 10+, encouraging participants to have fun with these sports. Activities include downwinders, racing, slalom, freestyle tricks, big air competitions for prizes, all while benefiting the local economy and encouraging the next generation of champions.
WINDFEST is the creation of 4 Elements Kiteboarding founder and La Ventana resident Xantos Villegas, after seeing a glaring absence of a community event in the area for several years. "We have such an amazing community around these sports and our local businesses depend on events like this. What better way to boost the economy than to bring everyone together to have fun?" But WINDFEST is not just about fun. To ensure a professional event, he has included professional race director Rob Dean, who has lead international regattas such as Big Boat Rolex. "We want up-and-coming champions to experience what it is like to compete in a world class event. That way we can help them get to the next level and build their track record," says Villegas.
This year the event includes the addition of a freestyle category at the request of last year's participants, more time for the big air competitions, and the addition of standup paddle (SUP) games. WINDFEST closes with the largest after-party in La Ventana, where awards are given, raffles drawn, and dancing begins to the hottest upcoming bands and DJs from La Paz.
The freestyle and big air events are also what typically draws the largest crowds as onlookers are wowed by complex tricks and long hang times from the kiteboarders. Admission is free for spectators and there will be food and beverages for sale at the event site.
Registration for those who want to participate in the events is not open yet, but there will be different prizes for the various categories of games they can register for. Participants are encouraged to follow the Facebook event page for updates and announcements for open registration:
Visit their event page for more: https://www.facebook.com/events/880219455360661/
Featured in this Post
Comments