National Watersports Festival 2014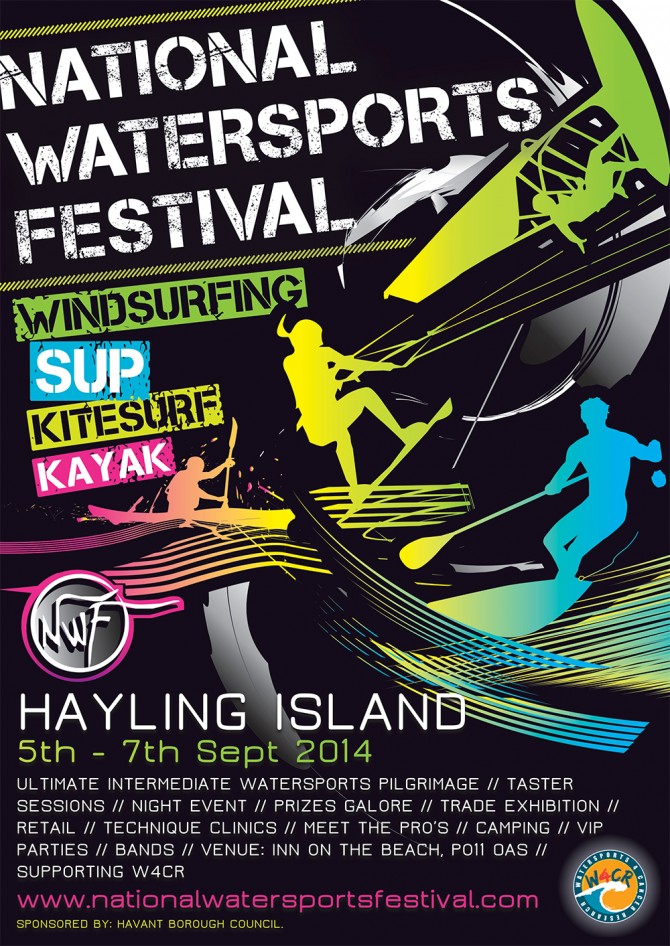 From the 5th to the 7th of September the National Watersports Festival will be taking place at Hayling Island, England. 
The event will be showcasing Kitesurfing, SUP, Windsurfing and Kayaking and will be a huge gathering of water sports enthusiasts from all over the country. The kite industry will be there in force with all the new 2015 gear on display and available for demo, Coaches are going to be on hand with clinics to help you improve your riding and there will be plenty of opportunity to get on the water and have a good time with likeminded people!
Allan Cross the event organiser had this to say about this years event:
"The National Watersports Festival (NWF)  was first delivered  9 years ago under the title of National Windsurfing Festival and is affectionately known very much as the peoples festival… The main aim is to deliver and non intimidating arena for the intermediate water sports participants, which turns the normal spectator into the low level competitor.  In true NWF style the event caters for 20% Taster 70% Intermediate and 10% Pro… Even though Kitesurfing is pretty new to the event we are intending to make up for lost ground and deliver an awesome 2014 NWF kite . We and have a great line up of team riders and industry professionals to ensure you he kite community have a great time on and off the water in true NWF style."
Activities throughout the festival include:
1. Introduction to power kiting – these classes will be 50 mins long, a maximum of 8 people per group and will introduce attendees to power kiting. These sessions will be land based and attendees will learn how to set up , launch, land and control power kites.
2. Kite surfing Intro – must have first completed an introduction to power kiting session provided by NWF trainers. This 50 min session will introduce attendees to Kite surfing. The sessions will be run on the water and attendees must be wearing the correct PPE ( wetsuit, Helmet, buoyancy aid and appropriate shoes. Attendees will be introduced to Marine kites, how to set up, launch and land the kites on the water, safety system activation and options and finally learning to navigate with the kites upwind and downwind.
3. Intermediate clinics – we will be providing intermediate clinics for attendees by well known industry professional coaches.
4. Ladies intermediate clinics – provided by top pro rider Hannah Whitely, these sessions are aimed at getting female intermediate riders together for fun improver sessions.
5. Big air and kite loop clinics – provided by two of the industry leading pro male riders (Sam Light & Lewis Crathern).
6. Competition:
Twin tip race event –  A simple fun race event  for intermediates. (Intermediates are classes as those who have no affiliation to the kite industry) Sponsored by http://www.northkiteboarding.com
Big Air event –  A simple format for intermediates Sponsored by http://www.cabrinhakites.com/index.php?lang=en
7. Sam Light Park Riding Clinics – these clinics will introduce attendees to Kite surfing with kickers and sliders. Sam Light is the current No.1 in the world at this discipline. http://www.samlight.co.uk
8. Pro Rider demos  – Our fleet of Pro riders will show case as many different aspects of the sport – big air, kiteloop/megaloop, park riding, freestyle, waves and racing during the event.
9. NWF Kite Park Pro Comp – Pro rider comp for sponsored and industry riders and will be part of the format for the NWF Night Kite scheduled for Friday night.
Dates:
5 – 7 Sept 2014 at West Beach, Hayling Island.
Fri 5 Sept Trade and Industry day demo day supported by team rider clinics and presentations.
With evening party live band, DJ and charity auction for Watersports for Cancer Research and Night Kite Park event hosted outside the Inn on the Beach.
Saturday and Sunday
Main competition days with Sat evening party, live band, DJ and fancy dress themed.
 Entry:
The entry price will include event entry,  camping, toilets, security and party tickets for both Fri & Sat evening and if booked before 1st Aug will also include NWF 2014 T shirt and payment is taken through NWF site.
Online entry is available now:
http://www.nationalwatersportsfestival.com
Parking/Camping
There will be allocated parking/camping located on NWF site area. However, this is  only for competitors and not for the general public.  There will be limited camping space available for those on 3 day taster….. And those who have paid for camping……
Party Tickets
Those entered into he event automatically have their party ticket for both Fri & Sat included… Additional party tickets are available to be purchased separately, those who have just purchased a party ticket are not entitled to camping on site..
Public Car parking 
The NWF site and associated area is not open to the general public to park over the period of the festival.  However the public car parking facilities are within 800m of the main NWF site.

Comments