Jo Wilson At The National Watersports Festival – Free Clinics!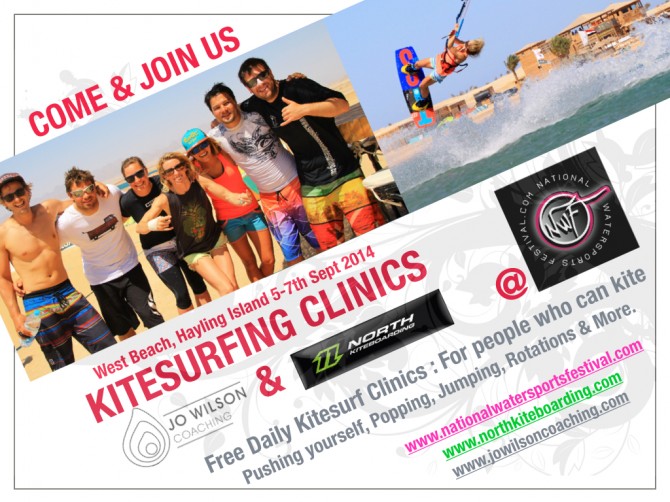 The National Watersports Festival is coming to Hayling Island the weekend after next. Its from 5-7th September 2014 and the kitesurfing scene has stepped up the pace.
Lots of kite brands will be there with their latest kit to demo and various people from around the UK will be running coaching clinics. Jo Wilson is going to be there running clinics the whole weekend, this is what she had to say:
"I am really looking forward to it and wanted to invite you all to come. Come rain or shine, wind or no wind I will be running daily coaching clinics aimed at people who can kite e.g. anyone who has at least got up on a board all the way up to people who have been kiting for years. I will be covering different topics such as: Pushing yourself when on the water, popping, jumping, rotations and more.
The clinics are brand new and inspired by ALL the people who have been on my coaching sessions and holidays before."
The clinics are free, land based and aimed at preparing you mentally so that you are totally ready to try the skills and tricks out when you next hit the water.
Jo will be based at the North Kiteboarding Stand on West Beach at Hayling Island. The clinics will be at 10.30am and 2pm on Friday. 10am and 2pm on Saturday and similar times on the Sunday too. Be sure to come down to check out the clinics and let Jo really try to help you take your kitesurfing to the next level.
Meanwhile there will be plenty of other water sports action throughout the weekend, so to find out more please check out NWF Website.
Featured in this Post
Comments