Good things happen when the kiting community gets together!
Riders from all over Greece came together to participate in a special fundraising Endurance Race. The event was organized by the Global Kiter Foundation and Kitepark.gr, with the support of Kiteclub.gr.
The Lefkadi Kiteboarder Weekend was a special event. It was organized to raise funds for local kiter Vaggelis who became paralyzed after a kiting accident in 2011. The kiting community rallied around and showed the true meaning of sportsmanship.
10 teams of 3 riders each raced to complete as many laps of the circuit as possible during the 3 hour competition. There was a great mix of competitive spirit on the water and fun off the water, while riders regained their strength between the laps. Everyone who took part had a wonderful time and had smiles on their faces from the beginning till the end.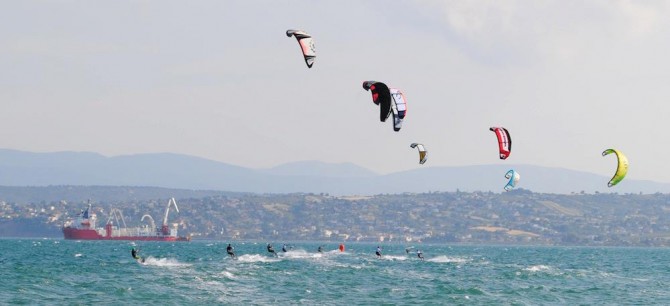 Testing endurance, strategy and skill, each team did amazing work! The winning team completed an incredible 78 laps during the 3 hours and a total amount of 900 euros was raised for Vaggelis within those 3 hours!
We also organized a beach cleanup in the morning with the athletes and volunteers: it is the perfect pre-wind activity showing how easy it is to be eco-friendly with our sport, and meeting part of GKF's mission to involve local communities in improving the environment. Remember- always leave the spot cleaner than you found it!
Kiting champion Mark Shinn proved his great sportsmanship too… Not only did he have great fun with the guys, he was also part of the winning team! Mark made the trip over especially for this weekend. Thank you to Shinn World for being there!
The event was also supported by Weendy, Billabong Greece, SecretSpots, FunSports, Airush Greece, Lifeguard Hellas, and Surfers4life.
The Global Kiter Foundation is a non-profit Foundation that improves environmental awareness, creates community engagement and offers comprehensive education using kiteboarding as the unique connection point.
Visit http://www.globalkiter.com for more info or contact info@globalkiter.com. The global winds of change have finally arrived! Follow us on Facebook and Twitter.
Featured in this Post
Comments