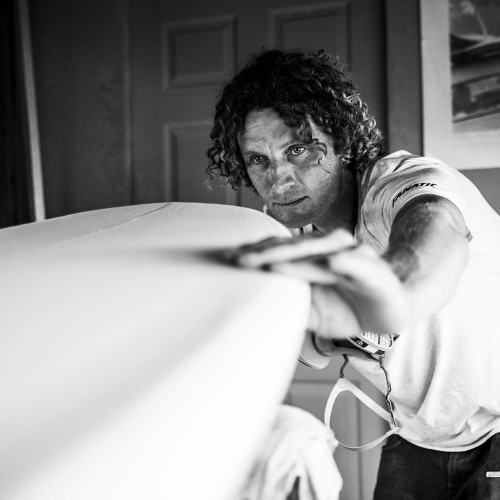 Intriguing Beings Podcast – Episode 07 – Sky Solbach
Features / Mon 29th Oct, 2018 @ 3:00 pm
It's Monday, and that means it's time for Rou Chater's Intriguing Beings Podcast, click here to check out this weeks episode with Sky Solbach! Sky is a very talented board shaper who currently heads up the Duotone shaping department creating surfboards that many of us know and love. He's been creating boards for all sorts of watersports for years and is currently working on surf foil shapes for Fanatic.
"This week I talk to Sky Solbach, shaper and tester for Duotone Kiteboarding. Sky has been instrumental in creating some of the most well known kitesurf boards on the planet, and the chances are you've ridden one of his sticks at some point. He's an interesting guy with a mild nature and a real passion for all things aquatic.

Together with his wife Kristin they bought some land on Maui, built a house and went about creating a sustainable lifestyle with their own farm. At one point they had over 50 chickens and a herd of goats, they were selling eggs and making goats cheese and growing all their own veg!

He's got some interesting stories and we talk about his early career, getting launched into a Dutch speaking school at the age of 9 and his passion for shaping watercraft." – Rou Chater
Rou has been kiting since the sports inception and has been working as an editor and tester for magazines since 2004. He started IKSURFMAG with his brother in 2006 and has tested hundreds of different kites and travelled all over the world to kitesurf. He's a walking encyclopedia of all things kite and is just as passionate about the sport today as he was when he first started!
Featured in this Post

Germany
102,827

126,943
Comments