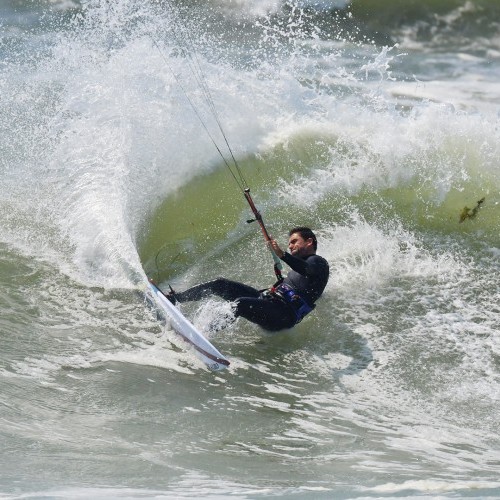 In Focus: Eleveight 2021 Kite Product Overview
Features / Fri 25th Sep, 2020 @ 4:21 pm
Eleveight kites are built with innovation and quality workmanship. Details are strategically designed for long-lasting durability while keeping the kite light and agile. Their 2021 line up is impressive, including their latest addition to the kite range; the XSeries. We've got it all, right here.
2021 Kites
The FS
Freestyle – Freeride – Wakestyle
Our freestyle flagship kite, the Eleveight FS, has a revolutionary Open-C design fine-tuned for staggering freestyle and big air manoeuvres.
Version 4 of our radical freestyle and big air flagship has arrived. The FSeries activates explosive high-performance characteristics allowing you to boost higher, loop harder, and pop more aggressively than ever before. It is tailored to the needs of professional riders while ensuring that the performance is accessible even to less advanced riders too.
The Open-C design has all the traits of a genuine C-kite such as direct control, explosive lift, and a wide angle-of-attack that comes into play when looping the kite or popping out of the water. It is the most progressive kite design a rider can choose. Still, the kite is incredibly stable, covers a huge wind range, and swiftly takes the rider upwind.
To improve this iconic kite even further, we implemented a few subtle as well as a few more daring changes into this year's version. Most noticeably, we reworked the canopy curve, improving the load distribution. This modification results in more raw power, especially when sheeted in or during air-time. By introducing a completely new lightweight trailing edge with anti-vibration patches and new load diffusers, we not only enhance the longevity of the kite by eliminating canopy flutter but more importantly, we also managed to shave off a significant amount of weight.
Version 4 is more agile and dynamic than ever before. This effect is enhanced by the new alignment of our strut tips, which reduces tip drag. Looping a kite has never been more accessible and fun. Furthermore, we shifted the bridles closer to the wingtips to increase the direct bar feedback, giving riders a better feel for their kite, especially during manoeuvres such as handle passes. Don't limit yourself, tear down your inner demons and get flying with the FS.
Features
Five-strut Open-C design for radical freestyle and big air manoeuvres
High-performance design for advanced action
The high aspect ratio for explosive power and vertical lift
Lots of lines slack for advanced freestyle tricks
Great upwind performance and exceptional stability
For more information on Eleveights 2021 FS, please click here.
The RS
Crossover – Freeride
The RS is a highly versatile delta-hybrid powerhouse designed for limitless freeride performance and distinctive surf and freestyle characteristics.
The RSeries is an all-round powerhouse kite, designed to tame any storm, boost massive airs, and master any spot. Due to its high-performance versatility, it quickly became our best selling kite. The aerodynamic delta-hybrid design delivers greatest freeride performance while enabling riders also to chase waves and pop freestyle tricks. This multi-talent is exceptionally efficient, and most riders are content with a quiver of two kites to cover the entire wind range. The construction features a medium to a high aspect ratio with a huge angle-of-attack, which gives the RS an extra in grunt, making it incredibly powerful.
Combined with its dynamic speed, it truly stands out when going for massive airs, which are followed by plenty of hang time. Kite loops come naturally to this wing and generate a thrilling forward momentum. Thanks to the direct feel, the kite's performance are accessible to riders of all levels. It swiftly travels upwind, no matter how gusty the wind or choppy the waters.
Packed with nifty features, we were able to enhance the performance of RS V4 even further. Riders will instantly notice that the kite delivers more feedback due to the shorter bridle geometry. This redesign also reduced bar pressure, minimising the strain on the forearms. A new alignment of the tip struts decreases drag, resulting in faster flight speed and turning characteristics.
We also updated the leading edge wingtip diameter, making the kite quicker to respond to steering impulses. Our new ultra-light load diffusers as well as the fully redesigned trailing edge with smart anti-vibration patches, eliminate unnecessary weight while improving stability and longevity. The new RS gets everyone psyched in seconds.
Features
Three-strut delta-hybrid kite for high-performance freeriding
Tailor-made for versatile performance, in all riding styles
Designed to cover massive wind range and easy upwind travel
Ultra-stable construction, perfect for riding in any condition
Precise, fast, and smooth turning characteristics
For more information on Eleveights 2021 RS, please click here.
The XS
Extreme Freeride Series
The delta hybrid design of the brand new ExtremeSeries kite allows riders to break the boundaries of big air. Its extreme boost amazes even obsessive adrenalin addicts.
Our latest addition to our kite range, the XSeries, was created for the needs of adrenalin addicts seeking a kite to break the boundaries of big air. The XS has a sophisticated delta hybrid design with a high aspect ratio, featuring a massive angle-of-attack. This design is as grunty as it gets, delivering raw power, skyrocketing riders into unknown spheres.
We embedded it in our range right between the FS and RS. It is more of a big air kite than the FS, and more aggressive than the RS. This kite is a tool for hardcore riders that mainly want to fly. Due to the long hang time, it is perfect for old school hooked-in tricks. Hence we paid attention to ensure easy upwind travel so that the riders can focus on flying back downwind. As it is intuitive to steer and extremely responsive, the timing of takeoffs is a breeze.
Commit pulling your backhand, sheet in, pop, and you are catapulted into the sky, leaving the crowd in shock. In megaloops, it develops a staggering forward momentum that will leave you ecstatic for days. It is Arthur Guillebert's weapon of choice to chase storms. Add this kite to your quiver to break your personal best in big air.
To withstand the extreme forces of radical big airs, we designed an ultra-sturdy five-strut frame that delivers stability in all situations. We put a lot of work into aerodynamics, creating the perfect sweep of wingtips as well as canopy curve. The design gives the XS a fantastic low-end performance with a wide sweet spot that comes in handy for progressing riders and in less than perfect conditions.
We have tested it extensively in all disciplines. Though it is not a pure wave kite and neither a freestyle wing, our team riders were blown away by the kite's versatility. Radical freeriders have a new best friend: the XS.
Features
Five-strut delta hybrid design for adrenalin addicts and boosting freaks
Extreme big air kite with an explosive lift and extended hang time
Massive grunt in all wind conditions for freeride versatility
Ultra-sturdy construction for maximum stability and longevity
Rapid yet controllable flight characteristics
For more information on Eleveights 2021 XS, please click here.
The WS
Wave – Freeride Series
The WSeries is the choice of avid surfers seeking a kite that syncs to their riding style, allowing them to perform the most challenging manoeuvres.
The WSeries kite is your ticket to the green room. Riding waves has never been more accessible and fun than with Version 4 of our dedicated surf kite. Its outstanding performance allows you to catch any wave with ease, automatically switching to auto-pilot as soon as you drop in.
The Open-C hybrid design with three struts provides power right when you need it while drifting unobtrusively along when you ride the face of the wave. It has exceptionally swift pivotal turning characteristics that enable you to pinwheel the kite without being ripped off the board.
Throwing massive spray comes naturally to the WS as it automatically synchronises with your surfing manoeuvres. Hack into the lip with extreme force or do smooth flowing carves, the choice is yours. The huge wind range, as well as the light bar pressure, make it a favourite for freeriders and foil addicts too.
It was a tough challenge to improve the WS further as it was already a favourite for seasoned surfing veterans. However, we found some characteristics we were able to enhance for this year's version. We completely reworked the bridle design, improving its geometry. This development further advances the very light yet direct bar pressure. Next, we redefined the canopy curve to provide a better load distribution, expanding the wind range. By adding extra sweep to the wingtips, we also gained more low-end performance. By reducing a tremendous amount of weight, we made Version 4 faster than ever.
To achieve this, we switched to new ultra-light load diffusers while also reworking the trailing edge. It now has innovative anti-vibration patches, that are more aerodynamic while also reducing flutter for longevity. We are proud that the WS is more performant than ever before. No matter the swell, the WS will make sure you are having a blast.
Features
Three-strut Open-C Hybrid design made for wave-, foil- and freeriding
High-performance kite with rapid turning characteristics
Designed with a stable downwind drift for carefree surfing
Medium aspect ratio ensures enormous wind range and low end
Lightbar pressure for single hand control for the best surfing experience
For more information on Eleveights 2021 WS, please click here.
The OS
Foil – Lightwind Series
The OS is advancing the boundaries of light wind performance, allowing riders to take-off in the slightest breeze. It is the one tool all foil riders need for their quiver.
Riding light wind with the OS is pure happiness. Even more so with Version 2 of our dedicated foil and freeride kite, as every inch of material delivers outstanding performance, no matter how thin the breeze. Launch this feather-light kite in well below 10 knots and discover a whole new world of kiteboarding. The Open-C design comes with outstanding agility, a massive sweet spot, and direct control.
Though it is remarkably dynamic, the kite is easy to tame as the steering is well-defined and precise. The power deployment is astonishingly smooth, which comes in handy when looping the kite during transitions while switching the stance. The fluid movements in the sky naturally transfer to the rider below.
Following the feedback of kiteboarders all over the world, we made some upgrades to the OS. We started by decreasing the aspect ratio while adding more sweep to the wingtips. These adjustments highly improved stability, especially in stronger winds and gusts. Testing the latest performance-materials, we replaced the regular XT fabric with the innovative Extreme Light High-Tenacity fabric (XT LIGHT),  a brand new material that is lighter yet stronger.
We also used this material in our completely reworked trailing edge, which we equipped with anti-vibration patches, effectively reducing flutter. Making those modifications, we were able to develop a much sturdier kite that is even lighter than before. Hence it is more agile and covers a wider wind range. Add the OS to your quiver and take off in any breeze.
Features
One strut mid-swept hybrid design for foiling and freeriding
Highly responsive performance kite with dynamic turning speed
The optimised aspect ratio for superior light wind performance
Backstall-proof design and automatic relaunch characteristics
Feather-light design with ultra-durable quality materials
For more information on Eleveights 2021 OS, please click here.
The PS
Progression – Freeride Series
A gentle and durable power-kite with nifty features, tailored to the needs of freeriders and kite schools to boost skill progression and maximise fun on the water.
Our infamous freeride progression kite, the PS, is being launched for the fourth time. Version 4 of this three-strut hybrid is redefined to transform newcomers into kiteboarding rockstars. It not only gets them riding, but it also gets them flying in no time.
This kite is so easy to handle, the progression curve is off the charts. To evolve this kite, we collaborated closely with kite schools all over the world, as they are the ones trusting this kite for its ultra-durable built quality and the big fat smile it causes their students and instructors.
We managed to make this new version of our gentle power-beast even more stable and responsive by introducing Japan's finest cloth, the state-of-the-art X4 Ripstop canopy made by Teijin Techno Force™. It enhances the longevity of the kite while counteracting canopy stretch. More than ever, the kite will stand rock-solid in the sky, patiently waiting for steering impulses. Furthermore, we improved the kite's agility making it soaring fast while being entirely controllable. We achieved this by shaving off unnecessary weight.
Our new trailing edge with smart load-diffusers and the decreased strut diameter means a leap in the kite's overall performance. Lastly, we came up with a fresh bridle concept with better pulley placements, making the PS's flight characteristics more precise with renewed direct bar feedback.
Together with the countless safety features, such as our industry-leading bridle deflectors, the incredible relaunch characteristics that are genuinely "automatic," and the sheer endless power, the PS is the perfect package for any rider looking for a steep rise in progression. It is also a sensible choice for those seeking a crash-resistant jack-of-all-trades-kite for care-free riding with amazing hangtime and boosting characteristics. The PS is sparking kite addiction since 2017.
Features
Swept three-strut hybrid design for rapid progression and fun sessions
Exceptional upwind performance and huge wind range
Ultra-stable and forgiving flying characteristics
Heavy-duty built quality with strong reinforcements
Care-free riding with innovative safety features and automatic relaunch
For more information on Eleveights 2021 PS, please click here.
To view all Eleveight products, please click here.
Fri 25th Sep, 2020 @ 4:21 pm
Jen Tyler grew up in the chaos of Cairo, Egypt. It was on the beaches of the Red Sea where her love for the ocean, water sports and adventure grew.
Featured in this Post
Comments