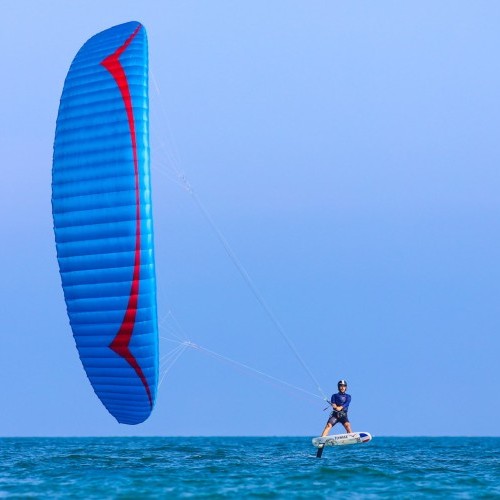 All About the Instinct HB from Gin Kiteboarding
Features / Wed 6th Oct, 2021 @ 12:00 pm
The Gin team has developed a user-friendly freeride foil kite that has the potential to achieve outstanding speeds. Read on to learn more about the history of the Gin Instinct HB, which is up for grabs in our IKSURFMAG Issue 89 subscriber competition!
INSTINCT HB
THINK FAST, GO FAST
The Instinct HB kite will help you achieve outstanding speed. The bar feedback and its precise control will allow you to ride it in all terrains in all conditions. It has perfect stability; even in strong wind, you will not feel the gust. This kite will help you to achieve new goals and progress to the highest levels. Once you try this kite, everything will become easier. The Instinct HB is a user-friendly kite, suitable for any discipline.
HISTORY
Hans Bollinger, a paraglider world champion and world cup champion, is passionate about designing and improving kites. You might think that Hans is in his natural element in the air. Instead, he started by wholly embracing the water element, sailing a Vaurien in 1976 and becoming vice world champion junior as co-skipper. In 1980, he started with the 470 as a coxswain, competing internationally and missing the Olympics qualification by one place. Then, he spent some time with the delta and paragliders allowing him to get involved in the gliders market and, finally, the air element.
Nowadays, he likes to spend more time in the water in pursuit of developing the best kites in the market. For him, developing a kite is like a mind game; you think you have created something great, but when the next prototype arrives, it brings you back to earth, and you find other problems to solve. The constant challenge to succeed motivates him; it's a never end for finding new ideas.
Most of our range of ram air kites are designed by Hans Bollinger, who left his mark on our history. We wanted to pay homage to him with this kite that brings together all the best of what he does, making the performance of a ram air kite accessible to everyone. His life is one dedicated to paragliding and kitesurfing but above all, a desire to share his joy with as many riders as possible.
The name Instinct HB comes from the fact that it is in concordance with our lines of kites but, most importantly, is so easy to take in hand and fly; it is almost instinctive. The Instinct HB is a kite that unites the world of racing but also the world of freeride. Thus, we call it a Free Race kite.
Fun fact, we like to emphasize that most of our products come from Switzerland, where Hans Bollinger also hails.
LIGHT AND HANDY – Instinct HB is very light and thus swings perfectly in low wind. It is easy to fly thanks to its advanced technology. It is a responsive kite, which will allow you to realize any kind of operation and have the perfect depower.
ROBUST – The Instinct HB, produced with Myungjin fabric, is composed of a Korean paragliding technology, more rigid but with good porosity.
MULTI-SKILLED – If you are looking for an all-around user-friendly kite for progression, this will be your go-to. It is dynamic and versatile and offers maximum responsiveness, and you will feel that you have constant power in any condition. With its excellent wind range, you don't need any extra adjustments.
—
Text by Gin Kiteboarding.
Learn more at https://ginkites.com/en/produit/instinct-hb/
Editor at IKSURFMAG, Crystal Veness hails from Canada but is based in South Africa. When she isn't busy kitesurfing or reporting on the latest industry news for the mag, she is kicking back somewhere at a windy kite beach or working on creative media projects.
Featured in this Post
Comments