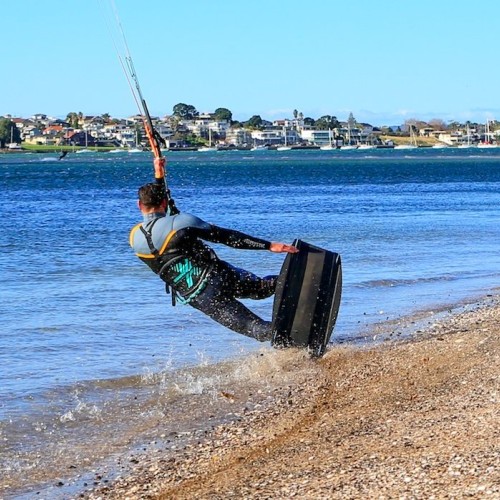 Why Visit?
Auckland is New Zealand's largest and most diverse city, and it's an action-packed city with something for everyone. A true must see, with its beautiful natural landscapes and coastlines and, its shores are just a stone throw from the CBD. The range of coasts ensure there is an ideal spot for any possible wind direction and kiting discipline.
Auckland is the perfect departure point for any North Island adventure, with its central location allowing for ease of transport to any destination you plan on visiting.
Wind and Weather
You can kite in New Zealand all year round. It's generally windiest during winter (June-August) and spring (September-November). During the winter months, the water temperature is colder, and you'll need a 4.3mm or 3.2mm wetsuit. During the warmer months of December-March, you might be lucky to kite in boardshorts, but a thin wetsuit is always safer. For live wind, use WindDan.
Getting Around
You will need a car to get to any kite spot in Auckland and the greater Auckland region. Juicy rentals have plenty of affordable camping vans or cars you can hire at a reasonable price. You can also hit up the University of Auckland Kitesurf Club Facebook page for a ride as they are always heading out!
Food and Drink
Auckland has a large variety of food and drink options. Known for its fantastic coffee and downtown bars, the CBD will not disappoint. Ponsonby has great nightlife and some cracking cafes. If you are keen to escape the city, grab a very Kiwi style dinner with fish and chips while watching the sunset on one of the many breathtaking beaches!
Nightlife
Keen for a night out? The folks at the University of Auckland Kitesurf Club have got you covered! Hosting many events throughout the year, you can have a wild night with like-minded individuals who will show you a good time. Not up to partying with students? The downtown bars guarantee a great night out.
No Wind?
When it comes to no wind activities, Auckland has an abundance of activities to keep you occupied. You can go Bungy jumping off the iconic Harbour Bridge, catch a ferry to Waiheke Island for some wine tasting or watch the sunset from the top of the mercer bay track, or Bastion Point.
You can go chasing waterfalls if you're up for a hike, set sail in the "City of Sails" in an old America's Cup yacht or get lost wondering between the boats in Westhaven Marina, the largest marina in the southern hemisphere. Catching the ferry to Rangitoto Island and climb one of the many volcano's Auckland is built around for panoramic views of the city, is also very popular around here.
If you don't have the time, grab dinner and take it up Mount Eden for a picnic to watch the sunset over the city. Auckland offers beautiful beaches, hikes, vineyards, a cable wakeboard park, mountain biking, a 4-hour drive to a ski-field and so much more.
Internet
Most hotels, hostels and some cafes/restaurants will have WiFi, so you don't need to worry about that.
Accommodation
There are a variety of options for accommodation in the CBD or on the coast. Check out Booka Bach and Holiday Houses for the NZ equivalent of Airbnb.
Featured
Sardinia is one of the most beautiful islands in the world! It boasts numerous fascinating characteristics and even its typical Mediterranean nature hides a richness and variety. It is the perfect choice for all those who seek more than just its splendid beaches and crystal clear water and, instead, wish to discover the numerous other treasures it offers and all…
São Vicente is a wild and uncrowded place, and it will give you the flavour of the true, authentic Cape Verde. December until June is the best kite season as the wind blow consistently almost daily. If you're into wave riding, then Cape Verde is the place for you! In one bay, you can choose, cross- shore, cross-onshore and cross-offshore conditions…
It's no secret that Antigua has been a significant kiteboarding destination for over a decade now. The island is renowned for being the birthplace of kite legends like Andre Phillip and his protégé Jake Kelsick. Ever since the release of the hit kite film Autofocus, all eyes have been on Dre and the local crew, who consistently pump out high-quality…
Ella is a former competitive sailor turned "kite-frother" and also the Co-President of the University of Auckland Kitesurf Club. Ella joined the club having never flown a kite in her life and was instantly hooked after getting lessons through the club. Ella is humbled to lead the self-proclaimed "Worlds Biggest Kitesurf Club" which provided her with the ultimate pathway into kiting and a link to over 350 kiters who all ditch class whenever there is wind to absolutely send it!
Been to Auckland? What did you think?
Where are the Best Kitesurfing Beaches in Auckland?
Kite with the backdrop of the iconic Rangitoto Island. This flat water spot is ideal 3 hours either side of low tide on a North-West to a Northerly wind direction. Just a short drive from the city. A perfect place for learners. Rock up to Morton's in your towel poncho after the kite for an Erdinger beer and some loaded wedges - you can't go wrong.
Wind: NW - N
Waves: Small
Shorebreak: None
Drive over Auckland's harbour bridge and around the Northshore to get to Shoal Bay. You'll kite with the backdrop of the city skyline and harbour bridge. This flat water spot is ideal 3.5 hours either side of the high tide however not on dead high as 30 minutes either side of the high-tide will reveal the launching spot. You'll need to be able to ride upwind at this spot confidently, or you might end up doing the "Shoal Bay Walk of Shame" out of the mangroves. You will want to go to Shoal Bay on a South Westerly Wind.
Wind: SW
Waves: None
Shorebreak: None
Hidden at the end of one of Auckland's many beautiful regional park's is a fantastic kite spot just 30 minutes north of the CBD. With a mixture of smaller waves and flat water at mid to low tide, this is an ideal spot for all abilities. With camping onsite and public BBQ's, this is a great spot during the warmer months for post kiting beers around the BBQ. If you want to ride the waves kite closer to high tide (just not dead high-tide, an hour after high is better) If you're going to ride the flat water kite closer to low tide (just not dead low-tide, 30 minutes either side).
Wind: SE - SW
Waves: Small waves and flat water
Shorebreak: None
A 30-minute drive north of the city, sitting at the base of the Whangaparaoa Peninsula is Orewa Beach. With 4 km of kiteable beach, there is plenty of room for learners and experts and you can kite here on any tide. However, low tide is preferable. Best on a North or North Easterly wind. Off the back of the Pacific Island cyclone season, you get some raging Easterlies (Around the 1st of Jan every year).
Wind: N or NE
Waves: Yes
Shorebreak: None
40-minute drive west of the CBD is Muriwai Beach. Discover the black sand and waves of arguably one of New Zealand's most beautiful beaches. Muriwai beach is a national highway so drive your 4x4 straight onto the beach and park up to unload your gear. Muriwai is a surf beach known for its furious swells and currents so be sure to have your wits about you. Head here on North-West to South-West wind direction at mid-tide to low tide is best. Head up further north to South Head lagoon. Also, an excellent flat water spot is known as the "Secret Lagoon".
Wind: NW or SW
Waves: Yes (or head further north to the Secret Lagoon for flat water)
Shorebreak: Yes
Located on the Tahuna Torea reserve in Glendowie, "The Spit" is the ultimate flat water riding spot in Auckland. Good on a straight southerly at high tide the spit offers freestyle sessions and big boosts if you dare to jump the spit. Perfect for the after work session and you'll surely meet the local gardener who works from 8 am until 15 knots.
Wind: S
Waves: None
Shorebreak: None
When is the Best Time to go Kitesurfing in Auckland?
The windy months to go kitesurfing in Auckland are June, July, August, September, October, November
Statistics
Do you know a good kitesurfing school here?
Kitesurfing Videos and News in Auckland
5 years ago
18 riders, 18 unique stories! The Leading Edge is a coffee table book capturing the unique kite surfing culture in Auckland, New Zealand through stories from…