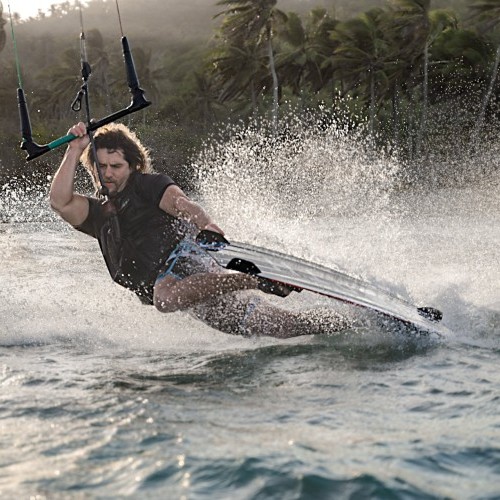 North 2024 Freeride Kiteboarding Collection
Tue 1st Aug, 2023 @ 8:00 am
Win a Custom Designed Ozone Twin Tip this issue in our FREE subscriber prize draw.
North has just released its 2024 Freeride Collection, engineered for consistent, dependable performance in all conditions. Playful yet powerful, with comfort that's critical. Take your riding to the next level. Dive into the new collection right here!
The 2024 North Freeride Collec2on is designed for you to seek new levels of performance, fuel your motivation and reach your highest potential. Freeride stands for versatility; each piece within the freeride range has an intuitive feel in every condition.
For 2024, North Kite Designer Pepijn Smit has refined the iconic desert-island kite for all conditions with lighter-weight materials and improved canopy tensioning. This gives the kite a faster flying, cleaner profile entry and a smoother, more aerodynamic shape that's even more stable in kite loops.
"This kite really does it all. I love the confidence that I have when loading up my truck or packing a boardbag, knowing that no matter what conditions I find, the Reach will be ready for it. I dare you to try and find something this kite can't do." – Jesse Richman.
The Reach – Your desert island kite
Win a Custom Designed Ozone Twin Tip this issue in our FREE subscriber prize draw.
Unparalleled versatility and wind range, easy jumps, upwind performance, and effortless relaunch. For 2024 the Reach is lighter overall.
We've improved the canopy tension for faster flying and revised the arc design for a crisper, snappier response, more direct steering and more dynamic recovery. Still nimble and easy to ride, the Reach is your go-to kite in all conditions.
The lighter N-Max construction excels in lightwind, foil and surfs without compromising the kite's durability. Its fast, responsive steering and efficient power delivery give rise to confident boosts, loops and freestyle, while the short responsive bridle provides quick, exponential depower.
In the larger sizes, the Reach is a powerful lightwind kite designed with a predictable, consistent drive forward for TwinTip riding – long after everyone else has gone in.
"I fell in love again. The small modifica>ons to the Reach just make the kite even more fun. I must be honest; the Reach is my go-to kite from now on." – Nick Jacobsen.
Watch the Reach Designer Notes with Kite Designer Pepijn Smit and Brand Director Mike Raper.
Flex PRO Bindings
Win a Custom Designed Ozone Twin Tip this issue in our FREE subscriber prize draw.
The triple-density dynamic support technology – absorbs and disperses impact after gravity-defying boosts, protects your heels and makes for softer landings. Softer high-density impact pads protect the heel from board contact on big landings and are dual-moulded with a medium-density layer for serious impact protection. Another softer insert pod provides strategically-placed comfort under the ball of the foot.
Freeride Twintip Collection
The Prime
Instantly familiar, intuitive and comfortable in all conditions, the Prime offered early planning and pulled in tips for a splash-free ride. It features a balanced outline, rocker and flex for smooth upwind tracking, forgiving flex for confident jumps with softer landings, and an easier-to-edge rounded outline that helps you stay in control and progress faster. The FlipTech centreline mounting extends rail longevity.
The Astra
Playful yet powerful, the Astra delivers responsive flex, comfort and control to riders of all levels with a smaller build. Featuring a consistent, dependable rail grip, super-efficient bogom shape and medium flex for clean and powerful pop.
The Trace
Light wind? No problem. The Trace has a progressive straight, square outline and large surface area for early planning and upwind performance in the lightest winds. A Centre-V Spine and longitudinal quad channels provide balanced torsional s2ffness, superb traction and more control. The progressive medium-low rocker is ideal for flatwater.
It also enables phenomenal pop for lightwind tricks and transitions and surprising manoeuvrability for its size.
Pair the Trace with our Reach 13/15/17m to maximise your ride time in the lightest of winds.
The Atmos
The harmony between medium rocker, progressive outline and flex makes this the ultimate all-terrain board to take you to the next level in all conditions.
Seeking. It's what makes life worth living. But knowing what we seek? That's what helps it all make sense. Freeride 2024. For the seekers.
View the 2024 Freeride Collection here.
Featured in this Post
Comments