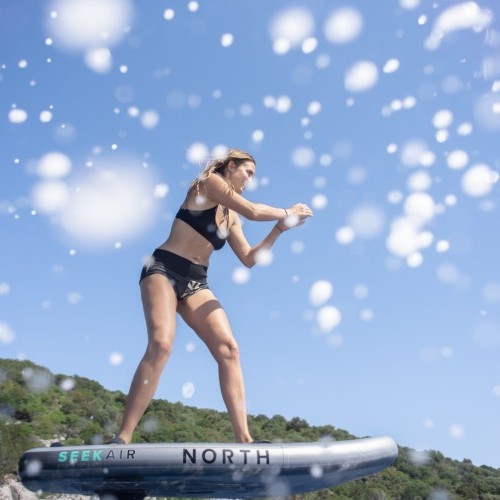 North Foils | Introducing The Seek Air
Thu 9th Feb, 2023 @ 3:00 pm
Win a Custom Designed Ozone Twin Tip this issue in our FREE subscriber prize draw.
North Foils just released the North Seek Air; Surprisingly light with a low swing weight, the smaller Seek Air have a high-performance feel, while the larger sizes are refined for on-water speed and fast, early take-offs – making them ideal for learning to foil. The larger 5'9/6'2 sizes are supplied with removable side fins, so you can focus on winging, before adding a foil.
Inflatable PVC Drop Stitch Technology
The inflatable PVC drop-stitch construction is durable, impact-absorbing and ding resistant, making it ideal for the boat, and a forgiving surface to fall on when you're learning to wing or foil.
Intuitive Deckpad with V-Strap and Centreline Foot Strap Inserts
The Seek Air features a one-piece EVA deck pad with a diamond pattern that gives you great traction under your feet. We've integrated options for V-strap or Centerline foot strap inserts into the deck and included the foil mounting hardware and M6 strap screws with every board.
Integrated Tow-Point
The 5'9 and the 6'2 come with a tow-point at the bottom of the nose. This feature is ideal when learning, as it allows someone to attach a rope and tow you back upwind easily with another wind- powered craft, such as a dinghy or windsurfer.
Purpose-built travel backpack with rollers
The Seek Air travel bag is equipped with pockets where you need them, has big wheels for easy handling and is made from recycled PET fabric.
Super stiff. Inflate to 15PSI – Pump Included
North supplies the Seek Air with a high-pressure two-way inflation pump that lets you quickly pump up your board to 15 PSI. The pump comes with a wing adaptor for fast wing inflation.
Rigid Board Performance
The stiff frame with CST base of the board gives you a significant amount of control over the board. There is no sluggish delay in steering. When inflated to 15PSI,
Seek Air feels like a rigid board.
Your ideal board size if you're getting into foiling is 30 to 40 litres above your weight (kg). We recommend 10 to 20 litres above your weight (kg) for more advanced or intermediate riders.
Features
CST-base custom-curved to board rocker DropBox Fast Foil Mounting
Durable / impact absorbing / ding resistant Forgiving performance rails
Sharp release tail
Effortless take-offs and touchdown recovery
Direct responsive foil connection
Ideal for boat foiling / winging / learning to foil V-Strap and Centreline Foot strap inserts
5'9 / 6'2 entry to foiling – come with fins
15PSI Inflation pressure
Supplied with recycled fabric backpack with wheels
For more information on North Foils Seek Air, please click here.
Featured in this Post
Aruba
27,084
65,651
12,673
Comments