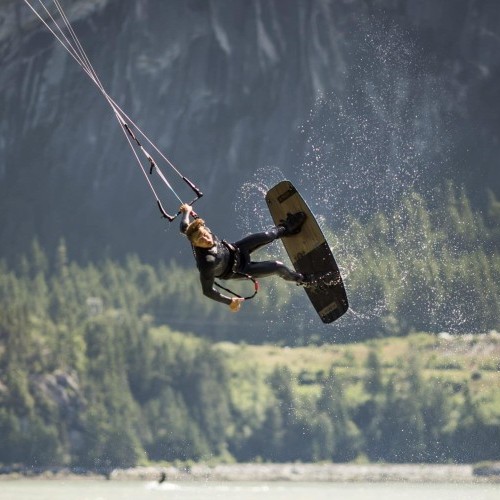 How To Do a Front Roll to Blind | Explained by Jack Rieder & Alex Pastor
Mon 25th Oct, 2021 @ 3:00 am
Jack Rieder and Alex Pastor talk us through a great classic and Freestyle-beginner-friendly trick; a Front Roll To Blind. The good news about this trick is you can learn it hooked in to start, then once you have it dialled, you can do the same motion unhooked. Enjoy!
Win a Lieuwe Shotgun Paradise Series Board this issue in our FREE subscriber prize draw.
Jack recommends that one has to learn how to do a front roll and a handle pass (or Railey to blind) before attempting to do this trick.
Step 1
Jack: Start with your kite at 45 degrees, or a little bit higher for learning, then flatten off and unhook. (Like you would for any freestyle trick). The edging for the front to blind is a little bit different than you might be used to. It requires a longer edge and pop. You want to create as much tension as possible which will, in turn, help you whip into the front roll and create more slack once you release from the water.
Alex: First – it is very important that you pop hard by pressing hard against the water and leaning back to stretch the lines, so when you start standing the kite will pull you harder.
Step 2
Jack: To initiate the front roll, tuck your front shoulder & head down across the front of your body.
Alex: As you finish standing you'll leave the water and now you have to let your legs go up as high as possible and turn your head towards your belly to continue the rotation.
Step 3
Jack: Hold that position until you are about halfway through the front roll; at this point, you can start to spot your landing. Once you've spotted your landing and are coming in towards the water – pull the bar into your front hip with both hands and let go as you go to the blind (the same way you would on a railey to blind).
Alex: Once you're almost done with the rotation look at the water, spot the landing, and press the bar down to continue rotating flat that extra 180º and land blind.
Step 4
Jack: All that's left from there is to stomp the landing and grab the bar with the other hand and of course, claim it! If you feel really dialed in with that a tail grab is an awesome addition that helps make the front roll rotation really smooth!
Tips
Jack: 2 good tips I find are to hold on with both hands for longer than you'd think (It will help keep the bar in close) and to split the bar with your index and middle finger on the front hand (this will help keep the kite in place and not let you steer it down too hard).
Another thing that people often do is under rotate that last 180 (going to blind) and the bar gets pulled out of their hand. Make sure you rotate far enough that you are riding straight downwind.
Win a Lieuwe Shotgun Paradise Series Board this issue in our FREE subscriber prize draw.
Photographers: Jack Rieder captured by Chris Rollet; Alex Pastor captured by Samuel Cardenas
Featured in this Post
Spain
20,493
522
34,729
Comments