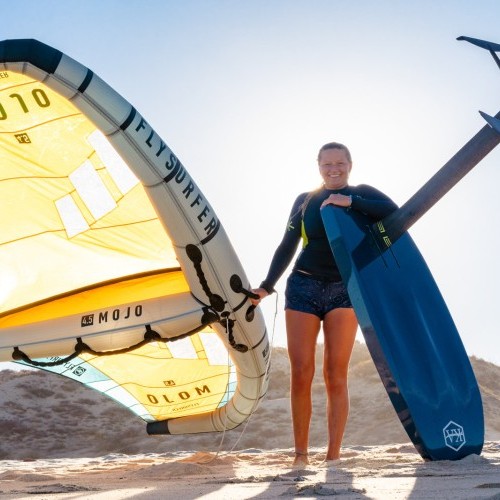 Daniela Moroz | Interview with Flysurfer
Tue 13th Jul, 2021 @ 9:00 am
Four-time kite racing World Champion Daniela Moroz took a year off to get her mojo back. After the stress of competition, constant training, non-stop travel and intensive studying, she lost her motivation. If you're interested in her inspiring story and how she got back from burnout, check out her YouTube channel. In addition, you will find very good tutorials to improve your foil skills!  Flysurfer sat down with her after a very successful comeback, and two race wins in Spain.
What did you do during your burnout?
I tried to do as many new and different things as I could. For example, I learned to wing at the beginning of the summer and became obsessed with that. I also got a road bike and put a lot of miles on that. Later, I was living in my van in Southern California surf foiling every day in the fall.
When did you jump back on your race foil?
I got back on my race gear around mid-December after almost six months off. I spent some time in Miami, Florida, with US Sailing learning more about campaigning and the Olympic sailing scene. In the winter, Olympic and development class sailors migrate to Florida for domestic training – seeing all the other Olympic sailors train and work together definitely inspired me to work on my campaign. Plus, I felt the fire to get back on my race gear and start training with new goals and a very new and different mindset.
How and where did you train?
I spent about a month in Florida from mid-January to the beginning of February, training with a group of other US kiters. I worked with Charlie McKee, a very well-known Olympian and America's Cup sailor, as a coach. We focused on making small, incremental gains and improvements every day, and I learned a lot about racing strategy and tactics and gained insight into how I best train. From there, we all went to La Ventana, Mexico, for more training focusing on gear tuning and boat speed. We worked with Nico Landauer for about a week, and he helped us learn more about how our kites work and how we can better tune them. I improved with being able to kite regularly for that month and was getting so much time on the water every day. I was also doing all this training while still doing my classes online for university. The fact that school was online was the main reason I travelled and trained so much since the beginning of this year.
How does it feel about competing after such a long time?
It felt so good to be back at an event! It was so nice to see all my friends; I missed all the racers and the event vibe. My last proper event was at the end of 2019, so it was nice to see everyone and catch up. It felt good to be back on a European racecourse, and although I have a very different mindset and goals now, the excitement and happiness from racing and being on the course are still there.
What did you learn during the last year?
Sooooo much, haha where do I even begin… there were so many lessons that last year brought, and I am extremely grateful for all of them. One of the biggest things I learned was to put myself and my happiness first and be honest with myself. It might seem a bit selfish, but in the end, if you aren't happy with yourself or what you're doing, then you can't be the person you want to be or be able to share your authentic self or connect with other people. I also learned that burnout happens to everyone and that it's good to talk about it. In the end, life is one big learning experience, and I think we're all just along for the ride.
How excited have you been after your Sail GP nomination?
I couldn't believe it when I found out – I was freaking out! It was something unexpected in a way; I thought at most I would be invited to a tryout or training camp of some sort. But then I got the call from Jimmy Spithill, and he said he wanted me to join the team. It was super crazy, and I am beyond thankful to have this opportunity to learn and help pave a path for female athletes in professional sailing.
What are your targets for this season?
My main goal this year is to learn as much as possible about boat speed, boat handling, gear tuning, and racing tactics for kiting. Then, after absorbing all the details, I'll work on the areas where I feel like I need the most improvement and the factors that contribute most to winning a race. I am also working on changing my mindset from expecting myself to win every event to focusing on learning and improving in a long term, sustainable way. It's a big change for me, and I am learning how to ease the pressure on myself to win everything. At the same time, one result-based goal for me this year is definitely to win the world championships this year. If I can walk away knowing I did the best I could, that's a success for me.
Do you think kite racing gets a second Olympic medal?
I am very happy that the IOC has decided to separate the medals – being able to get two medals (women & men) in kite racing is just amazing. It is very exciting for our sport!
Any shoutouts?
First definitely has to be my parents, who are my number one supporters and cheering squad. Next, all the sponsors allow me to do what I am doing – Flysurfer, Levitaz, Tarifa Foil Boards, SK Shapes, and Robline. Finally, my teammates and coaches I've worked with also deserve a huge shoutout – they push me to be the best athlete and person I can be, and that is worth a lot.
Thank you very much for your time and the exciting news. We wish you all the best and a very successful season!
Interview by Flysurfer
Photo Credits: Formula Kite Spain – Toni Forques, Eric Duran, Sail GP, Salty Brother Films
Featured in this Post
Comments