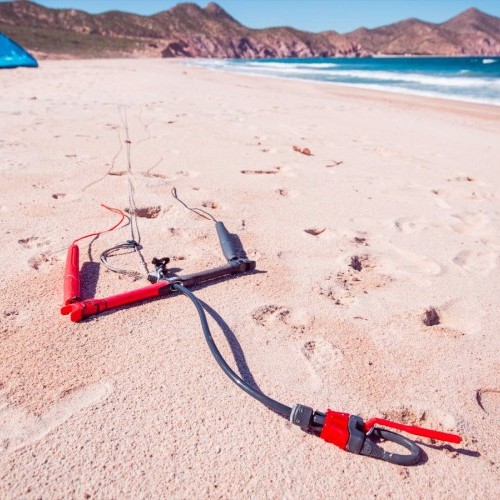 LFK 2019 Newsletter
Thu 4th Apr, 2019 @ 12:00 am
The new MC V3 is out! Brandon Scheid talks us through Liquid Force's latest Mission Control System v3 (MC V3). One of the best features by far is that you can now tune the turn share and bar feel of your kite, by using the High-Y Adjuster; after all, your bar should feel the way you want it to!
In my opinion, the kite bar is often the most overlooked piece of equipment in your quiver. People don't really talk about how good their bar is.  Most of the chatter on the beach is about hydrofoils, kites, or conditions. Hell, most kiteboarders I interact with don't know all of the performance features on their bar, let alone how to tune their bar. Think about it, you don't actually ever touch your kite while your kiteboarding.  The bar is your conduit to the kite, it's what you touch and interact with. It also contains all your safety systems and gives you complete control over the power of the wind.  Thanks to modern material sciences, we have these amazing high strength flying lines, so thin, light, and aerodynamic, yet still able to support 400 kg, each!  Pretty impressive stuff, for something no one talks about. We, at LFK, put a lot of thought into our new control system, the MC V3.  We wanted to make something that would address all the safety concerns of modern kiteboarding. Something that offered adjustability, and clean usability. A bar that was simple, intuitive, and reliable. Below you can find out more about the bar from me in an in-depth bar walkthrough, so dive on in!

-Brandon Scheid
Mission Control System v3 (MC V3)
The third iteration of the Mission Control Bar brings next-level performance to enhance your kiteboarding experience and progression. The control bar is one of the few tactile and highly interactive components in your gearbox, and the Mission Control Bar sits at the heart of your kiteboarding experience. To meet the highest standards of safety, performance and quality, we carefully examined every part on this bar with rigorous lab and field testing. It was designed through a meticulous engineering process to deliver pure, clutter-free and straightforward functionality.
We're not just confident in the Mission Control System; we're proud to offer the best kite-to-rider connection available.
Features
Quick Release: Push-away, non-detachable quick release: Push away the trim loop to kill all the power in the kite, while one side of this safety system stays attached.
Loop: Moulded Trim Loop with 100% depower: reliable, safe and simple to use.
Swivel: Manual main line swivel: Below the bar swivel for easy centre line twist management.
Grip: Thin EVA grip for hand fatigue-free kiteboarding.
Winders: TPU over-moulded bar end winders: Soft, flexible bar winders for safety and easy line management.
Bar Width: Adjustable line leverage inserts: Change line leverage points from 49cm wide to 55cm wide on standard bar width, 40cm to 46cm on the compact bar width.
Cleat: Stainless marine grade trim cleat: Durable, easy to use, corrosion resistant cleat.
Flying line: 300kg flying lines: Highest quality monofilament braided pre-stretched flying lines.
Depower Line: Easy to replace depower trim line.
High-Y Splitter: Front line High Y for adjustable kite turning and bar pressure
Learn more about the MC V3, right here!
2019 HiFi X3
There is no substitute for the highest performing gear. Who wouldn't want a kite that will never hold you back? One that helps climb to the top of the podium.  Slight refinements in material, arc, and shape gave the DNA of the HiFi new life. We went through and optimised each size, to provide the whole range with the same feel and performance. Not only is the new HiFi X3 easier to relaunch, and more solid in the air.  It is also built with extremely durable and high-quality canopy and dacron materials. This makes the kite extremely reliable for those riders planning on progressing their riding and crashing their gear a lot. Thanks to the .08mm PU bladders, the new HiFi also lost some weight, making it perform better in low wind settings.
Learn more about the HiFi X3, right here!
Water safety is something often overlooked by the everyday kitesurfer.  Whether you have a gear malfunction, conditions crap out, or something plain goes wrong.  That's why at LFK, we worked in conjunction with Onyx lifejackets to develop a compact and reliable U.S Coast Guard approved life vest for kiteboarding.
On Demand 24 Inflatable Life Jacket
Safety is a high priority when kiteboarding. We are the first to adopt the inflatable life vest for the kiteboarding enthusiast. We are introducing the ON DEMAND manually inflatable series by Liquid Force. We all know that we are going to have a situation someday where a long swim will be in store. Why not have the extra confidence with safety in mind.
They are offered in 2 configurations, the chest-mounted/over the shoulder and waist belt. Both are US coast guard, and Transport approved life jackets are endorsed for safety.
Learn more about the Inflatable Life Jacket, right here!
On Demand 16 Inflatable Belt
The On-Demand 16 Inflatable Belt, offers water safety in a smaller, more compact, and less intrusive package.  Like the 24 Vest, the 16 Belt inflates quickly with a downward pull of the ignition tab.  This belt is ideal for someone who values water safety but wants something a little more out of the way.  The 16 Belt is still U.S Coast Guard approved; however, it does offer less floatation than the 24 Vest.
Learn more about the Inflatable Belt, right here!
To view all LFK products, please click here.
Featured in this Post

United States
2,115

United States
11,874
Comments