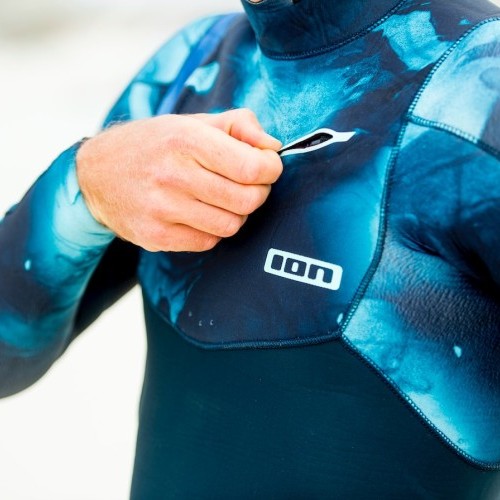 ION's Capsule Collection – Exploring Other Spaces
Sun 31st Mar, 2019 @ 12:00 am
The design has always played a significant role in the development of new products. That's why ION comes up with a new artist collection in 2019. The Capsule Collection unites a selected number of products ranging from wetsuits and protection to tops and technical accessories.
SEE. FEEL. EXPLORE.
ION does not only stand for smart and innovative gear but also transforms its passion into a unique design. Therefore, ION teamed up with artist Michael Cina sharing the same source of inspiration found in nature and the elements. His art is influenced by the textures, colours, motions, light and shapes nature offers us to see, to feel, to explore. The unique pattern used in the Capsule Collection is the result of Michael Cina's experiments with self-made paints and the use of untraditional materials.
ION shares this dedication to work and the approach to always explore new spaces in terms of creation, materials and design. All with the aim to offer the best possible products that allow water addicted athletes to experience nature, face the elements and feel its forces. ION follows inspiration, never stops researching and developing.
Considering this point of view, it is just logical that the ION Capsule Collection represents a highly technical range of products. High-quality gear creates the connection between inspiration from artwork to experiencing the forces while riding.
Collision Vest Select
A sophisticated material mix made for ambitious riders that want to push the limit – the Collision Vest Select FZ features a unique panel design for seamless rib and spine protection. Slightly thinner paddings, light foam and highly flexible materials provide a comfortable and snug fit as well as great freedom of movement.
Forever pushing innovation and design, we take pride in the optimised construction and intricate details that we believe make all the difference. Since 2011, we've made sure that all ION Vests meet CE standards and pass the rigorous testing process according to PPD89/686/ EEC. Ride hard, ride safely.
For more information on ION's Protection Vests, please click here.
Onyx AMP FZ | Strike AMP FZ
The Amp level represents exceptional performance especially in terms of stretch. Besides, being ION's brand-new and incredibly flexible inside lining, Hotstuff 2.0 ensures an optimal level of heat retention. Furthermore, the back panel of this suit has been enlarged. Therefore, reducing its weight ever so slightly and increasing the area of the thermal plush lining.
The Onyx Amp comes in a tight fit for maximum freedom of movement while the Strike Amp has a wider fit and additional features especially made for kite and windsurfers.
For more information on ION's AMP collection, please click here.
Poncho Select
This mobile changing room and beach towel are made of quick-drying and super lightweight materials. Thanks to its small packing size, you'll always find some room in your bag to bring a poncho along to the spot.
For more information on ION's poncho collection, please click here.
For more information on ION products, please click here.
Featured in this Post
Comments