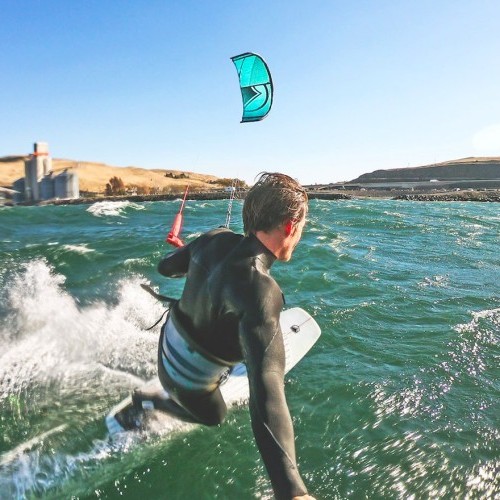 LFK's Kitesurfing Dream Kit
Thu 7th Feb, 2019 @ 12:00 am
Led By Passion And Driven By Fun
"I think kitesurfing is a fantastic aspect of our already fantastic sport. Being able to use the power of the wind to propel you into a wave opens the doors to so many different possibilities compared to traditional surfing. Blown out beach breaks start to look a little more appealing. Onshore winds, means fun sessions, not sloppy surf. Paddling, you can forget that. Having the option to use your kites, really allows you to have more quality time on the water. That's what it's all about. Contrary to what you may believe about our passions, our dedication to kitesurfing runs deep at LFK.
Kitesurfing fuels the fire of our brand manager, Gary Siskar, as well as our head designer, Julien Fillion. We also have several key team riders that play a big role in the development of our specialised kitesurfing products. This year we're excited to bring you are fully overhauled flagship wave kite, the Wow. It's in its fourth iteration, and this one is better than ever. I know it's in the companies best interest to always say, "it's better than ever", however, I can attest to the amount of work and scrutiny this kite went through to get to market.
Additionally, I'm happy to report we are releasing our new kitesurf board, The Messenger. This board was designed to cover a wide variety of conditions and built to take a beating. I was involved in all of the durability testings, and I can confidently say these boards can take whatever you can throw at it.
I'm excited for you guys to get your hands on these products! We sure did put a lot of work into them, and we hope you enjoy them." – Brandon Scheid.
Take a quick minute to watch LFK team rider Luke McGillewie put the new Wow V4 through its paces.
Win a Ride Engine Technical Changing Robe this issue in our FREE subscriber prize draw.
Making a good kitesurfing kite is no easy task. You need something, fast, positionable, light, and reliable. Additionally, you want plenty of raw power in the kite, as well as lots of de-power. Finally, you want a smooth range through the power band (sheeting).
With a lot of work, by both the designer and the testing team, the Wow V4 delivers a ton of performance in all those categories. We increased the raw power by making the centre of the arc flatter. Increased the range and feel of the power band by widening the wingtips. And created lightning fast turning and response with wingtip profile updates. Every part of this kite has been touched and refined to improve performance and increase usability.
Our wonderful sport of kitesurfing offers a wide variety of wind and water conditions. That's why when we started designing the new Messenger, versatility was a big factor in our process. We wanted a board that could work well in everyday small surf found at most kite beaches, as well as pumping conditions found on world-wide travels. Construction is also a big factor when it comes to a quality kitesurf board.
During the prototyping phase, we went through numerous layups and cores to arrive at the current magic setup. We feel it offers the best balance between, strength, flex, and weight. We also wanted a board that could handle steeper beaches, as well as fast ropey point breaks. By having the 3+2 fin boxes, you can adapt your fin setup to your current conditions.
When all this comes together, you get an amazingly versatile, durable, and rippable kitesurf board.
Learn the ins and outs of the fully redesigned Wow V4 from the LFK product team.
Win a Ride Engine Technical Changing Robe this issue in our FREE subscriber prize draw.
Learn more about our fantastic new Messenger kitesurf board from the LFK Product Team.
Win a Ride Engine Technical Changing Robe this issue in our FREE subscriber prize draw.
Onyx Lifejackets
Water safety is something often overlooked by the everyday kitesurfer. Whether you have a gear malfunction, conditions crap out, or something plain goes wrong. That's why at LFK, we worked in conjunction with Onyx lifejackets to develop a compact and reliable U.S Coast Guard approved life vest for kiteboarding.
Safety is a high priority when kiteboarding. We are the first to adopt the inflatable life vest for the kiteboarding enthusiast. Introducing the ON DEMAND manually inflatable series by Liquid Force. We all know that we are going to have a situation someday where a long swim will be in store. Why not have the extra confidence with safety in mind.
Offered in 2 configurations, the chest-mounted/over the shoulder and waist belt. Both are US coast guard, and Transport approved life jackets are endorsed for safety.
Want to learn more about the new LFK line? Click here.
Featured in this Post
United States
2,122
4,989
United States
12,160
Comments