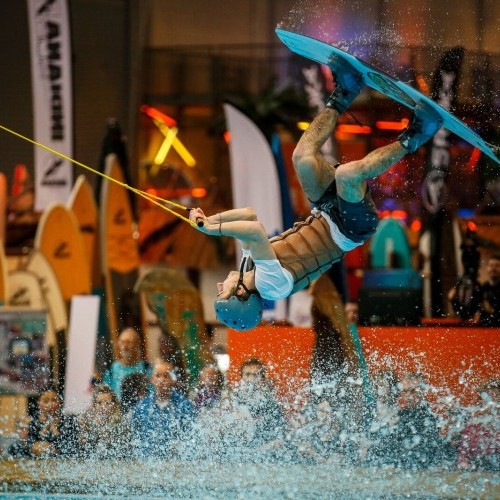 The boot Düsseldorf 2019
Thu 13th Dec, 2018 @ 12:00 am
The boot Düsseldorf trade fair is the largest boat and watersports fair in the world, and it is the hotspot where the entire industry meets in January every year. The exhibitors will show their amazing innovations, attractive advanced developments and maritime equipment from 19 to 27 January 2019.
That means that the entire market will be here in Düsseldorf and invites visitors to join on an exciting journey through the whole world of watersports in 16 exhibition halls spread across 220,000 square metres for nine days of the trade fair. There's something for every watersports fan and athlete at boot; the offers run the full range: boats and yachts, motors and motor technology, equipment and accessories, services, canoes/kayaks/rowing, waterskiing, wakeboarding, wakeskating, skimboarding, jet skis, diving, surfing, windsurfing, kite surfing, SUP, fishing, maritime art, marinas, water sports centers, beach resorts and charter trips. The trade fair will be open daily from 10:00 AM to 6:00 PM.
Tickets will be available to order online, right here from September on; they can be printed out easily at home and also be used for free travel to and from the venue with the VRR (Rhein-Ruhr Transport Association).
1,923 exhibitors from 68 countries came on board in 2018 boot is spread over 220,000 square metres over 16 trade fair halls 247,000 visitors came to Düsseldorf from 102 countries Over 2,000 journalists reported live from boot, the biggest watersports trade fair in the world. 110,000 people experienced the surf sensation THE WAVE, and 1,500 surfers dared to ride it themselves, experiencing the standing wave at its full 1.50m height and 9m breadth.
Highlights:
The boot Düsseldorf is open from the 19th to the 27th of January 2019, daily from 10 to 18 o'clock
13,000 square meters board sport to discover and to test in Hall 8, directly at Entrance North
1400 square meters large water basin including a 2.0 tow for wakeboarding, tow in windsurfing and the Foiling Show Contest
THE WAVE
River surfing on the real Deepwater Wave
The leading manufacturers are present, a lot of opportunities to 'talk shop" and exchange information
Stars and experts from all trend sports will be present at all times on the stage at the water basin
Book your next surfing holiday directly on site
Attractive shops for bargain hunters in Hall 8a and 12
Tickets for the 2019 boot can be used for free public transport within the scope of the Verkehrsverbund Rhein Ruhr
For more information on The boot Düsseldorf, please click here.
Featured in this Post

Italy
43,475

212,666

United States
98,649
Comments