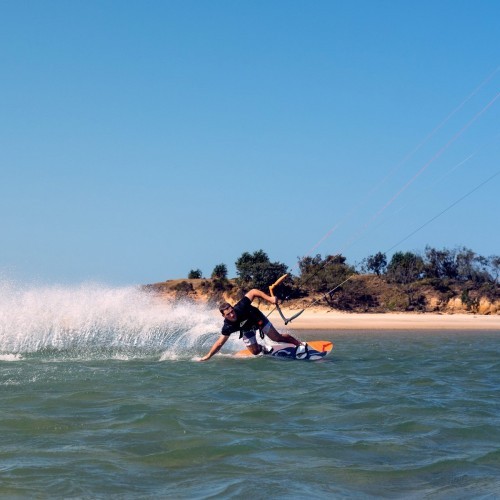 Introducing The Ocean Rodeo Pilot Bar
Thu 12th Apr, 2018 @ 12:00 am
Ocean Rodeo has launched the new 4-line Pilot Bar. Reliable, durable and easy to use! Keep reading to learn more. News provided by Ocean Rodeo.
Ocean Rodeo is proud to introduce the Pilot Bar, our cleanest, easiest to use front line trim bar. We've custom engineered the best, time-tested components and effective materials to ensure the Pilot bar delivers enhanced precision and control to the front line trim while being consistently reliable and durable.
The Pilot Bar is available in two lengths; 46cm and 52cm, providing a sheeting throw of 20.5" (~52cm)
This bar is the perfect companion for our lineup of Next Generation kites.
Features
Smooth Roller
More than just a block or pulley, this is the smoothest action roller we've ever used. Combined with the precision cleating action of the Cleat Lock you can micro trim with precision even when full powered.
Cleat Lock
Marine grade stainless steel for maximum bite. The dual-purpose cleat lock provides easy trim control with superb line management via velcro hold down.
Integrated Bar Floats
EVA Bar floats and bar ends are molded in one piece, minimizing the chance of the bar wrapping around lines during wipeouts. Shock cord line holders make line storage a snap.
'Hour Glass' Bar Opening
Made with marine grade stainless steel, the center hole is highly tapered to accept the rugged 12mm PU tubing. The refined shape delivers smooth sheeting at extreme angles.
'All In' Center Line
The rugged 12 mm diameter center line houses flag out depower line and primary load bearing center line. No exposed flag out lines or rope to chafe your fingers, abrade or tangle.
Premium German Made Teufelberger Lines
FL-14 Front Lines (Blue w/ Red Tracer) – Break Strength: 405 kgf
FL-10 Back Lines (Orange w/ Black Tracer) – Break Strength: 335 kgf
Lines are 19 m with 3 m extensions.
Pig Tails- Compatible with all 4-line kites
The Stick Shift ships with an assortment of premium pigtails, ensuring compatibility with all major kite brands. Each pigtail is individually marked with length, allowing you to also adjust for eventual front line stretch.
20″ Kite Leash
The Pilot Bar comes complete with a deluxe 20" leash (extends to 29" under load).
Featuring a heavy-duty webbing with flat elastic core, corrosion resistant stainless clip with neoprene cover, and punch out (push away) release cuff with pin and loop reset.
Bar Bag
Coil zip for easy access. Mesh panels for quick drying. Inside pocket for pigtail storage.
Featured in this Post
Comments