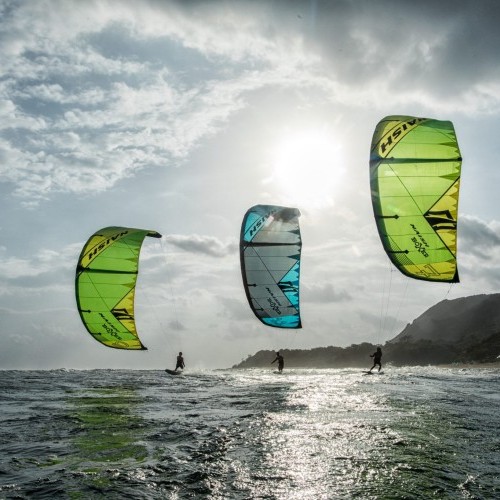 All About The 2018-19 Naish Kites Midseason Launch
Fri 16th Mar, 2018 @ 12:00 am
The team at Naish understands that kiteboarding is more than just a form of exercise, it's an experience that defines us and sets us free. With this understanding, the design team has gone all-out in designing an exciting line of kites for 2018-19. Find out more about these brand-new kites by reading the news from Naish below.
There's a world of options competing for your attention. Diverse in landscapes, people, sites, sounds and experiences, how you spend your time defines you. At Naish, we are called by a special force that beckons us to explore and experience life in a way that makes us truly feel alive.
From the intuitive controls of the Ride to the light and lively feel of the Boxer or the dynamic power of the Dash, our kites are much more than balanced constructions of polyester and string. They are mechanisms that transform your experience, lifting you to new milestones. We approach each design with this in mind, crafting each curve to define your best moments on the water.
This is your moment. What defines you?
Kites
Boxer: Versatile Freeride/Foiling
Sizes: 3.5, 4, 5, 6, 7, 8, 9, 10, 11, 12, 14, 16
Tuned and ready for 2018/19, the Boxer blends efficiency and innovation, this forgiving kite is incredibly versatile. Designed primarily for foiling, the Boxer has proven to be so adaptable and accessible, it appeals to all skillsets and riding styles with three new sizes in 3.5, 14 and 16m.
A single luff strut marries the best characteristics of strutless and strutted kite designs. The strut's relaxed connection to the canopy creates a dynamic structure, which allows the canopy to freely expand and contract, while maintaining the strength of a strutted framework to handle heavier loads with ease.
An outstanding underpowered kite, the Boxer is incredibly easy to relaunch, light to the touch, responsive but gentle. Very easy to sheet in and go, this kite is quick, easy to control and generates power quickly. It's light and lively feel at the fingertips makes it approachable and forgiving.
Dash: Freestyle/ Freeride
Sizes: 5, 6, 7, 8, 9, 10, 11, 12, 14
Designed for experienced kiters that like to push the limits, the Dash is THE fast-steering kite that delivers powerful pull and an engaging ride.
Built to move, the Dash generates powerful pull with ample bar pressure and more direct feel, which makes for incredibly fast turns. Active riders that like to keep their kite moving will appreciate the quick steering and dynamic feel.
For those that push the limits, for those that refuse to follow a straight line, for those that appreciate the huge payback from a little challenge, the Dash is dedicated to you.
Ride: All-around Freeride
Sizes: 4, 5, 6, 7, 8, 9, 10, 11, 12, 14
This ever-popular, pure wave/strapless kite has undergone some revisions for 2018 for improved all-around performance. While still maintaining its outstanding drift and consistent pull, the leading edge is now a little smaller and changing the wing tip by adding taper to make it turn even faster, an important characteristic when making quick reactions in the waves. This gives the kite a better torque transfer from the tip to the leading edge.
Constructed with Quad-Tex, the Slash also comes with our Shark Teeth feature keeping the profile of the kite even all the way to the trailing edge, making it lighter and more balanced. The Slash now comes in an 11m and 12m so you are able to ride in lighter winds working on and perfecting your strapless airs.
Tech
Bladder Lock
Each season we take the opportunity to introduce subtle improvements to advance even our most successful designs. The 2018/19 upgrade welcomes the new Bladder Lock system, enhancing the security and dependability of your kite's internal structure. The addition of velcro to bladder ends in each strut eliminates movement, securing it firmly into place whether pumping, deflating or rolling.
HT+ Thread
Nothing is more deflating than seeing someone struggle through a session because they were too scared to properly inflate their kite. Our kites are built tough, but for some extra assurance, we added some heavy duty thread, so you can lay your worries to rest. And since not all thread is created equal, we are pleased to announce that our HT Plus, high-tensile thread tested off the charts for strength. Have confidence that our kites can withstand any abuse, no matter how hard your slam it or how much extra PSI you've pumped to.
Featured in this Post
Comments