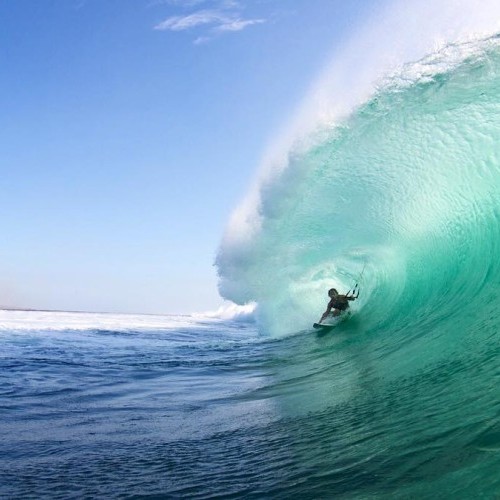 Niccolo Porcella Joins The Cabrinha International Team
Fri 26th Jan, 2018 @ 12:00 am
Niccolo Porcella, kitesurfing pioneer hailing from Maui, Hawaii, is now part of the Cabrinha International Team. Cabrinha is excited to bring this hard-charging all-around athlete onto their roster. To find out more, read the announcement from Cabrinha, below.
In a world of specialized athletes, Niccolo Porcella stands apart as one of the most unique sportsmen around. As one of the original kitesurfing pioneers, Niccolo was breaking new ground in the sport of kitesurfing from a young age. As Pete Cabrinha recalls, "Niccolo's talent was clear from the very beginning. Even between the ages of 12 and 14, he was one of the leaders in progressive kiteboarding. His compact frame lent itself to powerful and tight rotations while translating wakeboarding tricks into what has now become the wake style establishment."
A string of injuries at a young age forced Niccolo to go underground to physically rehab himself and to refocus his perspective. According to Pete, "Niccolo sought out the right people to help him return back to form. When he did finally emerge from the rehab and training, he was far ahead of where he started. He suddenly had a renewed drive to kite and surf and this was powered by a whole new set of gymnastic skills and determination."
From that point on, it's been fun to watch the show. Niccolo found himself drawn to cliff diving and skydiving for the technical thrills and has since evolved into the extremely technical and precise art of base jumping and wingsuit terrain proximity flying. It's this well-rounded approach to land and sea sports that has made Niccolo unique and interesting in a world of uniformity.
With Maui, Hawaii as his home and playground it was no surprise to see Niccolo (along with his brother Francisco) joining the ranks of the big wave brotherhood in pursuit of the worlds most challenging waves. He'll kitesurf, paddle surf, or tow surf anything the ocean will send his way.
On January 4th, 2012 Niccolo kited some of the biggest waves at Jaws, showing what's possible on a kite. In 2016, during a massive swell in Tahiti, Niccolo launched himself into history during a surf session at Teahuopo. After a few successfully ridden bombs, Niccolo went down on what many are considering one of the worst wipeouts ever endured. The event, which he was relatively unharmed, earned him an XXL Award. Soon after, he was also in the finalist nomination for riding one of the biggest waves at Peahi Jaws, earning respect in the big wave community.
Today, Niccolo is focused on moving the needle in extreme conditions with his multi-sport approach. We welcome him and look forward to an exciting collaboration in the pursuit of adventure.
Featured in this Post
United States
23,450
United States
56,118
Comments