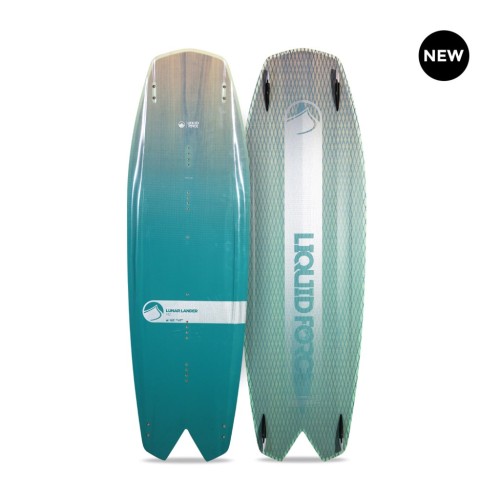 Join The 2018 Liquid Force Hippy Stick Family
Tue 5th Dec, 2017 @ 12:00 am
Win a Lieuwe Shotgun Paradise Series Board this issue in our FREE subscriber prize draw.
Coming in hot, the 2018 Liquid Force Hippy Stick Family! For riders who want to bury their friends in a wall of spray, for riders who crave that fluid carve, for riders who want to play around and have more fun, the Hippy Stick line is for you. Find out more about the Moon Patrol, the Spacecraft, and the new Lunar Lander from Liquid Force Kites, below.
If you don't know about the Hippy Stick Family, it is a category of boards designed with a carver snowboard inspiration. The idea is to directionally favor one foot to allow riders to really carve and rip turns in the water. The boards are not just made for turning, they are a blast for freeride fun as well. The whole goal of the design was to help bring more fun on the water. These boards also allow riders to get a surfy style turn and carve from a board that is half the cost of a kitesurf board. They ride great in small mushy ocean waves and wind generated chop.
There are three models in the family. Starting with the Spacecraft, which has a more traditional twin tip inspired outline. The Moon Patrol, the surf slashing machine with a true directional feel. And finally the Lunar Lander, which takes all we learned about the directionally optimized twin-tip mixed our high-end twin tip construction found on the Legacy. We feel that this category of boards helps bring more fun back to the everyday twin tip cruising session. Go give them a try!
Featured in this Post
Comments