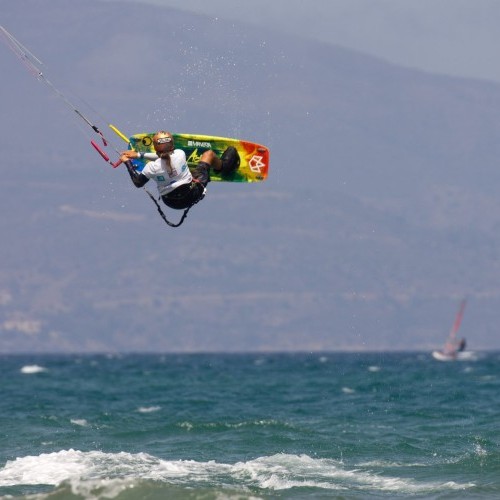 2017 Youth Cup Best Trick Competition
Sat 8th Jul, 2017 @ 12:00 am
Day four at the World Kiteboarding League Youth Cup was, again, action packed. Youri Zoon gave a clinic for the competitors in the morning, and the Best Trick competition gave the riders another chance to show off their skills in the afternoon. The athletes gave everything they had to land their hardest tricks. Find out who landed what in the full recap from the WKL, below.
The fourth day of competition in Costa Brava provided us yet again with 16-18 knots of thermal wind throughout the afternoon. The Best Trick competition was run for each category, for the Boys and the Girls.
The morning commenced with another clinic for the young riders, this time with Pro-rider Youri Zoon, to discuss media presence, competition, and the responsibilities of being a professional athlete. By midday, the thermal winds started to kick in, and the Best Trick competition got underway.
The girls were joined together for one single heat, and the boys were divided into 8-11, 12-14, 15-16 and 17-18. Ladies were first in the water, and it was 12 year old Mikaili Sol from US/Brazil who took the lead, landing another impressive Back Mobe. She was followed by French rider Osaia Reding who rode extremely well again landing a powered S-bend to Blind. Pippa Van Irsel from the Netherlands took third place, with a very high Backside 313.
For the Boys 8-11 it was Jeremy Burlando from Italy who stole the show, throwing down a solid Blind Judge and grabbing the first position. Romain Allemand from France came in second and Keiki Mar in third place.
The 12-14 category went to yesterday's winner, Moroccan Jonas Ouahmid, who has been riding with power and style through the entire event. He landed a perfect Double S-bend 3. French rider Alexis Moreau mirrored the same trick, but had a rougher landing losing him points. He settled for second position in the heat, and third place went to Guilherme Penha Costa from Brazil.
Maxime Chabloz once again impressed everyone with his riding skills, landing a powerful Back Mobe 5, despite the dropping winds. Anthar Racca from Mexico came in second landing a nice Front Blind Mobe, and in third place came UK rider Tom Bridge with some incredibly innovative tricks.
Adeuri Corniel did not leave much room for his opponents during the 17-18 boys heat, scoring an impressive KGB 5 to grab the win. Close behind him was fellow Dominican rider Lorenzo Calcaño who landed a nice Double S-bend 3. Joining them on the podium in third position was Colombian rider Juan Rodriguez.
Final Results for the Best Trick
Girls 8-18:
1 – Mikaili Sol
2 – Osaia Reding
3 – Pippa Van Irsel

Boys 8-11:
1 – Jeremy Burland
2- Romain Allemand
3 – Kaiki Mar

Boys 12-14:
1- Jonas Ouahmid
2- Alexis Moreau
3- Guilherme Penha Costa

Boys 15-16:
1- Maxime Chabloz
2- Anthar Racca
3- Tom Bridge

Boys 17-18:
1- Adeuri Corniel
2- Lorenzo Calcado
3- Juan Rodriguez
Tomorrow will be the last day of competition here in Costa Brava, with the Skipper's meeting called for 12 midday.
Don't miss the recap video from Day Three, below:
Featured in this Post

Dominican Republic
3,239

Switzerland
2,359

7,004
Comments