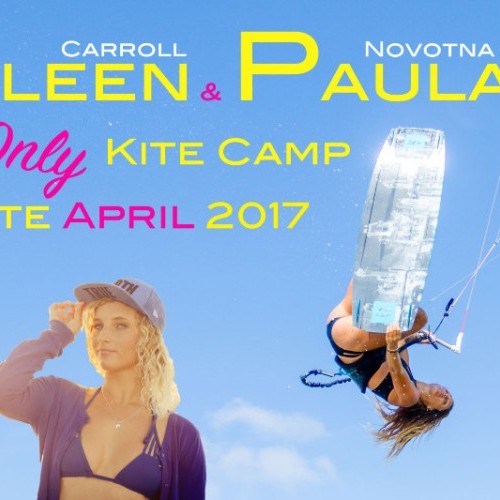 Ladies Only Cabarete Kite Camp
Sat 11th Feb, 2017 @ 3:00 am
Looking for a spring getaway? Join Colleen Carroll and Paula Novotna in Cabarete, Dominican Republic from April 4th through 8th to improve your riding with coaching from two of the world's top riders. Advanced coaching, local transport, guided downwinders, lunches and dinners are included in the camp. Professional photo and video packages are also available. Continue reading the news below, provided by Uncharted Kite Sessions.
Uncharted Kite Sessions has always wanted to do a kite camp with World Kiteboarding League star Paula Novotna. Paula has always wanted to do a camp with 2-time AWSI Rider of the Year & 3-Time Triple-S Champion Colleen Carroll. We thought it was an amazing combination, so we are holding an amazing 5 day kite camp on the tropical island escape of Cabarete, and it's Ladies Only.
Colleen is widely considered one the best riders in the world today, having won the Triple-S more than any other rider. And, as one of the founders of the Kite Park League, she has her thumb on the pulse of kiteboarding today.
Paula has an amazing professional kite career with a fantastic 2016 result finishing fourth overall for the world title.
Join Colleen & Paula, two of the most talented riders in the world to perfect every aspect of your riding in a fun, safe and exciting environment. This exceptional five-day kite camp aims to improve kite technique for all levels of riders who are passionate about kiting, want to improve their skills, and have a desire to learn from the best.
Featured in this Post
Comments