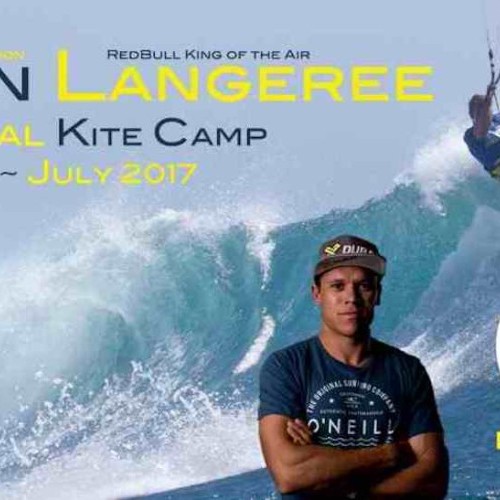 4th Annual Kevin Langeree Kite Camp
Fri 24th Feb, 2017 @ 3:00 am
Uncharted Kite Sessions are offering the chance to learn from one of the best. Kevin Langeree is offering 5 days of individualized coaching in the heart of the Carribbean – Cabarete, Domincan Republic. The camp is limited to eight participants so that each rider gets plenty of one-on-one attention. Continue reading below, and check out the Uncharted Kite Sessions website to learn more about this unique opportunity.
Back by popular demand, World Champion Kevin Langeree returns to Cabarete July 3rd to 7th for our 4th annual kite camp with Uncharted Kite Sessions. Every year, our camp with Kevin is the most sought after camp of the season. Cabarete in July never disappoints providing amazing conditions for Kevin to personally coach you to your kite dreams.
This year promises more of the same. As every year, Kite Club Café situated on beautiful Kite Beach will play host to our amazing camp. The full service kite shop provides all the food and beverage we would ever need. And the locker and shower facilities will keep us clean and safe. The deck at Kite Club provides a wonderful vantage point to watch the action live, and for our photographer EyeFly films the perfect location to set up their tripod for our video coaching sessions.
One of the most enjoyed parts of every camp has been the fantastic food. Whether the giant bowl of fresh calamari & shrimp at Eze Bar; the brilliant tuna tartar at Bliss; or the sumptuous steak at Naturo Cabaña, the food is exquisite, and the friendships that are made last beyond the days of the camp.
Cabarete is hometown for Uncharted Kite Sessions due to its reliable and varied conditions. Cabarete provides a perfect foundation for maximum results in all kinds of conditions, allowing UKS the opportunity to choose the right location and conditions for the content of the Uncharted program.
Cabarete this July will once again be home to one of the best kiteboarders on the planet for an exceptional five day kite camp aiming to improve kite technique for all levels of riders who are passionate about kite surfing, want to improve their skills, and desire to learn from the best. Join Kevin, one of the most talented athletes in the world to perfect every aspect of your riding.
Check out this video from our 3rd annual kite camp: One week with Kevin through the eyes of our clients!!
Win a Custom Designed Ozone Twin Tip this issue in our FREE subscriber prize draw.
Featured in this Post
58,627
United States
98,602
Dominican Republic
Comments