Scottish Windfest Around The Corner! 12th-15th September
There are just two weeks to go until the Scottish Windfest, and we can't wait. The annual event in Troon at Barassie Beach has proved a firm favourite amongst kitesurfers and spectators alike. So much so that this year we will be there to check out all the action and be part of the event as the official media partner.
The event takes place on the 13th of September and runs until the 15th. There are events for kitesurfers, SUPers and windsurfers alike, including the epic Beach to Beach race.
Here is a rundown of the events that should interest the kiters out there…
The 2013 Best RIDE WITH US Scottish Windfest Kiteboarding Competitions
The Scottish Windfest are super stoked to have Best Kiteboarding on-board for 2013. Their enthusiasm for the brand and how they want to represent it within the UK kiting community strikes a chord with us here at the Windfest. This makes Best Kiteboarding the ideal choice of event partner and they have stepped up to sponsor the 2013 Windfest Kiteboarding Competitions.
Best Kiteboarding want you to 'Ride with Us' to have a chance of winning some awesome prizes and are fully committed to the ethos of the Scottish Windfest. Our for enthusiasts by enthusiasts approach means our competition format is based on fun and participation. With this is mind Best Kiteboarding offered a truly awesome grand prize that everyone who registers to take part will get a chance to win via prize draw:
Win a 9m Best Kiteboarding kite complete with bar of your choice
Plus a 1-2-1 coaching session with Best Team Rider Lewis Crathern*
The 2013 Best RIDE WITH US Kiteboarding Competition Formats
The Best Trick Dip (Grom/Intermediate/Advanced)
You put your hand in the bag hoping that you get something that is already in your repertoire and out comes the… can you land it, have you heard of it? The Trick Dip is a new competition format to push riders into trying something new. Dependant on your skill level you stick your hand in a bag and pick a trick and have three attempts to land it to progress.
Judged By Your Best Mates (Grom/Intermediate/Advanced)
There is nothing like riding with your friends to make you push yourself to try and land that new trick. Peer Pressure is a competition with a twist as you will ride with and be judged by your contemporaries. You decide whether it is kite low, power, style or just all out effort that takes the title.
Best Big Air (Grom/Adult)
It's what sets kitesurfing apart from any other sport. No matter how different styles develop and diversify you'd be hard pushed to find a kitesurfer who doesn't love to boost as big as they can.
The proposed fleets to be confirmed at event and dependant on conditions and registrations during event are:
Groms – Boys & Girls
Intermediate – Male & Female
Advanced – Male & Female
The fleet winner of each completion will get an individual prize pack supplied by Best Kiteboarding. Competition winners will also get an additional entry for the grand prize.
*The coaching session does not include travel or accommodation and is to be arranged at winners convenience. If a fully sponsored/pro rider wins the grand prize the package will be auctioned with proceeds going to charity – half to be chosen by the rider and the other the Troon RNLI.
Demo Gear
We know kitesurfers love to read about new kit, talk about new kit and most of love to try new kit. That is why we have been working with the leading UK brands to bring you truck loads of demo gear.
Apparently Batman is going too…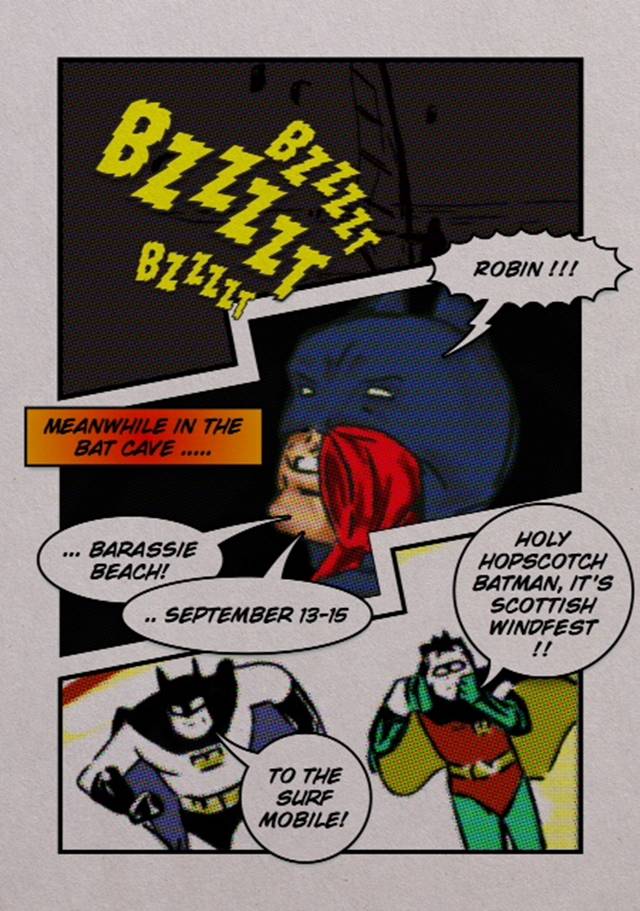 For more information head to: http://www.scottishwindfest.co.uk
Comments