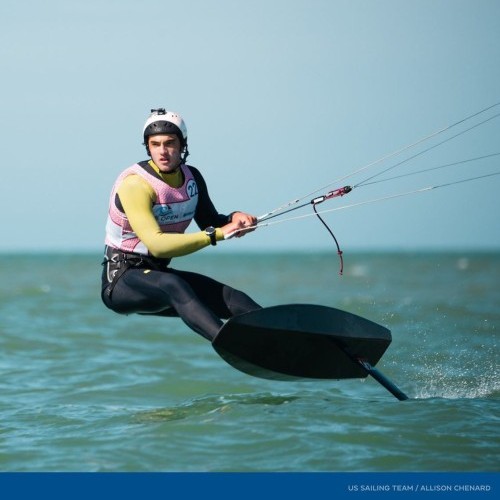 US Open Sailing Series – Clearwater, Florida
Features / Sun 14th Feb, 2021 @ 12:00 pm
With so much buzz around the Formula Kite European Championships, we almost missed the start of the sailing series across the pond in the USA! Kiteboarding has been added to the lineup at the US Open Sailing Series, and Jackie Sehr shared an update on the first event with us.
Clearwater Sailing to the Olympics
Here in the sunshine state, we have a lot to be proud of with professional sports, especially coming from the Tampa Bay area. From February 4-7th 2021, Clearwater was the first city and yacht club to host the US Sailing Open Series which included kiting. With kiteboarding having recently been approved for Olympics Paris 2024 and LA 2028, the US Sailing Open started in order to prepare the US team for the Olympic games.
As stated on the US Open Sailing website, "The West Marine US Open Sailing Series offers an increase in high-quality Olympic-class racing for U.S. athletes with a long-term goal of attracting top-level international competitors to race in these regattas for years to come."
With that being said, there were some top class kiters racing in this regatta including Daniela Moroz and Markus Edegran. Daniela is a four-time kite racing world champion and a two-time US sailing Rolex Yachtswoman of the year. Needless to say, Daniela came to Clearwater with every intention to better herself and further prepare for the Olympics. Markus is also not shy of the US sailing scene with his background in match racing and being on tour since 2017. Clearly, our area was full of professional athletes from all sports this past week.
Throughout the week, racers and race committee had to battle the ever-changing wind and rain to complete the regatta. However, the final results were a little more surprising than what you would expect. There were a few underdogs that ended up taking over the podium and we will be seeing more of them to come.
The first place went to Evan Heffernan, finishing with a total of 27 points. Second place was taken by Kai Calder with 28 points. This is yet another name to keep an eye on for the next US Open sailing series event which will be in California. The third place title was claimed by Noah Runciman, the 2019 South American youth champion for his division. Noah Runciman will be climbing the podium in the upcoming series as he approached the Olympics. This weekend, the racers in Clearwater were able to celebrate milestones on and off of the water.
Watch the US Open Sailing Series in California: https://usopen.ussailing.org
Photos by US Sailing Team, Alison Chenard
Words by Jackie Sehr, Brand Manager at Elite Watersports
Elite Watersports is a fully operational kiting school and retail shop located in St.Petersburg Florida. We teach everything from kiteboarding, foiling, wakeboarding and windwinging. Elite is also the first kiting school and shop to sponsor the US Open sailing series in Clearwater.
Editor at IKSURFMAG, Crystal Veness hails from Canada but is based in South Africa. When she isn't busy kitesurfing or reporting on the latest industry news for the mag, she is kicking back somewhere at a windy kite beach or working on creative media projects.
Featured in this Post
Comments