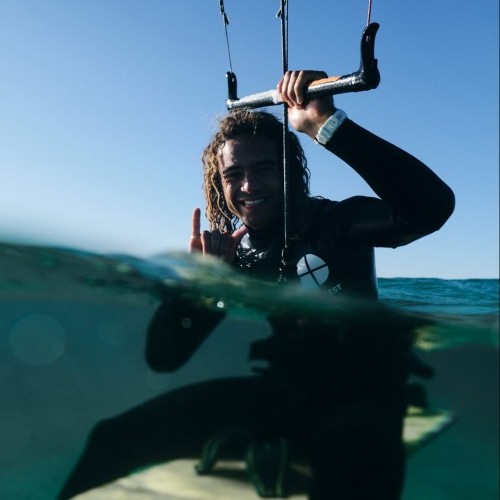 Catching up with Roderick Pijls – An Interview
Features / Wed 17th Feb, 2021 @ 9:00 am
A frequent flyer on the freestyle and kitesurf competition scene, Roderick Pijls is a man of many talents. You've probably seen him sending kite loops in Cape Town, shredding waves in Mauritius, and throwing some serious freestyle moves at beaches around the Netherlands. We're checking in with Roderick Pijls to find out what he's been up to lately, and follow up on some of the rumours about his newfound interest in foil racing!
Roderick, thank you for taking the time to join us for this interview! You've been in the kitesurfing scene for a long time, competing in waves, freestyle, and big air. What has been the highlight of your kiting career so far?
Thanks for having me and of course… I will always take time. To be really honest, there have been many highlights in my career and I am not sure to say which one has been the best, as most of the time the most recent one feels the best (but that keep renewing itself all the time)! I would say that there have been some sessions that always stand out like sessions in Indonesia and Mauritius on perfect and challenging waves will last forever in my memory, but also many competition moments, kitesurfing with a whale and her calf, or kitesurfing in between gigantic icebergs in Iceland and Norway.
You've also done some incredible video projects in the past years. Which video project are you the proudest of and why?
I think I am the proudest of my recent video, where I travelled CO2-neutral to the Arctic Circle by sailing boat to try to kitesurf underneath the Northern Lights. It is for a project; The GreenUP from my sponsor Protest. It is a campaign where we want to try to make people aware that we all need to contribute to sustainability and to protect what we've got.
Win a Commander Twin Tip by Eleveight, CORE's all-new Link harness, or an ultra-light board bag from Prolimit this issue in our FREE subscriber prize draw.
But I must admit that the video in Namibia was also one of the most memorable ones, as this was also an epic mission with the boys!
When did you start kiting and what got you into the sport?
I started kitesurfing when I was 16 years old. I went to the beach with my parents and saw many people flying through the air. My dad promised my brother and me a lesson if we would get good grades that year hahaha! Luckily, we did get some good grades and after my first lesson, I was completely hooked and couldn't stop thinking about my next trick.
Win a Commander Twin Tip by Eleveight, CORE's all-new Link harness, or an ultra-light board bag from Prolimit this issue in our FREE subscriber prize draw.
Give us a quick recap of your kiting career to date. What have you been up to?
So, I combined my kitesurfing career with my University study, Business Administration, for 3 years. The moment I graduated I promised myself I'd give it one year to see if I could become pro. Now, 8 years later I am writing this interview. 🙂 So, I must say I am pretty happy with that decision. I competed in the freestyle discipline for several years, switched to wave-riding and did several world-tour competitions in that discipline and hopefully, if corona is the past, I will compete again in many wave competitions.
In a surprising change of pace, you've been spotted kite foil racing in Tarifa this winter. What is it about racing that interests you?
Hahaha yes! At the end of the 2020 Dutch summer, I was sitting at the beach playing the waiting game and hoping for some more wind. That day I got approached by some racers foilers that just got off the water from a 3-hour session and invited to join them. It was approximately 6 knots and they were flying over the water at 60km/h.
I must admit that I have been doing lots of surf foiling, but standing on a race foil with a foil kite is something completely different. After 3 hours, I finally managed to do 1 tack! The thing that attracts me the most is that with 8 knots you are racing over the water at high speed with no sound at all and just you and your team on the water. Next to that, there's so much to learn. It's a completely different world. You need to learn how to read and make use of the gusts, get to know the tactics about when to tack or gibe, how to block your competitors, and tune your setup in the best possible way.
Switching to such a different discipline obviously requires a different set of kite equipment. What is your racing setup?
It does! I am riding a race foil from Moses with a 106cm carbon mast and using foil kites in 3 different sizes (10/15/21). The craziest thing is that you are able to hold the 10 in 25 knots with guests of 30 on the foil, which is pretty impressive if you ask me!
How important is the equipment when it comes to racing? Why did you choose the gear you did?
It is like Formula 1. The best gear wins. Of course, there is also a lot of practice and talent necessary, but tuning your gear is so important. The first time I joined the team to train, I put some sunscreen on my face and walked towards the foil to pick it up and have a look at it. The guy almost started screaming to me that I shouldn't do that, as my fingerprints all over the foil would create ventilation, and at 60 km/h, it can result in a gigantic crash. The first time he told me, I started laughing, as I couldn't believe it, but now… no one touches my foil!
How was the learning curve for foil racing? How do the crashes feel when compared to freestyle or megaloops?
Everyone wears impact vests and helmets. At the moment, I don't wear anything at all. Maybe it is because I haven't had a really big crash yet, but it is not comparable with freestyle in boots in my opinion. I once had a crash on the foil at top speed where my wing got out the water and I had a perfect impact, crashed on my ribs and was gasping for breath, but this happens all the time with freestyle.
Are you planning to race competitively? What events will you be participating in?
I would love to.. but my first love is, and always will be, waves. I will be competing in waves mainly and when I have sufficient hours of training in foiling and it fits in my schedule, then I will definitely participate!
What is the training schedule like for racing? Is this more intense than other training you've done before?
We normally have 2 sessions of 2 hours each on the water if the conditions are suitable. This is similar to waves or other disciplines. After those 4 hours, you are just destroyed and start making little mistakes. In my opinion, I don't progress anymore after that.
For those that are interested in reaching mach-speed on a foil, do you have any tips or advice on what steps kiters can take to improve their skill and speed?
If you first want to increase your skills, then hours on the water are the key to success. Training hours and hours, visualising and trying it again. You really need to put the hours in to get the result out. It is frustrating, but that's the only thing I would say. If you want to increase your speed, grab the bull by the horns, don't chicken out, and open the throttle all the way!
Will you be retiring the twin tip and boots, or are you continuing to train across all disciplines?
Nooooo.. don't say that hahaha, I will always keep riding boots. Perfect flat water on my 11 or 13 are prime!! To be honest, I am always having the best session now, as the conditions are always suitable and perfect for any discipline. That's the trick for always having a good session, just change your gear!
How much harder is it to pack your kiteboarding bag now? Do you pick different locations that suit different disciplines, or do you bring everything and pay the extra baggage fees?!
Yes, that is the only downside of enjoying all the disciplines. It is almost impossible for me to travel with less than 3 board bags. A bit of a bummer, but I know that if I didn't do it and left some gear at home, I would always regret it on the trip.
With all the different styles of kiteboarding that you do, is there time for anything else? What are you doing when you're not on the water?
I am doing a really cool project which is still secret! But I am having a project combining adventures and working with hospitals to help kids find some joy. Once I am able and allowed to spread the word about it, then I am definitely going to give you all the ins and outs.
What's coming up for you in 2021? What's your next exciting project?
I really hope that there will be some competitions happening this year to participate in. Next to that, I would like to continue the Norway project (probably in Greenland), I'm continuing to spend as much time kiting as I can, and work on my upcoming secret project.
Editor at IKSURFMAG, Crystal Veness hails from Canada but is based in South Africa. When she isn't busy kitesurfing or reporting on the latest industry news for the mag, she is kicking back somewhere at a windy kite beach or working on creative media projects.
Featured in this Post
Comments