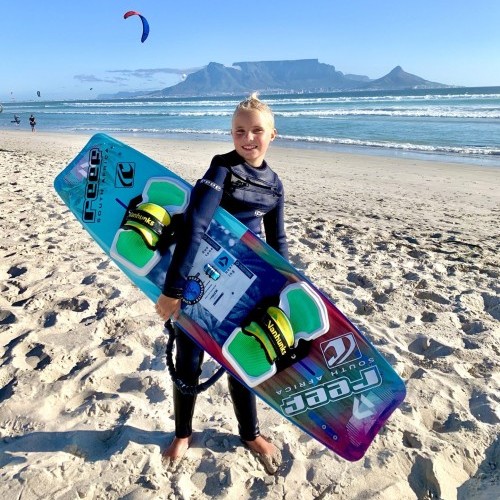 Up & Coming: Sera Mason, 9
Features / Sat 13th Feb, 2021 @ 12:00 pm
Is there anything such as too young to kite? With the strong winds and big waves in South Africa well known amongst the kiting community, it's hard to imagine learning to kite in such difficult conditions, let alone learning when you're six! We first met Sera Mason at a Big Air competition at Cape Town's Kite Beach, where she joined the women's division and was already sending jumps in the waves at only eight years old. We caught up with Sera to see how this young rider got into kiting and where she wants to go with the sport!
Hi Sera! Wow, how crazy that you're only 9 and progressing so quickly with your kitesurfing. What gets you most excited to get out on the water every session?
Being able to be free and being able to enjoy the time that I have on the water while I'm able to be me.
How old were you when you first started kiting? Can you share your earliest kite memories?
I was 6 years old. My Dad and I did tandem where I would stand between his legs and ride with him… It was amazing!
What is it like kitesurfing in South Africa? Do you ever feel like the wind is going to blow you away?!
Dad sometimes makes jokes when it's 40knots to say "let's go kiting" and I'm like, "Dad, not happening!" But I have a 3m kite for when it gets strong so, no, I don't feel like I'm going to blow away.
Where is your favourite place to kite in South Africa?
Long Beach in Kommetjie and St. Francis lagoon!
Who are your favourite people to share a session with?
My Dad, Mousie & my cuzzie.
What is your favourite trick?
Back roll, which I've finally landed after a year of trying. And boosting high!!
What trick are you learning at the moment and having the most difficulty sticking?
Well, the next trick I want to try next is a front roll and I'm into big air so I'm always trying to boost higher and break my record.
Who are you currently sponsored by? How have your sponsors helped you throughout your kiteboarding journey so far?
I'm sponsored by Reef, Duotone, and WindWaterWaves. Duotone hooks me and my Dad up with kites, Reef helps me with my wetsuits, and my changing poncho is from WindWaterWaves.
Tell us a bit about your gear choices. What equipment are you riding and why?
My first kite was a 3.5m, then I got sponsored by Duotone and got my 4m Neo and my 6m Vegas. When the wind is super light, I use my Dad's 8m Rebel. I ride a twintip board also from Duotone, which I've also been using at the cable park, but now I just got a wakeboard with boots so I'm really excited to try that!
What are your long-term kiteboarding goals?
I want to focus on big air and just having fun and enjoying the sport.
Which professional kiter do you admire the most? Why?
Mousie-moo!! Hahaha!! But I met Mikaili Sol on the beach and she was really cool!
When you're not kitesurfing, what are you usually doing for fun?
Wakeboarding at the wakeboard park, going on walks and mountain biking, skating, or chilling at home and playing with my dolls or my dog, Mandy.
If you could go spend a season at any kite spot in the world, where would you choose?
Hmm… where's that place with the lagoon?? Oh yes, St. Francis with the big flat water lagoon where we also SUP in the canals.
If you had any advice for other young women that are interested in learning to kite, what would you say?
Learning to kite wasn't quick and easy but after a few years, I got better and now I can kite in so many different conditions and places. When you first start kiting, you must start off on small kites and in light wind and as you progress, you can start to ride bigger kites and in stronger wind.
When you find what you really want to do and a sport that makes you happy, your talents and success will come.
What's next for you? Any exciting plans for 2021?
Well, when we're allowed to travel again we're planning a kiting trip to Mauritius!
Editor at IKSURFMAG, Crystal Veness hails from Canada but is based in South Africa. When she isn't busy kitesurfing or reporting on the latest industry news for the mag, she is kicking back somewhere at a windy kite beach or working on creative media projects.
Featured in this Post

Germany
102,827

126,943
Comments