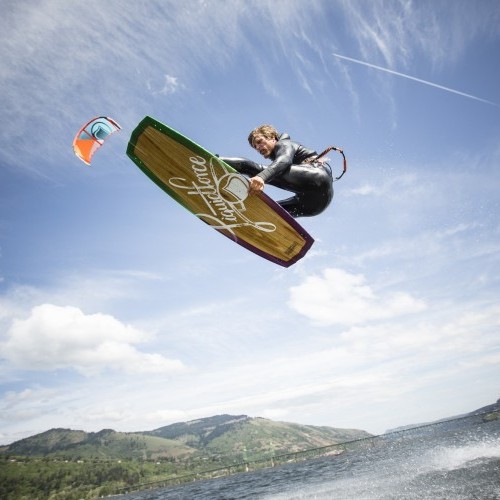 In Focus: Liquid Force 2016 Product Overview
Features / Sun 4th Oct, 2015 @ 12:00 pm
Liquid Force has a big year on tap for 2016. The Liquid Force philosophy is to bring more fun to the water every day. With more foil board offerings and steady improvements to their rock solid lineup of kites, Liquid Force has something new and exciting to offer everyone.
Envy
Returning for a 6th year, the backbone of the Liquid Force kite lineup, the Envy. This is the versatile kite choice for any level of rider, from beginners to superstars such as Brandon Scheid. The 2016 Envy has more user adjustability than previous models, allowing riders to tune their Envy to fit their mood or riding style. For 2016, the Envy has increased bar feel, quicker response time, and a reduced diameter leading edge. The Envy hasn't lost any of the notorious stability, on-off power, or bombproof construction that users have grown to love.
Solo
For kiteboarders looking for a simple, lightweight kite that turns fast and provides loads of power, the Solo v2 is the answer. This single-strut kite is a fun choice for free riders and a popular choice for the foil demographic. The new Solo boasts a smoother bar feel and incorporates the Tension Trailing Edge that decreases flutter.
Wow
Liquid Force recently introduced the wave-specific Wow. This fast turning kite flies quick across the window and boasts a nearly instant response time. Riders will appreciate the ultra thin leading edge that increases the kites upwind ability. These features give kitesurfers the ability to focus on the wave they're attacking instead of worrying about their kite. 
Foil riders and free riders also appreciate the Wow for its big boosts, pivotal loops, and responsive feel.
Hifi-X2
The aggressive, pure-C shaped Hifi-X2 is engineered to provide elite riders a kite that maximizes their performance. Adjustable trailing edge connections allow riders to customize the Hifi-X2 in bar pressure and steering speed. Bombproof construction ensures that the kite will endure the beating required to learn the most technical arsenal of tricks.
Response Control Bar
The Liquid Force Response Bar provides unsurpassed safety, intimate connection with the kite, and user adjustability to make all riders comfortable and happy. On-the-fly adjustable bar length swivels can switch between 46 cm and 56 cm with an easy spin. An adjustable cleat allows the trim system to slide closer or farther from the rider, based on preference. The Response Bar also features an auto-swivel for the center lines and pre-stretched, 300kg tested flying lines.
Foil Boards
Liquid Force has expanded their Foil Board offerings to bring more foil fun to every segment of the foiling population. Each of the Liquid Force foil boards comes with interchangeable components, so riders can customize their board to suit their desires.
Happy Foil
The all-new Happy Foil expands Liquid Force's high-performance foil offerings. The Happy Foil is built with a lightweight, multipurpose molded board that features an adjustable track mast mounting system. A longer cord length, thinner profile aluminum mast adds speed and stability to the ride. Medium profile aspect wings are built for speed, and can be changed out for faster or slower wings, based on rider preference.
Rocket Foil
The all-new Rocket Foil is where ease of use meets performance. The multipurpose board, thin profile mast, adjustable fuselage and bombproof polymer low aspect wings make this one of the best free ride foils on the market. A track mount system allows riders to adjust the mast placement to suit their style. The Rocket Foil comes with a wider cord length mast that is faster, stronger, and more stable than a thinner mast.
Foil Fish
Liquid Force returns with the Foil Fish, the original easy-to-use and affordable progression foil. Featuring a multipurpose board and durable components, riders are able to use the compression molded fish as a traditional board or mounted as a foil. The Foil Fish has been getting new foilers up and riding more quickly than ever.
Element
A design collaboration between 2015 PKRA Freestyle World Champion Christophe Tack and legendary Liquid Force shaper Jimmy Redmon, the explosive Element is a freestyle force. A slight increase in rocker for 2016 helps this board plow through chop and softens landings. The addition of net vector carbon weave glass lamination along the bottom of the board lightens the boards overall weight while maintaining the explosive flex pattern that marks the Element.
Carbon Element
For the ultimate freestyle performance, check out the super lightweight Carbon Element. This board is designed with a unique carbon weave that reduces it's weight even beyond traditional carbon fiber laminations.
Legacy
Jason Slezak and Jimmy Redmon have designed a fun twin tip with medium rocker and a full wood core that handles all varieties of free ride. The same net vector carbon weave glass lamination gives the Legacy a weight reduction from previous models. Progressive rail concave adds edge hold and a full double concave gives the Legacy a smooth ride through chop, cushioned landings, and explosive pop off the water.
Echo
The 2016 Liquid Force Echo is a full wood core, high rocker, stiff flex board that explodes off the water. Durable construction ensures that this board is capable of handling abuse from hard-charging wakestyle riders, including co-designer Brandon Scheid. Fluted concave at the tip and tail makes the Echo lightning fast through the water.
Focus
The mid-rocker, mid-flex Focus is packed with features that any all-around rider will appreciate. The Focus has outstanding pop-and-release off the water and flies upwind.
Drive and Overdrive
The Drive and Overdrive are optimized for progression and have features that help athletes with everything from upwind riding, to transitions and load-and-pop. The Overdrive is a slightly wider and longer version of the Drive that excels in light wind conditions. New for the Drive in 2016 is an improved smooth and shallow center concave. The Drive and Overdrive impress with their performance to value ratio.
Aloha
New for 2016, a board designed for the ladies. The Aloha is butter smooth, even through choppy conditions. The medium rocker, soft flex, and full wood core Aloha is a fun ride with specific features that will help ladies looking to push their riding and enjoy their water time.
Soul Craft
The quad-fin, ultra snappy Soul Craft is a 5'11" fish-shaped directional board. With a slightly wider outline and more volume, the Soul Craft will keep you afloat in softer wind or mushier waves. The LF UltraFlex molded construction is one of the strongest and lightest builds available for a kitesurf board.
Cosmic Ship and Axe Man
The 6'0" Cosmic Ship and 6'2" Axe Man incorporate a sleek outline, smooth rocker outline, single concave, and 3+2 fin options. The Cosmic Ship is your one kitesurf board quiver, or, if you're a bigger rider or ride bigger conditions, the Axe Man is the longer, higher volume option.
LFK
Liquid Force, with its wakeboarding roots, has a lot invested in its bindings. The LFK is a medium flex, super lightweight binding that feels good on your feet. The built-in liner system reduces the weight of the boot without sacrificing durability. With cinch lower and velcro upper closures, these boots are easy to get into and stay snug.
Harnesses
Liquid Force has myriad harness offerings. New this year is the Arc. The Arc starts with memory foam lumbar support and then offers customizable foam support options. Returning this year are the Prime, Solo, and Supreme harnesses each with a different shape to fit a variety of body shapes. The cam clamp closure system ensures that each harness snaps into place before each session.
Head over to liquidforcekites.com to learn more!
Lindsay is a pro rider from Hood River in the USA, she works for IKSURFMAG as our Features Editor and is an integral part of the team. Lindsay is really into wakestyle riding and can be found in the Hood River Slider Park during the summer months, she also travels all over the world with the World Class Academy helping younger riders develop through kiteboarding!
Featured in this Post

United States
2,106

United States
7,875

United States
11,883
Comments