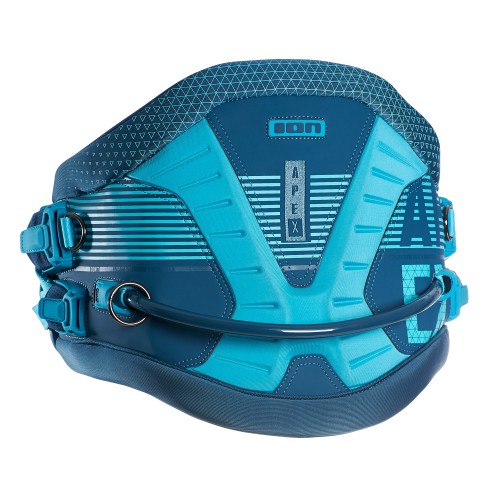 In Focus: ION 2017 Product Overview: Harnesses
Features / Fri 24th Mar, 2017 @ 1:30 pm
For ION, accessories are everything, knowing that it is the small things which make the big things count. A harness is more important than your kite and board combo and can mean the difference between a good or bad session.
Their extensive Harness line up has been revamped with impressive technology and design for 2017.
As well as these kite specific harnesses, ION also have a range of cross over Windsurf and Kitesurf harnesses. More information about their complete range can be found here and here.
Hadlow TS Harness
ION Team Series represents finely tuned accessories for competition riders . 5 × world cham-pion Aaron Hadlow, has high demands and specific needs to suit his powerful freestyle riding. Another must-have is the Carbon_PE 3D Titan Shape feature: A specifically designed Carbon/ PE construction to provide a perfect fit with extreme support accros the back through differently shaped layers which wrap arround the harness. This Shape was especially developed for the Hadlow TS harness.
The new Neo_Belt was designed to increase the feeling of flex, twist and overall comfort of wave riding.
Radical moves need a radical design.
WAVE TS Harness
The brand new ION Team Series harness represents finely tuned accessories for uncompromisingly Wave riding at it´s best. Soft at the more sensible side areas with 100 % back support due to the Carbon_PE 3D Titan Shape feature: A specifically designed Carbon/ PE construction to provide a perfect fit with extreme support accros the back through differently shaped layers which wrap arround the harness.
Additionally the Downforce feature enables twisitng motions but prevents the harness from riding up.
The new Neo_Belt was designed to increase the feeling of flex, twist and overall comfort of wave riding.
Radical moves need a radical design
Apex Select
Get ready to sink into the cushiest harness ever created. The APEX SELECT features new technology and innovation to further enhance its performance. The improved Wire_Tec disperses direct pressure points, whilst the X_Spine complements its overall function. Thanks to the hidden seams the Apex Select comes in a clean look.
Apex
The APEX is the benchmark harness for quality, comfort and allround top performance. A Premium reduction of materials where possible sees a refined outline delivering a stylish reduced sidecut.
In addition to this, ION has extended the soft foam edge for further protection of the hip and rib
-areas.
Click here for more information
Vertex Select
Also dubbed the Twist harness, the VERTEX SELECT is jam-packed with a mouthwatering amount of ION's high tech features making this harness perfect for waves. The refined Wire_Tec and its complementing X_Spine technology provide balanced load distribution.
Vertex
The name VERTEX stands for 'Pro Approved Technology,' and represents a perfect fit and outstanding support for experienced riders. The ultimate wave shredding companion offers more freedom of movement than ever before thanks to its slimmer outline and extended soft foam edge.
Hummer
After years of innovative evolution and continuous improvement, the HUMMER maintains its legendary status and outstanding performance thanks to superb freedom of movement and solid support. The revined Neo_Belt, combined with an extra support (3D Contour Shape) reflect the style of Craig Cunningham.
Madtrixx
The name says it all, look at Airton Cozzolino! The MADTRIXX is well suited to wave riding fanatics as it doesn't ride up thanks´s to the developed Silc edge. The refined Neo_Belt provide huge freedom of movement, whilst the Cross_Link feature ensures a comfortable and effective load distribution across the back.
Axis
The AXIS is the ultimate one-stop shop for those passionate about Kiteboarding and Windsurfing. With a polished and on-trend style and removable handle pass leash, its appearance is of top quality. Even though it has state-of-the-art features and great overall performance, the AXIS is fairly priced.
Radar
A premium seat harness, the RADAR's fit is so good it's like a second skin. Having reworked the adjustability, we've created an even better fit and superb overall comfort. The revised ergonomic leg
straps draw inspiration from a climbing harness in order to enable fantastic freedom of movement, and the elimination of pressure points.
B2
The B2 is where fashion and function are combined to create a unique piece of kit. Many riders embrace the feeling of a seat harness but are not always comfortable rocking that 'look.' The B2 is the perfect solution for that, and when creating this harness we made sure that it remained a high performance product.
With on-trend colourways, there is something to suit everyone's style. Improved straps and short.
Echo
The ECHO is an exceptionally comfortable seat harness offering great support and an attractive price tag. Its technical construction creates a top allrounder for Kiteboarding.
Click here for more information
Ripper X
The RIPPER X is ideal for up-and-coming riders looking for a supportive harness with all the top features. It's versatile nature ensures that kids get
all confidence boosting features they deserve, at
a highly affordable price. Created to adapt to both Kiteboarding and Windsurfing, the RIPPER X is a fantastic crossover for those who revel in doing it all.
Madtrixx Grom
Gear up your Grom with a high performance product designed specifically to turn their ambitious dreams into a riding reality. Taking into consideration the additional support a growing body needs, we've made sure the MADTRIXX GROM has an even load of distribution and forgiving flexibility. Look good, ride hard.
Nova Select
The NOVA SELECT is our pride and joy of the women's range. Incorporating high tech features,
it's easy to use and triumphant when it comes to support. The refined Wire_Tec disperses direct pressure points, the X_Spine has been reworked to complement its overall function, and the outline is designed specifically for women.
Nova
An exclusive design specifically made for women, the NOVA is high performance and well thought out. With top of the range features, this harness is guaranteed to perform, protect and support, so all you have to do is enjoy the ride!
Sol
The SOL outline is the perfect companion for the freestyle orientated women. The Neo_Belt creates a smooth transition from the belt to the main body of the harness. In addition, this year ION has been able to further enhance freedom of movement, as well as delivering a perfect fit with even more support. Stylish, sophisticated and specialised, the SOL is your ultimate accessory.
Vega
The VEGA is designed specifically for women delivering a flattering and highly functional 3D shape. Fitting like a second skin, it guarantees superb comfort and support. Drawing inspiration from climbing harnesses, we've created new, ergonomically shaped leg straps to ensure fantastic freedom to move.
WIRE_TEC 2.0 Harness Technology
We at ION are always looking for new ways to further refine our technology ensuring that ION gear excels in durability, performance and fit. ION has taken a lesson from the stability and load distribution of cable-stayed bridges for the development of the WIRE_TEC system. Our patented line setup is designed to spread the load evenly across the rider's back and banish irritating pressure points.
We accepted the challenge to improve last years WIRE_TEC harnesses in order to create an even comfier and safer riding experience.
·             More comfort: the revised FLOATING BUCKLE SYSTEM limits the rotation of the hook in its upward and forward movement. The Dual Density Spreaderbar comes with a new extra comfort pad which adapts perfectly to the rider's body.
·             More safety: the buckleplate is secured with two extra webbings which are stitched directly to the harness and therefore prevent the hook from sliding off. Combined with the limited hook rotation this ensures a stable but still flexible spreaderbar.
With years of kite sport experience combined, you can be sure you'll be receiving the highest quality of knowledge on the best equipment the industry has to offer.
Featured in this Post
Comments