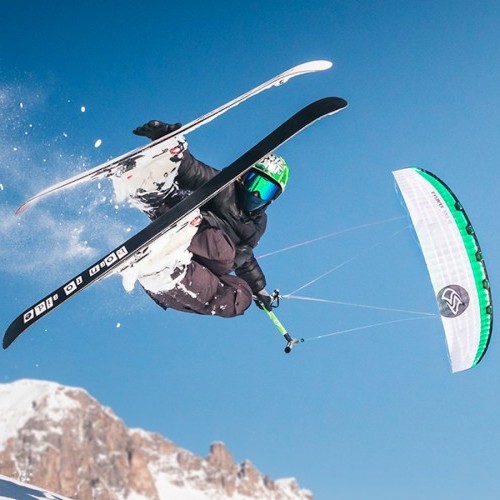 In Focus: Flysurfer 2020 Product Overview
Features / Thu 7th Nov, 2019 @ 1:30 pm
Since 2001, Flysurfer has developed innovative and high-quality kites and boards whether it's for water, land or snow, for all wind ranges and kiteboarding style. Check out their 2020 line-up, right here!
Win a Custom Designed Ozone Twin Tip this issue in our FREE subscriber prize draw.
Flysurfer 2020 Foil Kites
Sonic Race VMG
Race, Hydrofoil
The Sonic Race VMG: highly efficient, stable, ultra-light. Professional athletes expect maximum performance and efficiency with the highest stability. Top performance under extreme conditions is only possible if you can entirely rely on your material without any hesitation. Flysurfer introduces the Sonic Race VMG to the market, with this kite we go into the next level of performance, designed to be used for "open class" kite racing disciplines.
The Flysurfer R&D Team raised the bar once again! With a complete revision of the wing profile and adapted aspect ratio's, we further improved the aerodynamic efficiency and above all the control of the beloved Sonic Race. The more rigid construction of the performance-tuned Sonic Race VMG shows its strength in all conditions, including extreme high and low winds. Supported by a 3-level Bridle Design (A, B, Z) riders have a clear advantage over the competition – the drastic reduction of bridle lines reduces air resistance (Drag) by an unbelievable 15%! This allows the athlete to ride with maximum top speeds and with the best possible angles over the entire racecourse. Looking inside of the VMG, minimalism is emphasised, fewer attachment points of the balance bridle lines are entirely supported by a special mix of materials only at high-stress areas. This ultra-light wing has unparalleled light-wind performance.
The Sonic Race VMG makes it clear that we have made no compromises to produce a truly unique race winning closed-cell foil kite, ambitious products make for outstanding achievements!
Find out more on the revolutionary Sonic Race VMG by Flysurfer, right here!
Sonic Race
Race, Hydrofoil
The Sonic Race shows Flysurfer's full commitment to kite racing. We are continually improving performance with each new model – striving for the highest speeds and the best angles on the course. The kite is highly efficient, powerful and aggressive – perfect for the fastest riders.
At Flysurfer, the competitive race scene is a proving ground for kiteboarding technology – our dedication to this aspect of the sport isn't just for show; it's a science. Pushing the Sonic Race to the limit reflects the spirit of the brand and all of the men and women who strive for victory.
To strengthen our competitiveness and to lay the foundation for the success of our athletes, we are continuously investing in a great racing team and research and development of our highest performance wing. Flysurfer's Sonic Race developer Benni Boelli supports our athletes during the pro tour season to continuously improve the product. You directly benefit from years of great teamwork and our absolute passion for hydrofoil, snowkite and kite buggy racing. This knowledge also trickles down into our other products.
The Sonic Race lightweight construction is built upon our new X-Light fabric for maximum durability and highest stability. Our 3-Level Bridle Design and a total rework of the airfoil highly improves the aerodynamic efficiency; which results in stunning speeds with improved angles on all courses, and even better – almost unreal – lightwind abilities. Designed on short flying lines and supported by rigid construction and a new mixer which provides reliably-quick manoeuvring of the wing, the Sonic RaceE shows its strength in gusty winds and let you entirely focus on your riding to win the toughest races.
The Sonic Race instantly shows that we made no compromises in performance … get excited by exceptional efficiency – the race is on!
Find out more about Flysurfer's Sonic Race, right here!
Soul
Freeride, Big Air, Travel
The Soul combines high comfort with a sporty character. The inspiring lightweight kite construction blended with precise control and bar feedback convinces on every terrain. Highest stability and the excellent water relaunch make your daily session genuinely user-friendly. The new way of kiting, pure fun without limits!
The technical highlight of the Soul is its lightweight construction, which is beautifully staged by the transparent bottom sail. This unique material mix uses our competition-tested X-Light fabric for the first time in a kite designed for everyday use, while the leading edge is protected with durable DLX+ fabric against dirt and abrasion.
The proven Rigid Foil technology produces a beautifully smooth nose for high aerodynamic efficiency, which gives the SOUL its outstanding upwind performance. The ultralight wing offers tremendous stability through weight reduction. Its swept outline, in combination with the ingenious internal balance system, allows relaunching via one backline and ensures precise steering, as well as excellent feedback from the Soul.
Win a Custom Designed Ozone Twin Tip this issue in our FREE subscriber prize draw.
Flysurfer has been relying on longevity for years, with the new Mixer Check we underline this philosophy and offer another option for effective maintenance. The improved drainage system offers optimised and fast discharge of water and dirt. This complete package meets all the criteria from training used to strong wind Big Air kite; it will especially make the transition from L.E.I kite to Foilkite easy. Safety. Versatility. Longevity.
Find out more about Flysurfer's Soul, right here!
Viron 3
Progression
The Viron 3: safe, intuitive and comfortable. A playful introduction to kitesports! Harness your enthusiasm from the first minute. Maximise your learning curve with this unique depower foil kite concept allowing you to build trust while our B-Safe system keeps you safe. This kite is a must-have for safety-conscious teachers and ambitious students.
Flysurfer has revolutionised the entry into kitesport with this unique self-inflatable closed-foil kite concept. The design team met their brief to create a kite that is very intuitive to use, safe and a special tool for training in kite schools. The Viron 3 allows beginners with the necessary basic knowledge, to develop their own experience in dealing with wind and water and to spend more time with their kite enabling them to progress faster.
Win a Custom Designed Ozone Twin Tip this issue in our FREE subscriber prize draw.
The thick profile and lower aspect ratio of the wing decrease lift while the flattening of the leading edge reduces the lift/drag ratio. These design characteristics mean reduced acceleration within the power zone and therefore, moderate power development to facilitate control. The spherical shape of the Viron 3 is perfect for relaunching, preventing quick leewards drifting. Our integrated B-Safe system reefs the kite in an emergency, therefor minimising wing area and a resulting loss of power. Beginners benefit from these design features as they help to prevent everyday situations when learning, which can be very stressful.
At Flysurfer, we are convinced that we have designed the best product for kite lessons so that the dream of kiting can be achieved successfully while always being fun.
Find out more about Flysurfer's Viron 3, right here!
Peak 4
Freeride, Touring, Progression
The Peak 4: Agile, ultralight, powerful. Our single-skin foilkite concept combines our passion for usability and security that will make your outdoor kite experience unforgettable. Progressive depower, direct steering, high stability and incredible power per m2 make the Peak 4 the perfect touring kite.
The fourth generation of our Peak is the obvious choice for the most progressive mountaineers and an essential tool in the growing backcountry kite touring movement. The fascination of climbing steep slopes in the lowest wind speeds shifts the boundaries of possibilities and lets you dream of days with endless deep snow descents. In the high mountains, our athletes require absolute confidence in their equipment, the Peak 4 relies on safety-optimised technical features and further improves the strengths of the single-skin foilkite concept, as well as its flight feeling.
Win a Custom Designed Ozone Twin Tip this issue in our FREE subscriber prize draw.
The B-Safe System is the heart of the Peak 4 as it ensures maximum safety, as well as being simple and easy to reactive. The new reduced bridle layout is colour matched to create a better contrast with the ground and increase user-friendliness. Our tried and tested DLX+, and X-Light cloth material mix increases durability while still being able to make the Peak 4 the lightest Flysurfer kite in the lineup. Thanks to the new Hybrid Wingtip Technology, used for the 1st time, Peak riders will be able to experience unmatched stability as well as improved turning and bar feedback.
The Peak 4 is confidence-inspiring and offers a familiar flying feel with continuous power delivery and increased backstall resistance. The result is an ultra-light freeride kite for every beginner, which will also meet the needs of daring outdoor athletes.
Experience a new dimension on snow, sand, grass or asphalt. Your next adventure awaits you…
Find out more about Flysurfer's Peak 4, right here!
Peak Trainer
School, Fun
The Peak trainer is designed to be incredibly safe and easy to use. Perfect for children! The single skin technology makes it incredibly durable and tremendous fun in light winds. Playful and user-friendly, it is the ideal first step into kite sports.
The Peak Trainer lets you experience the thrill of kite sports first hand! This 1,3m² kite develops considerable amounts of power thanks to its single skin design. It is durable meaning it can be crashed countless times while you master your kite skills. The proven three line safety lets the kite flag out, with no power as well as helping reverse launch. The PEAK trainer makes a perfect gift and starting point in the world of kiting. This is a must-have at any kite school and great fun for kids!
Find out more about Flysurfer's Peak Trainer, right here!
Flysurfer 2020 L.E.I Kites
Stoke
Wave, Freestyle
Win a Custom Designed Ozone Twin Tip this issue in our FREE subscriber prize draw.
The Stoke is explosive, versatile and dynamic. This all-rounder offers sporty performance, reacting fast to rider inputs. The kite has an excellent bar feeling and is suited to enthusiasts shredding waves or stomping freestyle moves. Get stoked!
Do not waste any time, forget about settings and go out and have fun. This is what the Stoke is all about. Designed and tested by a young team of riders with different skill sets, this 3-strut LEI kite has a wholly revised profile, a new Short Bridle System and a sturdy High-Load Force Frame. Its all about versatility.
Explosive jumps, huge unhooked pop, intuitive handling, dependable depower and endless drift, the Stoke gives you power on demand and lets you make the most of every situation. A kite that feels like an extension of your body, continually providing the feedback you need and reacting to your inputs even with minimal line tension. The Stoke is a pure powerhouse designed for everyone from real athletes who want to push the boundaries to the weekend warrior working on their style.
Find out more about Flysurfer's Stoke, right here!
Boost 3
Freeride, Big Air, Lightwind
The Boost 3 offers the perfect balance between design and function to underline your riding style. It is reliable and robust while offering accessible performance with maximum control and agility. The Boost 3 will give you the confidence and inspire you to go higher. Lift your game!
The third generation of the Boost benefits from the new Short Bridle System for a direct and stable flying feeling. Flysurfer combines materials tested over the years with technical features, high-quality workmanship and attention to detail. Our innovative spirit characterises the Boost 3: Newline deflectors, efficient 3D Strut design and improved Adaptive Airfoil Bridle. The tried and tested High Load Force frame delivers performance and durability. This high-performance 5-Strutter has an unbeatable relaunch – especially when using the Adaptive Airfoil Bridle, making it a perfect kite for hydrofoils. The Self-Launcher helps make solo launching safely. Be inspired by the performance of the Boost 3, finely tuned bar forces and excellent turning characteristics create the perfect freeride kite with terrific upwind performance, immense depower and huge hangtime – a real big air machine. Comfort. Performance. Longevity.
Find out more about Flysurfer's Boost 3, right here!
Win a Custom Designed Ozone Twin Tip this issue in our FREE subscriber prize draw.
Flysurfer 2020 Control Bars
Force Control Bar
Freestyle, Progression
The Force Control Bar: safe, durable and functional. The ergonomically shaped bar is full of technical features but still sits perfectly in hand and is very comfortable. Designed to offer the highest safety standards, it uses a QR 4.0 and short Single Frontline Safety. Trust in German Engineering.
The Force Control Bar generates complete confidence from the minute you get hold of it. Sturdy but comfortable and offering plenty of grip. The Force Control Bar glides along the PU-coated depower lines smoothly transmitting the power of the kite. The Force winders are heavily padded to protect you and your equipment. The click of a button releases the bar width adjusters and steering line length adjusters. Twist to change the bar width, or move the knots up and down to adjust the steering line length.
The single-piece moulding of the bar ends and floaters prevents lines from getting caught and minimises the risk of injury. When it comes to safety, we make no compromises. Flysurfer relies on our tested and proven QR 4.0. To satisfy the demands of a wide range of users, we offer the bar in three different sizes. Functional, customisable, sturdy and safe, experience a new riding experience with the Force Control Bar!
Find out more about Flysurfer's Force Control Bar, right here!
Infinity Control Bar
Freeride, Airstyle
The Infinity Control Bar: precise, comfortable, authentic. The classic Flysurfer control bar system with the automatic centerline untwisting function. Perfect for those who love board-offs and rotations. Direct contact with the kite for maximum freeride comfort.
The 4-line Infinity control bar precisely transmits your steering inputs! The slim and solid bar stick with compact winders gives you excellent feedback. The Infinity bar slides along a 52cm long PU-covered depower throw and activates the automatic swivel function when powering up with minimal force. Trim options are provided by the Clam Cleat adjuster and the knot positions located under the EVA floaters to adjust the 17 + 3m long lines. Safety is assured by our proven QR 3.0 and frontline flag-out safety system (FLS). We have focused on longevity to give ambitious freeriders a functional performance package. The Infinity Bar complements our foil kite range and lends itself to those who love hangtime and endless rotations.
Find out more about Flysurfer's Infinity Control Bar, right here!
Connect Control Bar
Freeride, Touring, Progression
The Connect Control Bar is tidy, lightweight and safe. Configured to use our B-Safe security system, it features 7 + 14m flying lines with a high split Y. The lightweight bar stick is equipped with soft bar ends and offers excellent comfort, smooth steering while depowering, as well as maximum safety during your session.
The Connect Bar is specially designed with a high Y split on the front lines and a 5th line for the B-Safe system. The lightweight bar stick has a conical shape which sits comfortably in hand. The EVA grip is colour coded, orange for left and petrol for right. The soft bar ends to reduce the risk of injury and allow for easy line adjustment. The clam cleat helps riders to maximise comfort and safety by adjusting the power precisely.
The Connect Bar is equipped with our Quick Release 3.0 chicken loop. Maintenance is simple and easy. The One Hole eyelet in the centre of the bar features a replaceable insert.
Weighing in at just 0.84 kg complete, the Connect bar goes perfectly with the Peak 4 and is a must-have for your next adventure!
Find out more about Flysurfer's Connect Control Bar, right here!
Win a Custom Designed Ozone Twin Tip this issue in our FREE subscriber prize draw.
Flysurfer 2020 Boards
Rush
Freestyle, Big Air
The Rush is responsive, precise and robust – our stiff freestyle board. Terrific edge control and grip enables a smooth, powerful riding style allowing you to focus on your next takeoff. Achieve your maximum jump height and break your records. This is the one for riders who do not want to compromise.
The Rush gives you the confidence needed to perform technical moves, massive airs and sick mega-loops. This classic freestyle board offers high riding comfort, perfect grip, insane pop, and precise carving. The centralised stance alignment and fine-tuned flex distribution allow you to perform your tricks quickly at any time, ensuring safe landings. The bottom construction with a double concave and multi-channels gives an outstanding upwind performance to stay "in-the-box" and reacts immediately to rider inputs. Designed and produced in the heart of Europe for the highest quality. Perfect for ambitious and sporty riders who want to push the limits and reach their full potential.
Find out more about Flysurfer's Rush, right here!
Radical 6
Freeride, Airstyle, Lightwind
The Radical 6 is comfortable, fast and responsive – the ultimate all-round kiteboard line. Experience a supreme riding sensation with an exceptionally balanced flex and revised rocker curve. Maximum control, directional stability, less spray and high comfort in all conditions.
For years, our Radical line has stood for unbeatable performance, ease of use, high-quality standards and durability. The Radical 6 received a completely new graphic and technical make-over of the core but remains true to its roots — early planing, fast, easy upwind and effortless to jump. The asymmetrical outline makes the board snappy, but also allows comfortable toeside cruising, perfect for any downwinder. The reworked tip design and the new 3D Flex Distribution eliminate vertical splash water and let the Radical 6 cut through choppy water without any problem. This feature-rich package and the resulting control will easily help you to be one of the first planings and to go upwind as well as making big-airs and board-offs more accessible.
Find out more about Flysurfer's Radical 6, right here!
Flydoor 6
Freeride, Lightwind, Progression
The Flydoor 6 is efficient, light and forgiving – the personification of a light wind board. The shape allows for playful riding, goes upwind easily and offers very good planing characteristics. Increase your number of days on the water and experience pure riding comfort in the lightest breeze.
Efficiency is critical in light wind riding – we focus on performance in product design to get you out as often as possible on the water. The Flydoor 6 core is based off a solid paulownia wood core with a tailored double concave, which cleverly contributes to weight optimisation and early planing. The asymmetric outline lets you cut through choppy water with ease. The adapted flex improves the edge grip of the board as the wind increases. The Flydoor 6 board line is designed for those who want to maximise their time on the water not only with relaxed lightwind cruising.
Playful and forgiving, with excellent planing characteristics and effortless upwind performance, developed for those wanting to make the most of light winds.
Find out more about Flysurfer's Flydoor 6, right here!
For more information on Flysurfer products, please click here.
Italian/Egyptian Jen Tyler grew up on the sandy beaches of the Red Sea and has been on the IKSURFMAG & Tonic Mag team since 2017.
Featured in this Post
Comments