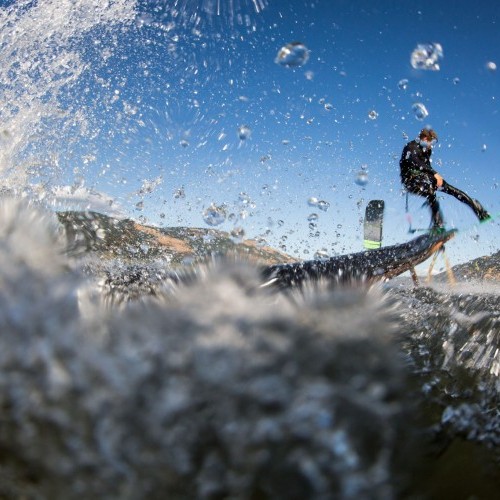 Behold and Sea – Ewan Jaspan Interview
Features / Sat 16th Feb, 2019 @ 12:00 pm
After a year in the making, Ewan Jaspan's full-length feature film "Behold and Sea" will be online next week! Rou Chater caught up with Ewan in Cape Town to find out more about the project! Check it out!
Congrats on the movie Ewan, how's the reception been to it so far? Am I right to say there have been premieres in Australia and South Africa so far?
Thanks a lot, mate! Yes, so far there has been a premiere in Perth and Cape Town, and we have a couple more lined up in Melbourne, Sydney, Belgium and Hawaii, the online release should be on the 17th or 18th of February. It has a new and fresh feel to it, which has been received very well. Alex did a great job putting it together!
Long format movies seem to be largely forgotten these days, what made you and Alex decide to put something together?
It's something I've wanted to do for a while but just always seemed to get my clips up online straight away. This one started from nowhere, we finished a trip to Perth and thought that by itself the footage wasn't enough, so we decided to hold it back and combine it with footage from another trip. Once we arrived in the USA, we decided to turn it into a full-length part and work on making it something to keep around for years to come. Full movies are hard to come by these days in board sports alone – let alone kiteboarding. Hopefully, this inspires more people to work on more full-length film rather than the need for instant gratification on social media.
Was it tough keeping all the footage under wraps and watching all the other riders smash out the 3-minute clips throughout the year?
For sure! I've had people messaging me all year asking why I'm not releasing more videos and clips online – especially with so many kiters just publishing constant content straight from their GoPro or Vlog setup. It's also hard because you're constantly changing what you want to do, and clips can become stale or irrelevant reasonably quickly, so you usually want them out there ASAP.
I've managed to keep a fair bit of content online this year, and still released a few short edits from some sessions. The good thing is, the entire movie was shot in Anamorphic, so any clips that were shot on another type of lens had to be left out and go straight to the 'gram!
The film follows you around the world as you compete at various events and ride at other spots, is it a pretty good representation of what goes on in your life?
Other than Perth, the film was all around KPL events, which is what I spent a lot of my year focused on. The good thing about the KPL riding format is that you don't waste time 'training' certain tricks – as the criteria rewards creativity and execution/style more than anything, so filming this part ends up helping my competitive riding at the same time. I'd say it's a good representation of what I get up to, minus all the boring stuff of course!
There are quite a few cameo roles in the film, what was the reasoning behind opening it up to the rest of the crew?
The main reason is that no one wants to watch 25 minutes of one person! Haha, it was because riding with friends all around the world all the time we ended up getting some great clips of everyone, and as they are all a part of my life and journey around the planet, it only makes sense to include them! It ended up giving the film a lot more, and many people at the premiere said one of their favourite sections was Aymeric and Pierre's section in the Hood River part.
You're known to be a very well rounded rider, happy with big air, freestyle, foiling, and park, what's your favourite discipline to ride and why?
It's so hard to say! My favourite sessions of the year probably happen in Hatteras on a good strong day. There we can do freestyle, park and big air all at once in the slick. If I just had to choose one, it would probably be freestyle though, as it's what I started with and I feel like it is my strongest discipline.
How long did the film take to put together in the editing suite, did you get much say in the final cut?
One of the most time-consuming parts was sorting through the footage, deciding what was s%#t and deleting it! We had to be ruthless, but in the end, that's how you end up with the best clips. If we had any doubt, it was out!
Alex spent the last few months putting it together amongst other projects he had going on. We went back and forth a fair bit towards the end but to be honest, we like a lot of the same things, so I was pretty happy with the way it turned out, and he knows what kind of edit and music that suits me.
Can you explain the concept behind Knot Future?
Knot future is a new project from Alex and Noe that will hopefully push our sport in a positive direction through many new channels; I'm stoked to be working alongside them to help kiteboarding for future generations.
How bad was that crash in the big air section, you looked pretty beat when you came off the water?
It was pretty rough coming down on the back of the wave. I had a few health issues going down around that time of year, and we basically had to can filming from then on, and I didn't ride again until the SSS, for reasons unrelated to that crash, but it sure didn't help.
Keep an eye out for this video dropping next week!
Rou has been kiting since the sports inception and has been working as an editor and tester for magazines since 2004. He started IKSURFMAG with his brother in 2006 and has tested hundreds of different kites and travelled all over the world to kitesurf. He's a walking encyclopedia of all things kite and is just as passionate about the sport today as he was when he first started!
Featured in this Post
Australia
8,614
United States
98,602
Comments